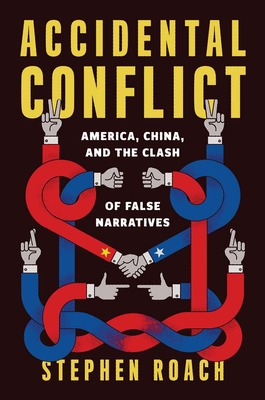 Accidental Conflict
America, China, and the Clash of False Narratives
Hardcover

* Individual store prices may vary.
Description
The misguided forces driving conflict escalation between America and China, and the path to a new relationship
 
"A timely, fluid, readable assessment of a testy and rapidly changing global relationship."—Kirkus Reviews (starred review)
 
In the short span of four years, America and China have entered a trade war, a tech war, and a new Cold War. This conflict between the world's two most powerful nations wouldn't have happened were it not for an unnecessary clash of false narratives. America falsely blames its trade and technology threats on China yet overlooks its shaky saving foundation. China falsely blames its growth challenges on America's alleged containment of market-based socialism, ignoring its failed economic rebalancing.
 
In a hard-hitting analysis of both nations' economies, politics, and policies, Stephen Roach argues that much of the rhetoric on both sides is dangerously misguided, amplified by information distortion, and more a reflection of each nation's fears and vulnerabilities than a credible assessment of the risks they face. Outlining the disastrous toll of conflict escalation between China and America, Roach offers a new road map to restoring a mutually advantageous relationship.
Praise For Accidental Conflict: America, China, and the Clash of False Narratives…
"A timely, fluid, readable assessment of a testy and rapidly changing global relationship."—Kirkus Reviews (starred review)

"A highly anticipated book."—Tom Keene, Bloomberg Television's "Surveillance"

"A remarkable book. Accidental Conflict offers a wealth of evidence about and a new depth of understanding of the underlying forces that drive the Chinese and United States economies."—Robert J. Shiller, author of Narrative Economics: How Stories Go Viral and Drive Major Economic Events

"If you wonder how the US-China relationship has gone from friendly to hostile in a few years, this is the book for you. It details the economic and political processes underlying this change and presents an avenue to avoid 'Accidental Conflict.'"—Robert Engle, Nobel laureate in Economics, 2003

"Accidental Conflict is a very important and timely book. Its arguments and analyses have the potential to change misperceptions by policymakers and analysts on both sides and avoid a dangerous and mutually destructive course."—Laura D. Tyson, former chair, White House Council of Economic Advisers

"I can think of no one better qualified than Steve Roach to explain how the China-America bromance went wrong, and how it could, with good will on both sides, be put right."—Howard Davies, author of The Chancellors: Steering the British Economy in Crisis Times


Yale University Press, 9780300259643, 448pp.
Publication Date: November 29, 2022
About the Author
Stephen Roach is senior fellow, Jackson Institute for Global Affairs and School of Management, Yale University. Prior to that he was Chairman of Morgan Stanley Asia, and for the bulk of his career on Wall Street was Chief Economist of Morgan Stanley. Prior to joining Morgan Stanley in 1982, Mr. Roach served on the research staff of the Federal Reserve Board and was also a research fellow at the Brookings Institution. He holds a Ph.D. in economics from New York University. Roach has written extensively for the international media and appears regularly on television around the world. He lives in New Canaan, CT..