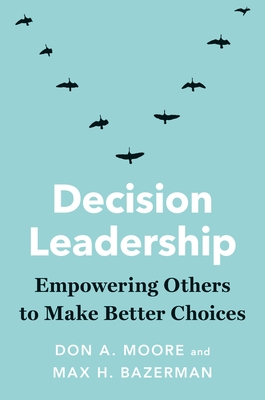 Decision Leadership
Empowering Others to Make Better Choices
Hardcover

* Individual store prices may vary.
Description
A fresh, research-driven playbook for how successful leaders can maximize the potential of others

When we think of leaders, we often imagine lone, inspirational figures lauded for their behaviors, attributes, and personal decisions—a perception that is reinforced by many leadership books. However, this approach ignores the expectations of modern work cultures centered on equity and inclusion, where a leader's true mission is to empower others. Applying decades of behavioral science research, Don A. Moore and Max H. Bazerman offer a passionate corrective to this view, casting today's organizations as decision factories in which effective leaders are decision architects, enabling those around them to make wise, ethical choices consistent with their own interests and the organization's highest values. As a result, a leader's impact grows because it ripples out instead of relying on one individual to play the part of heroic figure.
 
Filled with real-life stories and examples of the structures, incentives, and systems that successful leaders have used, this playbook equips each of us to facilitate wise decisions.
Praise For Decision Leadership: Empowering Others to Make Better Choices…
"Even the smartest, best educated, and most rational of us are highly imperfect decision makers. This wonderful book shows us how to improve organizational decisions by getting more people involved in the process. I urge anyone concerned with the quality of organizational decisions to read this book."—Barry Schwartz, author of Why We Work

"Decision Leadership is a must-read for anyone hungry to become not just a better leader but a more effective decision-maker. Moore and Bazerman offer a masterclass in how to build a leadership toolkit. I know I will be recommending this book to all of my clients!"—Annie Duke, author of Thinking in Bets
 

"Don Moore and Max Bazerman helped birth behavioral economics. Now, they give us a powerful and fresh look at leadership. I will be sharing their idea of decision leadership with many inside and outside the classroom."—Dolly Chugh, author of The Person You Mean to Be

"Don Moore and Max Bazerman's new view of leadership emerges from evidence, not intuition, replacing the tradition of the 'great man' manager with the idea that great leaders are shapers of situations and environments that elicit better decisions."—Mahzarin R. Banaji, coauthor of Blindspot: Hidden Biases of Good People 
 


Yale University Press, 9780300259698, 264pp.
Publication Date: April 19, 2022
About the Author
Don A. Moore is the Lorraine Tyson Mitchell Professor of Leadership and Communication at UC Berkeley's Haas School of Business. Max H. Bazerman is the Jesse Isidor Straus Professor of Business Administration at the Harvard Business School.