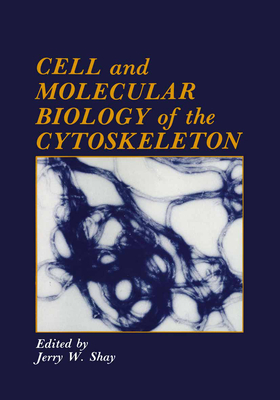 Cell and Molecular Biology of the Cytoskeleton
Hardcover

* Individual store prices may vary.
Other Editions of This Title:
Paperback (9/30/2011)
Description
Cell and Molecular Biology of the Cytoskeleton focuses on the three major fibrous proteins in the cytoplasm that are collectively known as the cytoskeletal sys tem. These polymorphic cytoskeletal proteins are microtubules (25-nm diam eter), microfilaments (6-nm diameter), and intermediate filaments (l O-nm diameter). Microtubules consist of tubulin and several well-characterized mi crotubule-associated proteins (MAPs) such as MAPl, MAP2, and tau. Micro filaments consist of actin and associate with actin-binding proteins, including alpha-actinin, filamin, myosin, tropomyosin, vinculin, and others. Intermedi ate filaments consist of at least five different tissue-specific classes, including desmin or skeletin (muscle), prekeratin (epithelial), vimentin (mesenchymal), neurofilament (nerve), and glial acidic fibrillary protein (astrocytes). In this volume distinguished researchers in the field cover the interaction of these fibrous proteins, not only with each other and other cytoplasmic components, but also with such biological processes as cell shape changes, growth, motility, secretion, and division. These comprehensive reviews ex plore the cytoskeleton's molecular, biochemical, and structural properties with an emphasis on their manifestation in the living cell.
Springer, 9780306421754, 356pp.
Publication Date: May 31, 1986
or
Not Currently Available for Direct Purchase