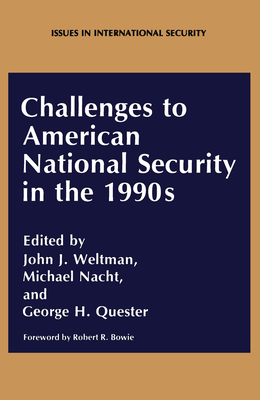 Challenges to American National Security in the 1990s (Issues in International Security) (Hardcover)
Springer, 9780306438585, 286pp.
Publication Date: July 31, 1991
Other Editions of This Title:
Paperback (5/4/2012)
* Individual store prices may vary.
Description
The decade of the 1990s offers a chance to build a new and better international order. What policy choices will this decade pose for the United States? This wide-ranging volume of essays imaginatively addresses these crucial issues. The peaceful revolutions of 1989-1990 in the Soviet Union and Eastern Europe have swept away the foundations of the Cold War. The Eastern European nations are free; Europe is no longer divided; Germany is united. The Soviet threat to Western Europe is ending with the collapse of the Warsaw Pact and the withdrawals and asymmetrical cuts of Soviet forces. And U.S.-Soviet rivalry in the Third World is giving way to cooperation in handling conflicts, as in Iraq and elsewhere. Much, of course, remains uncertain and unsettled. What sort of Soviet Union will emerge from the ongoing turmoil, with what political and economic system and what state structure? How far and how soon will the Eastern Euro pean states succeed in developing pluralist democracies and market economies? Are the changes irreversible? Certainly there will be turmoil, backsliding, and failures, but a return to the Cold War hardly seems likely.
or
Not Currently Available for Direct Purchase