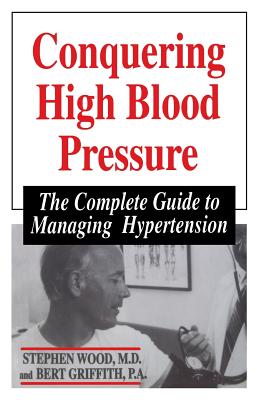 Conquering High Blood Pressure
The Complete Guide To Managing Hypertension
Paperback

* Individual store prices may vary.
Description
Conquering High Blood Pressure: The Complete Guide to Managing Hypertension is a remarkably comprehensive account of a common chronic illness affecting adults and children. Dr. Wood, a family and occupational medicine physician, and Mr. Griffith, a family medicine physician assistant, team up to clearly address many important issues, in particular the patient's role in co-managing his or her high blood pressure with a physician or other health care attendant; the important physical or emotional concerns of special at-risk groups (e.g., the elderly, African-Americans, children, and pregnant women); the potentially hazardous side-effects or interactions of the drugs used to treat high blood pressure; the tips to follow to become a savvy consumer of medications or devices to cope with hypertension; the invaluable role of family members and friends in helping the person cope with hypertension; and the relationship between high blood pressure and other chronic diseases (e.g., diabetes, heart disease, and high cholesterol). Supported by compelling case histories and helpful appendixes, the authors' lucid explanation of the many facets of hypertension will enlighten and empower the millions of adults and children who suffer from this disease.
Da Capo Press, 9780306456329, 336pp.
Publication Date: August 22, 1997
About the Author
Stephen D. Wood, M.D., a dual-certified family and occupational medicine physician, graduated magna cum laude in 1978 from Loma Linda University. He completed a combined training program in family medicine and occupational medicine in 1982 at the University of Utah Medical Center. Dr. Wood is Medical Director for Kennecott Coproration and maintains a private practice at Foothill Family Clinic in Salt Lake City, Utah,. Dr. Wood resides in Salt Lake City. Bert J. Griffith, P.A., a board-certified family medicine physician assistant, graduated in 1984 from Touro College. From 1991 to 1995, he was Officer-in-Charge of the hypertension clinic at Kadena Air Base in Okinawa, Japan. From 1995 to 1997, he was the senior physician assistant at the Goodfellow Air Force Base clinic in San Angelo, Texas. Mr. Griffith now resides in Okinawa, Japan.