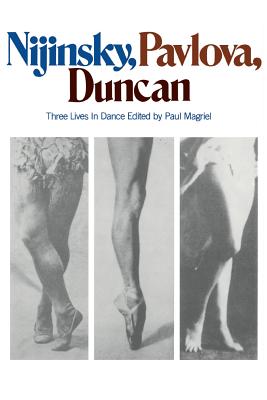 Nijinsky, Pavlova, Duncan (Paperback)
Three Lives In Dance
Da Capo Press, 9780306800351, 276pp.
Publication Date: March 22, 1977
* Individual store prices may vary.
Description
Long out of print, the three beautiful volumes contained here offer the modern reader a rare opportunity to see Vaslav Nijinsky, Anna Pavlova, and Isadora Duncan through the eyes of their contemporaries and admirers, and to share the excitement they were causing at the height of their careers. Originally published in conjunction with the Ballet Society, founded by George Balanchine and Lincoln Kirstein, the books present essays, reviews, memoirs, photographs, and sketches, many of which are had to find elsewhere. These books are companions to the art of Nijinsky, Pavlova, and Duncan, providing insights that are essential for a complete picture of the dancers' achievements. Nijinsky:The six appreciations collected here illuminate Nijinsky's genius and character, and thirty pages of photographs portray his every move and gesture with singular fidelity. This book features Edwin Denby's famous essay, "Notes on Nijinsky Photographs," as well as an intimate account by Robert Edmond Jones of his collaboration with Nijinsky on "Til Eulenspiegel," the dancer's last work before the onset of madness. Pavlova: This volume captures the intangible personal qualities that made Anna Pavlova one of the most charismatic ballerinas of all time. An autobiographical sketch, "Pages of My Life," reveals her intense striving for perfection. Following this are excerpts from Carl Van Vechten's critique on Pavlova's performance at the Met-the first major study of the Russian dance in the United States. Finally, the brilliant commentary by poet Marianne Moore that accompanies photographs of Pavlova aids the reader to reconstruct the unique nature of Pavlova's style and technique. Isadora Duncan:The career of Isadora Duncan remains, fifty years after her death, one of the indestructible legends of the theater. She is a beacon to women everywhere, to all American dancers, and especially to those who dance solo. Included here are the comments of Carl Van Vechten on the occasion of Isadora Duncan's first Carnegie Hall concert. John Martin analyzes her style and contribution to dancing. A poem by Gordon Braig and a memoir by Allan Ross Macdougall, who worked with Duncan, bring the incandescent Isadora to stunning life.
About the Author
Paul Magriel, the editor of many books on dance, was librarian at the American School of Ballet and was later curator of the dance archives at the Museum of Modern Art.