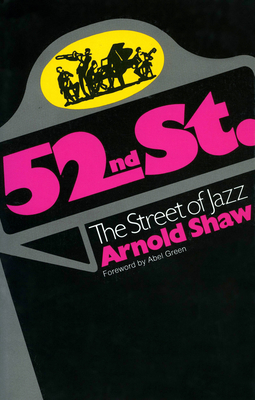 52nd Street
The Street Of Jazz
Paperback

* Individual store prices may vary.
Description
Back in the thirties and forties, when New York City was the capital of the jazz world-you could hail a cab, ask the driver to take you to "The Street," and find yourself on 52nd Street between Fifth and Sixth Avenues. Musicians, jazz lovers, college students, big businessmen-everybody knew that this was "The Street that Never Slept," the Street where every night was New Year's Eve, the Street that Variety editor Abel Green so aptly dubbed "America's Montmartre." Here, for the price of a drink or two, you could walk through the whole history of jazz. Hot jazz was born and raised on The Street, as were the big swing bands of the thirties and the modern "cool" jazz combos of the forties. Comics like Alan King and Joey Adams got their start on the Street, as did musicians like Erroll Garner, Jack Teagarden, and Coleman Hawkins. Bessie Smith performed on the Street, and so did Count Basie, Charlie "Bird" Parker, Dizzy Gillespie, Billie Holiday, Art Tatum, Sarah Vaughn, the Dorsey Brothers, Artie Shaw, and other jazz greats.Arnold Shaw was there-as musician, composer, PR man, and just plain listener-and he recreates for us the three swinging decades that were the history if the Street: its birth in Prohibition-era speakeasies, where musicians jammed for gin or just for the fun of it; its post-Repeal blossoming as the center of the jazz universe, lined up and down on both sides with tiny, smoke-filled rooms where black and white musicians played to capacity crowds; its postwar decline as the Street became a tawdy tenderloin of strip and clip joints.
Da Capo Press, 9780306800689, 378pp.
Publication Date: August 22, 1977
About the Author
Arnold Shaw, winner of three ASCAP-Deems Taylor Awards, and author of such books as Honkers and Shouters, The Dictionary of Pop/Rock, Black Popular Music in America, and Fifty-Second Street, and biographies of Sinatra and Belafonte, is Director of the Popular Music Research Center at the University of Nevada, Las Vegas.