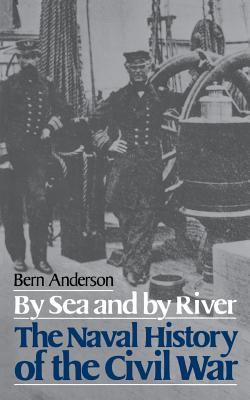 By Sea And By River
The Naval History of the Civil War
Paperback

* Individual store prices may vary.
Description
Less bloody and less known than the land campaigns of the Civil War, the naval battles--and especially the naval blockade of the South--were crucial factors in the outcome of the war. The spectacular battle between the Monitor and the Merrimack marked the debut of ironclads, a revolution in naval warfare. Ships supported McClellan's Peninsula Campaign and Grant's conquest of the Mississippi Valley. The raiding of the Confederate cruisers Sumter, Florida, and Alabama, Farragut's capture of the forts in Mobile Bay, and the interception of foreign ships on their way to trade with the South all led to the North's eventual triumph. Bern Anderson, a retired admiral, provides sketches of many of the leading characters in the action: Gideon Welles, David Farragut, Stephen Mallory, Andrew Foote, and the Confederate commander Raphael Semmes. Anderson delineates the new kind of war being born in the rivers and oceans of the U.S. during these years, in this first effective joint action by military and naval forces in American history.
Da Capo Press, 9780306803673, 342pp.
Publication Date: August 22, 1989
About the Author
Rear Admiral Bern Anderson (U.S. Navy, retired) was born in Kansas City, Missouri, in 1900, attended the United States Naval Academy, and became a commissioned officer in 1920. From 1952 to 1960, he was technical adviser and assistant to Samuel Eliot Morison in the preparation of the 14-volume History of United States Naval Operations in World War II. He is the author of Surveyor of the Sea: The Life and Voyages of Captain George Vancouver, published in 1960.