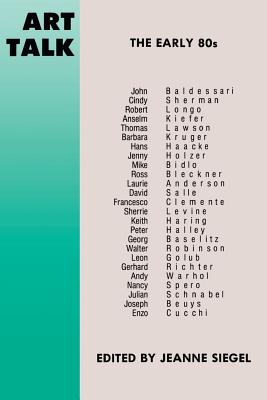 Art Talk PB (Paperback)
Da Capo Press, 9780306804144, 334pp.
Publication Date: September 1, 1990
Description
Art Talk is a stimulating collection of interviews conducted by noted art critics of the most influential and innovative artists of the early 1980s. These interviews explore central themes of contemporary art: what makes art political, the commodification of art, the overarching importance of language, and the increased recognition of female artists. But the interviews are also remarkable for the frankness with which these artists are willing to discuss their work. Here Andy Warhol comments on the influence of Walt Disney; Cindy Sherman frames herself as a commodity; Walter Robinson elucidates the East Village scene; Jenny Holzer and Barbara Kruger expatiate on language as image; Laurie Anderson describes the influence of graffiti and traffic jams on her work; Georg Baselitz explains why he paints standard motifs upside down; and Robert Longo relates style to power. In her introduction, editor Jeanne Siegel identifies the major issues and events that shaped artistic expression in the early 80s: the growing acceptance of photography as fine art, the overwhelming expectations for artists to become "performers," the phenomenon of Postmodernism, and other emerging trends.
About the Author
Jeanne Siegal is chair of the fine arts and art history departments at the School of Visual Arts in New York City, associate editor of Arts Magazine, and former president of the American section of the International Association of Art Critics.
Advertisement