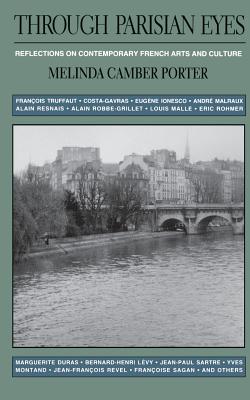 Through Parisian Eyes (Paperback)
Reflections On Contemporary French Arts And Culture
Da Capo Press, 9780306805400, 256pp.
Publication Date: August 22, 1993
* Individual store prices may vary.
Description
"A particularly readable and brilliantly compiled collection. The voices of French intellectuals--artists, dramatists, filmmakers, actors, writers, and philosophers--mingle in this uniquely constructed volume of interviews and commentary."--Boston Globe
Melinda Camber Porter has interviewed the most prominent Parisian cultural figures of the '70s and '80s. The dominant trends in French artistic and political thought emerge vividly from an array of portraits and dialogues. As a whole,
Through Parisian Eyes
creates a seamless and revealing depiction of French culture.
Includes: Francois Truffaut, Costa-Gavras, Eugene Ionesco, Andre Malraux, Alain Resnais, Alain Robbe-Grillet, Louis Malle, Eric Rohmer, Marguerite Duras, Bernard-Henri Levy, Jean-Paul Sartre, Yves Montand, Jean-Francois Revel, Francoise Sagan, and others

"Porter's eclectic gathering covers topics that include French xenophobia, politics, feminism, creativity, intellectualism, structuralism, imagination, and the arts, providing an area of interest for almost every palate. . . . A well-rounded, intelligent look at the contemporary Parisian spirit." --San Francisco Chronicle
About the Author
Melinda Camber Porter (1953-2008) was a cultural correspondent for the London Times. Her journalism and poetry have appeared internationally; her books include The Art of Love: Love Poems and Paintings and Badlands, a novel.