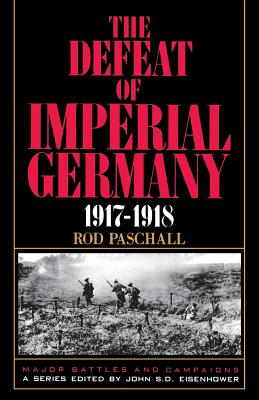 The Defeat Of Imperial Germany, 1917-1918 (Paperback)
Da Capo Press, 9780306805851, 272pp.
Publication Date: August 22, 1994
Other Editions of This Title:
Hardcover (8/27/1989)
* Individual store prices may vary.
Description
"Genuinely original perspectives on and insight into WWI's blood-soaked endgame."--Kirkus

January 1917. On the Western Front the armies of Imperial Germany, Great Britain, and France were locked in grim stalemate. Repeated attempts by both sides to achieve breakthrough in the face of machine-gun fire, barbed wire, long-range artillery, and poison gas had brought only enormous casualties.

The Defeat of Imperial Germany focuses on the innovative plans created by generals on both sides in their struggles to dislodge the entrenched enemy and to restore maneuver and victory on the Western Front. In a series of vivid analyses of successive offensives, Paschall examines the problems of command and what happened when the massed soldiery sought to carry out their orders. These strategies and tactics developed by the military leadership in 1917-1918, though largely failing to shatter the deadlock, would prove successful when implemented twenty years later in World War II.
The first volume in the Major Battles and Campaigns series published under the general editorship of John S.D. Eisenhower, The Defeat of Imperial Germany has been designed for the "armchair strategist." Dozens of photographs, many never before published, as well as clearly drawn theater and battlefield maps help to make this book an outstanding, challenging, and original contribution to the history of the Great War.
Introduction by John S. D. Eisenhower

About the Author
A graduate of West Point and the U.S. Naval War College, Colonel Rod Paschall is a decorated veteran of five campaigns in Vietnam and the director of the U.S. Army Military History Institute at Carlisle Barracks, Pennsylvania.