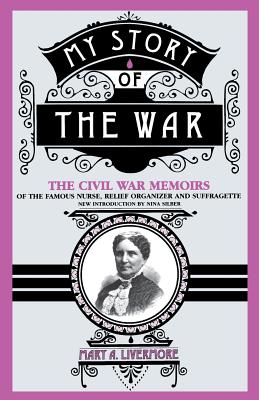 My Story Of The War (Paperback)
The Civil War Memoirs Of The Famous Nurse, Relief Organizer, And Suffragette
Da Capo Press, 9780306806582
Publication Date: August 22, 1995
Other Editions of This Title:
Paperback (2/20/2001)
Hardcover (8/31/2015)
* Individual store prices may vary.
Description
"Provides a testament to the enormous and wide-ranging contributions made by Union women and suggests how these women began to undermine traditional conceptions of womanhood."--Nina Silber

When secessionist chaos turned to bloodshed in 1861, Mary A. Livermore (1820-1905), editor, lecturer, and abolitionist, left her family and volunteered for the U.S. Sanitary Commission, becoming one of a handful of women to achieve national prominence and a position of leadership within the Commission. Her efforts-from nursing wounded soldiers at the front to organizing the Sanitary Fairs that raised more than a million dollars for relief work-earned the respect of Grant, Sherman, and Lincoln.

My Story of the War presents Livermore's remarkable war experiences, including personal reminiscences of Grant, Lincoln, "Mother" Bickerdyke, and Dorothea Dix; and chronicles the vast and varied wartime activities of women-their work as nurses, their agricultural labors, and even their military contributions. In a vivid, anecdotal style Livermore reveals the everyday operations of military hospitals while preserving the individual stories of healers, soldiers, patients, and refugees. Superbly designed, generous in its use of soldiers' letters, and supplemented by illustrations and histories of nearly fifty Union and Confederate regimental flags, My Story of the War appeals to a broad range of Civil War enthusiasts, but stands most firmly as an invaluable testament to women's power to carve out an impressive sphere of influence behind the lines and at the front.