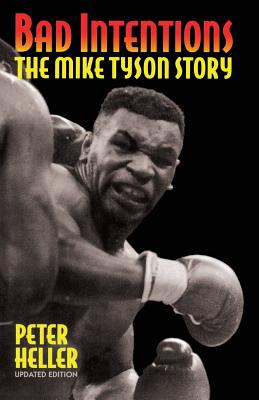 Bad Intentions
The Mike Tyson Story
Paperback

* Individual store prices may vary.
Description
"Heller goes for the knockout. His book is both a biography and a history of contemporary boxing, a fascinating tale of greed, violence, sex, and dollars."-- San Francisco Chronicle

Mike Tyson is boxing's most beloved bad boy. With a history of street-gang violence, juvenile prison, sexual scandal, marital strife, courtroom battles, and imprisonment for rape, he has become one of the most publicized athletes in history. At age 23 he was already considered among the greatest prizefighters of all time, and, his career is far from over.

Relying on in-depth research and interviews with those who have known Tyson at every stage of his life, Bad Intentions portrays the shy child who became a vicious street thug, discovered boxing in juvenile prison, and was brought to the attention of the legendary Cus D'Amato to be shaped to be one thing only--heavyweight champion of the world. Here is Tyson's fight-by-fight path to that goal, the millions of dollars made and fought over, the sex and violence of his personal life, and his eventual defeats both in the ring and in court. Bad Intentions is an essential read for all who would understand the ins and outs of the most controversial sport in America.
Da Capo Press, 9780306806698, 476pp.
Publication Date: August 22, 1995
About the Author
Peter Heller is the author of "In This Corner . . . !" 42 World Champions Tell Their Stories and Bad Intentions: The Mike Tyson Story. A sports producer for ABC News, he lives in Putnam Valley, New York and Boca Raton, Florida.