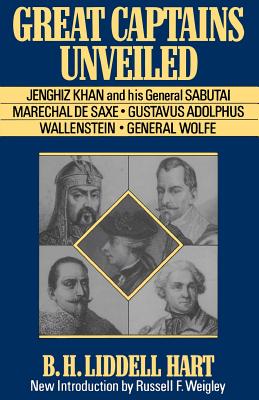 Great Captains Unveiled (Paperback)
Da Capo Press, 9780306806865, 292pp.
Publication Date: March 22, 1996
* Individual store prices may vary.
Description
"A series of of characteristically provocative essays . . . told with Liddell Hart's unfailing verve and narrative sweep."--Max Hastings

Great Captains Unveiled incisively examines the brilliant military careers and intriguing personalities of six masters of the battlefield: Jenghiz Khan (1167?-1227) and Sabutai (1172?-1245), who led their Mongol cavalry into the heart of medieval Europe and shook the fabric of its civilization; the French Marechal de Saxe (1696-1750), one of the greatest generals of his age, a military prophet of rare foresight, and author of Reveries, a classic on the art of war; Gustavus Adolphus (1594-1632), the Swedish king during the Thirty Years War and the founder of the modern army, who emphasized officer education, national recruitment, and the combination of firepower and mobility; Wallenstein (1583-1634), champion of the Holy Roman Empire and Adolphus's formidable opponent, who proved to be a genius of maneuver and psychological warfare; and James Wolfe (1727-1759), whose flawless execution of one of the most daring amphibious operations in history virtually gave Canada to the British. Liddell Hart's penetrating, decisive studies of these great captains reveal not only their genius and impact, but offer relevant lessons that 20th-century military commanders have yet to fully reap.
About the Author
Captain Basil Henry Liddell Hart (1895-1970) was one of the foremost military theorists of our time. His many books include Scipio Africanus, Lawrence of Arabia, The Rommel Papers, and Sherman (all available from Da Capo Press).