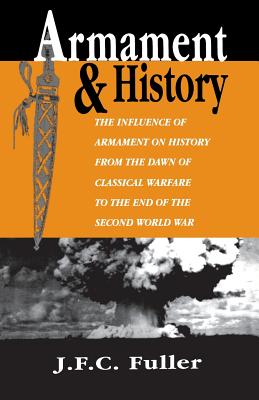 Armament And History (Paperback)
The Influence Of Armament On History From The Dawn Of Classical Warfare To The End Of The Second World War
Da Capo Press, 9780306808593
Publication Date: August 22, 1998
* Individual store prices may vary.
Description
Although skill, leadership, strategy, and number of forces have been important factors in battles, armaments have played the most decisive role in determining ultimate military victory. Entranced by the power and precision of armaments, man has continuously invented faster, more accurate, and more devastating weapons, from the javelin, stone axe, sword, and the arrow to the cannon, musket, rifle, tank, super-fortress, and missile. In this study of the influence of armaments on history, J.F.C. Fuller shows how the inventive genius of man can potentially obliterate his sense of moral values and destroy civilization. Divided into armament epochs—Ages of Valour, Chivalry, Gunpowder, Steam, Oil, and Atomic Energy—Armament and History examines the most influential military innovations of each period as well as the key leaders (including Alexander, Caesar, Gustavus Adolphus, and Napoleon) who skillfully employed these weapons. Although the author acknowledges that war cannot be eliminated entirely, he urges man to impose restrictions on warfare before society descends into a second Dark Age. Completed immediately after the bombings of Hiroshima and Nagasaki—chilling examples of mass destruction caused by armaments—this impassioned work remains relevant more than a half-century later.
About the Author
Major General J.F.C. Fuller (1878-1966) was one of the most important and original military thinkers of this century. He served as lieutenant in the Boer War, organized the first British tank corps in World War I, and developed the strategy and tactics of tank warfare which were later put to such effective use by the Nazis for their World War II blitzkriegs. His many books include A Military History of the Western World (3 volumes), The Generalship of Ulysses S. Grant, Julius Caesar: Man, Soldier, and Tyrant, and The Generalship of Alexander the Great, all of which are available from Da Capo Press/Perseus Book Group.