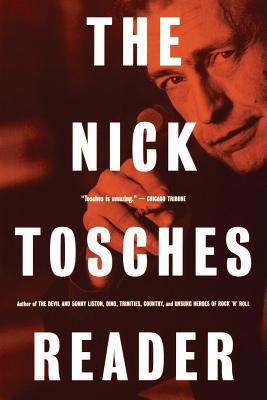 The Nick Tosches Reader
Paperback

* Individual store prices may vary.
Description
Newsday has said that Nick Tosches "casts brilliant black light." The San Diego Reader has said that "Tosches's best sentences uncoil like rattlesnakes and strike with a venom that spreads poison through all the little Sunday-school ideas you've held dear." And Rolling Stone has said that "Tosches can write like a wild rockabilly raveup. He can be elegant as a slow blues." The Nick Tosches Reader is the author's own selection of his best work over the past thirty years, including fiction, poetry, interviews, rock writing, investigative journalism, and criticism. First published in major magazines, obscure underground periodicals, and his own best-selling books, many of these selections deal with rock 'n' roll and cultural icons—but there are also pieces on everything from William Faulkner to organized crime to heavyweight boxing, including the Vanity Fair feature that gave rise to Tosches's major new book on Sonny Liston, published by Little, Brown. Here is "a unique and darkly impressionistic cultural history" of the last three decades as only Nick Tosches could write it.
Praise For The Nick Tosches Reader…
New York Times Book Review, 7/15/10
"If you want to learn about the power and dangers of rock 'n' roll, check out Mary Gaitskill's incomparable novel Veronica or Marianne Faithfull's cackling memoir or The Nick Tosches Reader."
—
-
Da Capo Press, 9780306809699, 624pp.
Publication Date: April 7, 2000
About the Author
Nick Tosches is from Newark, New Jersey. He is the author of four previous novels, Me and the Devil, In the Hands of Dante, Cut Numbers, and Trinities. His nonfiction works include Where Dead Voices Gather, The Devil and Sonny Liston, Dino, Power on Earth, Hellfire, Country, and Unsung Heroes of Rock 'n' Roll. He lives in New York City.