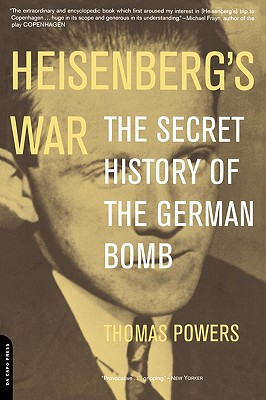 Heisenberg's War
The Secret History Of The German Bomb
Paperback

* Individual store prices may vary.
Description
"Full of fascinating characters, deeds of heroic daring . . . [a] powerful book." -- New York Times

One of the last secrets of World War II is why the Germans failed to build an atomic bomb. Germany was the birthplace of modern physics; it possessed the raw materials and the industrial base; and it commanded key intellectual resources. What happened?

In Heisenberg's War, Thomas Powers tells of the interplay between science and espionage, morality and military necessity, and paranoia and cool logic that marked the German bomb program and the Allied response to it. On the basis of dozens of interviews and years of intensive research, Powers concludes that Werner Heisenberg, who was the leading figure in the German atomic effort, consciously obstructed the development of the bomb and in a famous 1941 meeting in Copenhagen with his former mentor Neils Bohr in effect sought to dissuade the Allies from their pursuit of the bomb. Heisenberg's War is a "superbly researched and well-written book" (Time) whose extraordinary story engrosses-and haunts.
Da Capo Press, 9780306810114, 640pp.
Publication Date: August 11, 2000
About the Author
Thomas Powers received the Pulitzer Prize in national reporting in 1971. He is the author of several books, including The Man Who Kept the Secrets: Richard Helms and the CIA, and most recently the novel The Confirmation. He lives with his family in Vermont.