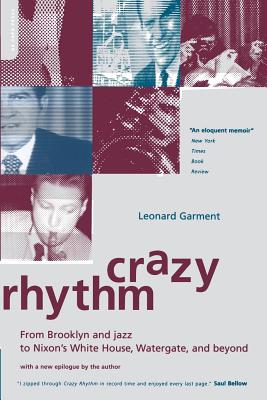 Crazy Rhythm (Paperback)
From Brooklyn And Jazz To Nixon's White House, Watergate, And Beyond
Da Capo Press, 9780306810824, 464pp.
Publication Date: October 25, 2001
* Individual store prices may vary.
Description
Leonard Garment was a successful Wall Street attorney when, in 1965, he found himself arguing a Supreme Court case alongside his new law partner—former Vice President Richard Nixon. It was the start of a friendship that lasted more than thirty years. In Crazy Rhythm, which the New York Times Book Review called "an eloquent memoir," Garment engagingly tells of his boyhood as the child of immigrants, and the beginning of a life-long love affair with jazz. After Brooklyn Law School, Garment went on to Wall Street, where encountering Nixon changed the course of his life. Crazy Rhythm allows us a rare, intimate look at Nixon's extraordinary tenure in the White House. More than that, the book tells stories from a life that has included close encounters with characters such as Benny Goodman and Billie Holiday, Henry Kissinger and Alan Greenspan, Golda Meir and Yasser Arafat, Giovanni Agnelli and Marc Rich, and moves like the best jazz, in a writer's voice that is truly one-of-a-kind. To quote former U.S. Senator Daniel Patrick Moynihan, "A century from now, I cannot doubt Americans will still be reading Crazy Rhythm. This is a story of our time, written for the ages."
About the Author
Leonard Garment was a senior staffer to Richard Nixon. In the wake of the Watergate scandal, Garment filled the role of Counsel to the President left vacant by Haldeman and Ehrlichman. After Nixon's resignation, he continued moving in Washington legal and political circles, eventually turning his attention to writing. His book Crazy Rhythm: My Journey from Brooklyn, Jazz, and Wall Street to Nixon's White House, Watergate, and Beyond was published in 1977 to wide acclaim.