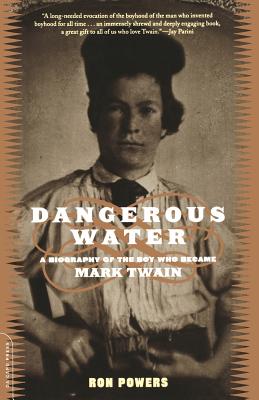 Dangerous Water (Paperback)
A Biography Of The Boy Who Became Mark Twain
Da Capo Press, 9780306810862, 336pp.
Publication Date: October 8, 2001
* Individual store prices may vary.
Description
While Mark Twain remains one of our most quintessentially American writers, the actual boyhood experiences that fueled his most enduring literature remained largely unexplored—until now. Twain's early years were a decidedly un-innocent time, marked by deaths of friends and family and his father's bankruptcy. Twain dealt with those personal tragedies through humor and the tall tale. From the time that a ten-year-old Samuel Clemens lit out on his own and boarded his first Mississippi steamer to his first encounter with a traveling "mesmerizer" (which ignited his lifelong penchant for acting and spectacle), from the brooding sense of guilt and fear of eternal damnation inculcated into him at church to the superstitions and stories of witchcraft he learned from the blacks on his farm, Powers unforgettably shows how Mark Twain was shaped by the distinctly American landscape, culture, and people of Hannibal, Missouri. Jay Parini, the celebrated biographer of Robert Frost, called Dangerous Water "a long-needed evocation of the boyhood of the man who invented boyhood for all time. . . . An immensely shrewd and deeply engaging book, a great gift to all of us who love Twain."
About the Author
Ron Powers is a Pulitzer Prize-winning journalist and New York Times bestselling author. He is the co-author of Flags of our Fathers and True Compass -- both #1 New York Times Hardcover Nonfiction bestsellers. His biography of Mark Twain -- Mark Twain: A Life -- was also a New York Times bestseller. He lives with his wife Honoree Fleming, Ph.D., in Castleton, Vermont.