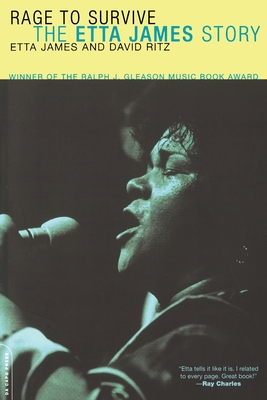 Rage To Survive (Paperback)
The Etta James Story
Da Capo Press, 9780306812620, 304pp.
Publication Date: June 5, 2003
* Individual store prices may vary.
Description
"Etta tells it like it is. I related to every page. Great book!"--Ray Charles

Etta James--brash, sassy, and uncannily gifted--has left a soul-sized footprint on modern music, from blues to R&B to jazz. As the Houston Chronicle puts it, her "expressive voice and exquisite dramatic timing can actually make you tremble."

Rage to Survive captures that amazing voice. Etta tells riveting stories of her youth in Los Angeles--from being discovered at age five singing in her church choir (when celebrities like Lana Turner and Orson Welles would sneak in the back to listen to the girl genius) to why she hates encores (her father would drag her out of bed in the middle of the night to sing for his card-playing buddies) to her first hit record and her work with Chuck Berry, Tina Turner, and the great stars of the Golden Age of Soul. She tells of meeting the man she believes is her father--the legendary pool hustler Minnesota Fats--her recovery from the grip of drugs, her childhood dealing with a mother who worked on the streets, and her lifelong trouble with "bad men." To quote Liz Smith in Newsday: "Candid? Brutally honest? You don't know about candor and brutal honesty until you've read Etta's life story in her own rough, unvarnished, and humorously right-on words . . . any major movie studio would do itself a huge favor by turning this book into a sizzling, big-screen saga."

About the Author
David Ritz is the author of Faith in Time: The Life of Jimmy Scott, Divided Soul: The Life of Marvin Gaye, and many other books with or about Ray Charles, Aretha Franklin, and B.B. King. He is a three-time winner of the Ralph J. Gleason Music Book Award. He lives in Los Angeles.