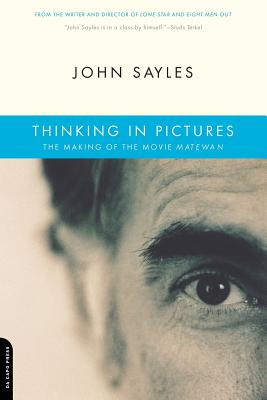 Thinking In Pictures
The Making Of The Movie Matewan
Paperback

* Individual store prices may vary.
Description
What choices--creative, practical, and technical--make a movie what it is? Here a gifted writer and filmmaker takes us behind the camera and provides a full description of the movie-making process.When John Sayles turned from writing fiction to making movies, he did so with little help from Hollywood: Return of the Secaucus Seven, Sayles's first movie as director and writer, was produced with 60,000 of his own money. Many films later, he still works outside the studio system and guides every phase of his productions.Now Sayles has written an illuminating book about the complex choices that lie at the heart of every movie. Using the making of his film Matewan as an example, he offers chapters on screenwriting, directing, editing, sound, and more. Photographs, sketches, and the complete shooting script illustrate this engaging account of how Sayles's curiosity about a coal miners' strike in the town of Matewan, West Virginia, became a screenplay--and then a movie.
Da Capo Press, 9780306812668, 336pp.
Publication Date: July 3, 2003
About the Author
If the U.S. were to boast one great independent film director, he would be John Sayles, a cult figure among his admirers. Nominated for both an Academy Award for scriptwriting and a National Book Award, Sayles has written screenplays, teleplays, short stories, and novels and has worked as a script doctor for a virtual who's who of Hollywood film and television talent.
or
Not Currently Available for Direct Purchase