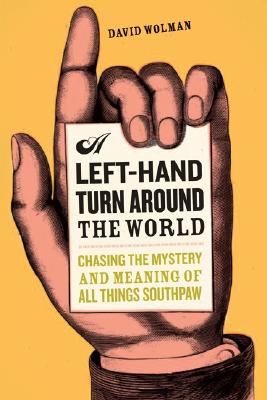 A Left Hand Turn Around the World: Chasing the Mystery and Meaning of All Things Southpaw (Hardcover)
Chasing the Mystery and Meaning of All Things Southpaw
Da Capo Press, 9780306814150, 248pp.
Publication Date: October 1, 2005
* Individual store prices may vary.
or
Not Currently Available for Direct Purchase
Description
Are Southpaws really more creative, or is that just a myth? Is there a gene for left-handedness? David Wolman--a lefty, and proud of it--sets out to answer these and other questions on a journey through the world of the left-hander. Traveling from the halls of history to the halls of science, Wolman explores a Scottish castle designed for left-handed swordfights, visits a Paris museum to inspect nineteenth-century brains that hold clues to this biological puzzle, consults an Indian palm reader, subjects his own brain to research in a basement laboratory in California, and sits with a primatologist in Atlanta whose chimpanzees may hold the key to the evolutionary mystery of left-handedness. Along the way, Wolman meets fellow left-handers who share his sense of kinship and help him uncover the essence of Southpaw. There is sinister Diabolos Rex, follower of the Left Hand Path; left-handed handwriting analysts; and John Evans, an amputee whose left hand was reattached to his right arm. In Japan, Wolman tees off with the National Association of Left-Handed Golfers, and seeks wisdom from a left-handed baseball legend and a world renowned biologist. A seamless blend of science, travel, culture, and humor, this inquisitive exploration of all things Southpaw is sure to be the perfect book for lefties and the righties who love them.
About the Author
David Wolman is a journalist whose work has appeared in such publications as Discover, Newsweek, New Scientist, Forbes, Outside, Wired, and the San Jose Mercury News . He lives in Portland, Oregon.
Advertisement