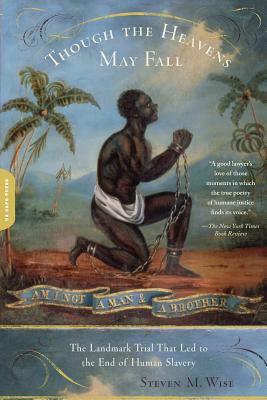 Though the Heavens May Fall (Paperback)
The Landmark Trial That Led to the End of Human Slavery
Da Capo Press, 9780306814501, 320pp.
Publication Date: January 3, 2006
* Individual store prices may vary.
Description
The case of James Somerset, an escaped slave, in June of 1772 in London's Westminster Hall was a decisive turning point in human history. Steven Wise has uncovered fascinating new revelations in this case, which statesmen of the time threatened would bring the economy of the British Empire to a crashing halt. In a gripping, hour-by-hour narrative of the trial and the inflamed participants, Wise leads the reader to the extraordinary and unexpected decision by the great conservative judge, Lord Mansfield, which led to the United States' own abolition movement. As the case drew to a close, and defenders of slavery pleaded with him to maintain the system, Mansfield's reply has resounded down through more than two centuries: "Let Justice be done, though the Heavens may fall."
About the Author
Steven M. Wise, J.D., has practiced animal law for over twenty years and has taught at the Harvard, Vermont, and John Marshall law schools. He is President of the Center for the Expansion of Fundamental Rights, which he founded in 1995. The author of Rattling the Cage, praised by Cass Sunstein as "an impassioned, fascinating, and in many ways startling book" (New York Times Book Review), and Drawing the Line, which Nature called "provocative and disturbing," he has been profiled nationally by such publications as the New York Times, the Washington Post, and Time magazine.