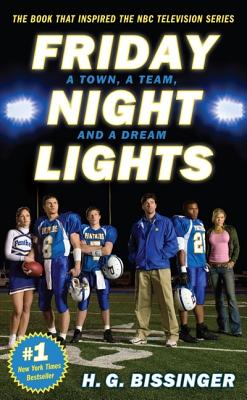 Friday Night Lights Mass Market TV Tie-in (Mass Market Paperback)
Da Capo Press, 9780306815294, 400pp.
Publication Date: August 1, 2006
Other Editions of This Title:
Paperback (9/1/1991)
Paperback (8/1/2004)
Paperback (8/11/2000)
Hardcover (1/1/1990)
Prebound (8/1/2006)
Paperback (6/1/2005)
Hardcover (10/9/2003)
* Individual store prices may vary.
Description
Return once again to the enduring account of life in the Mojo lane, to the Permian Panthers of Odessa -- the winningest high school football team in Texas history. Odessa is not known to be a town big on dreams, but the Panthers help keep the hopes and dreams of this small, dusty town going. Socially and racially divided, its fragile economy follows the treacherous boom-bust path of the oil business. In bad times, the unemployment rate barrels out of control; in good times, its murder rate skyrockets. But every Friday night from September to December, when the Permian High School Panthers play football, this West Texas town becomes a place where dreams can come true. With frankness and compassion, Bissinger chronicles one of the Panthers' dramatic seasons and shows how single-minded devotion to the team shapes the community and inspires-and sometimes shatters-the teenagers who wear the Panthers' uniforms. Includes Reader's Group Guide inside. Now a an NBC TV weekly drama series.
About the Author
H.G. Bissinger has won the Pulitzer Prize, the Livingston Award, the National Headliner Award, and the American Bar Association's Silver Gavel for his reporting. The author of the highly acclaimed A Prayer for the City, he has written for the television series NYPD Blue and is a contributing editor at Vanity Fair. He lives in Philadelphia.
Praise For Friday Night Lights Mass Market TV Tie-in…
Daytona Beach News-Journal, 12/19/08
"The book is far better and more believable than the awful movie."

Dallas Morning News, 6/28/09
"While Bissinger does present the unfortunate issues facing a West Texas town, it is a true example of the pride Texans have in their community."
Men's Fitness, August 2009
"The movie and TV show are good, but the book that inspired them is even better…[A] compelling look at how the high school dynasty shapes the pigskin-crazed small-town community of Odessa, Texas."

Townsend Times, 11/20/09
"Shines a revealing light on a Texas city's unhealthy football obsession…A powerful book, the title of which has become synonymous for high school football."

Mobile Sunday Press-Register's "Gift Books for Men" holiday roundup, 12/6/09
"An unsettling portrait…of Middle America through the lens of high school football. Bissinger nailed it."

Teen Ink, January 2010
"This story is both thrilling and astoundingly passionate as it shows the lives that the teens of Odessa so crave. I love how the author describes the hard work the players and coaches put in every season…I would recommend this book to anyone who loves a great sports drama about how far people will go to make their dreams come true."

Arlington Heights Daily Herald, 1/15/2010
"[It] captured the good, bad and sometimes ridiculous of high school sports."
Gainesville Sun, 2/6/11
"Essential pig-skin reading." 
Birmingham News, 7/10/11
"outstanding" 
Manchester Enterprise, 8/4/11

"With characters so rich and larger-than-life, sometimes it's easy to forget that the book is based on real people." 
Dow Jones Newswires, 9/22/11
"Shows how much a sport can bleed into every part of a community's life…As much a sociological study of a depressed town as it is a sports story."

The Chieftain, 12/15/11
"Gritty, inspiring, heartbreaking, bittersweet—all those adjectives apply. This book will show you just how big Texas high school football is and make you wonder if that's a good thing or a bad thing."
New York Times, 5/14/12
"A classic of American sports writing."
Lufkin News, 6/29/12
"A well-researched and compelling story."

FHM, August 2012
"Deeply atmospheric. It perfectly conveys the parochial nature of a local sporting rivalry."


Tulsa World, 9/13/12
"The 'secular religion' that is small-town high school football is captured in exquisite detail in this now-classic book…A must-read for anyone wanting to understand the importance sports can have in some peoples' lives."
Anniston Star, 8/31/12
"Stellar."
or
Not Currently Available for Direct Purchase