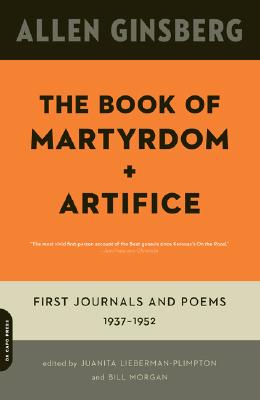 The Book of Martyrdom and Artifice: First Journals and Poems, 1937-1952 (Paperback)
First Journals and Poems, 1937-1952
Da Capo Press, 9780306815621, 523pp.
Publication Date: March 1, 2008
Description
Allen Ginsberg (1926-1997) kept a journal his entire life, beginning at the age of eleven. In these first journals the most important and formative years of the poet's storied life are captured, his inner thoughts detailed in what the San Francisco Chronicle calls a "vivid first-person account...Ginsberg's unmistakable voice coming into its own for the first time." Ginsberg's journals-so candid he insisted they be published only after his death-document his complex, fascinating relationships with such figures of Beat lore as Jack Kerouac and William S. Burroughs, and reveal a growing self-awareness about himself, his sexuality, and his identity as a poet. Illustrated with never-before-seen photos and bolstered by an appendix of his earliest poems, The Book of Martyrdom and Artifice is a major literary event.
About the Author
Allen Ginsbergs Howl was one of the most widely read and translated poems of the twentieth century. He was a member of the American Academy of Arts and Letters and cofounder of the Jack Kerouac School of Disembodied Poetics at Naropa Institute. Juanita Lieberman-Plimpton worked with Allen Ginsberg and as an editor in New York City. She now owns and runs her own business, Mud Pie Productions and lives in western Massachusetts. Bill Morgan was Allen Ginsbergs literary achivist and is author of the biography I Celebrate Myself: The Somewhat Private Life of Allen Ginsberg. He lives in New York City.
Advertisement