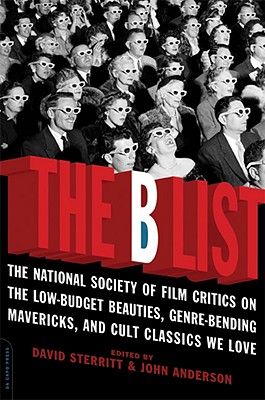 The B List: The National Society of Film Critics on the Low-Budget Beauties, Genre-Bending Mavericks, and Cult Classics We Love (Paperback)
The National Society of Film Critics on the Low-Budget Beauties, Genre-Bending Mavericks, and Cult Classics We Love
Da Capo Press, 9780306815669, 240pp.
Publication Date: October 1, 2008
* Individual store prices may vary.
or
Not Currently Available for Direct Purchase
Description
What kind of collection could possibly find common ground among
The Son of Kong
,
Platoon
, and
Pink Flamingos
? What kind of fevered minds could conceive of such a list? What are the unheard-of qualities that tie them all together?
The answers: This book. The National Society of Film Critics. And the far-reaching enticements of the B movie itself.
Once the B movie was the Hollywood stepchild, the underbelly of the double feature. Today it is a more inclusive category, embracing films that fall outside the mainstream by dint of their budgets, their visions, their grit, and occasionally--sometimes essentially--their lack of what the culture cops call "good taste."
The films in The B List are offbeat, unpredictable, and decidedly idiosyncratic. And that's why we love them.
About the Author
David Sterritt is chairman of the National Society of Film Critics and a film professor at Columbia University. He lives in Baltimore.John Anderson writes regularly for Variety, the New York Times, and Newsday. He lives in Los Angeles.
Praise For The B List: The National Society of Film Critics on the Low-Budget Beauties, Genre-Bending Mavericks, and Cult Classics We Love…
Editors Guild
"A tome that will set nicely on the shelf beside your movie collection and provide rewarding reading as a supplement to the film viewing experience."

Kirkus Reviews, Reference Special Issue, 2008
"Downright fun…Diversity can be found here aplenty, with fan favorites like The Rocky Horror Picture Show and Reservoir Dogs, to stalwarts like The Son of Kong. They've also included some questionable picks like The Rage: Carrie 2 that will likely spark debate among film enthusiasts. The surprises, however, are the beauty of The B List."

Augusta Metro Spirit, 10/15/08
"The National Society of Film Critics come together for an amazing array of sub-mainstream memory in The B List…The list of contributors is enough to make a movie fan's mouth water…Some of the most knowledgeable people in the movie field provide an outstanding collection of memories, opinions, and even analysis…The writers in this volume offer an expansive view of where the film world has been and where it seems to go when the mainstream isn't quite ready…Collected with an intricate knowledge of B-movie production and complete with viewer guides and arguments for each of the movies selected, The B List is a welcome companion to the book collection of any movie fan who sometimes steps beyond the simplicity of the mainstream theater."

Total Film, November 2008
"A few questionable choices in the National Society of Film Critics' round-up of B-movie 'beauties,' but they're argued with authority and panache. Besides, it doesn't hurt to have a couple of curveballs alongside all the usual cult suspects."

Filmbill, October 2008
"Perhaps The B List is at its best when it makes a real genre film like The Rage: Carrie 2 seem legitimate, while showing that a cult classic like Pink Flamingos may not be as good as its reputation might suggest. Such are the delights of this collection, which truly offers something for everyone."

Santa Fe New Mexican, 10/10/08
"[An] entertaining compilation of essays."

Norfolk Virginian-Pilot, 10/26/08
"The writing is generally good, often excellent. Editors David Sterritt and John Anderson have done a good job of selecting essayists with an interesting variety of viewpoints and styles…[A] worthwhile book."


Baltimore City Paper, 10/29/08
"The book's most compelling essays make you rethink old favorites or point you in the direction of movies that even those of us who grew up tethered to our VCRs may have missed…If you're looking for a guide through film's funkier tributaries, this is intellectual criticism written with the urgency of a fan juiced to share some odd object of infatuation with a world that likely missed it the first time around."
 

Curled Up with a Good Book, 10/08
"One of the most quotable books I've read in a long time…[An] amusing and thought-inducing collection."
 

The Associated Press, 11/7/08
"The literary version of having a movie-critic friend intent on convincing you that there's a movie of which you've never heard but must see, The B List offers up mostly irresistible essays by the National Society of Film Critics about their favorite guilty pleasures…These movies may never make "best-of" lists, but they're all memorable, and most essays convey the giddy pleasure involved in watching a movie that is engrossing even though it doesn't ostensibly matter…The book's broad scope adds to its charm…The strength of the book lies in the fact that even if readers never see the movies discussed, it is still fun to read about them. And many essays showcased here will either pique readers' interest or reacquaint them with forgotten favorites…I challenge anyone to finish it without a Netflix queue full of previously unheard of movies they're excited to check out."
 

NPR.org's "Blog of the Nation," 10/20
"A delicious critical collection of these low-brow treats."
 

Publishers Weekly, 11/10/08
"These brief essays celebrate well the reckless streak that runs through Hollywood."
 

InfoDad.com, 11/13/08
"Fun for fans of films that, in most cases, never quite made the A list because they wouldn't be caught dead there."
 

BookPage, December 2008
"Reminds us why it's OK to love movies that have never made a '10 best' list."
 

Buffalo News, 11/23/08
"Much more fun, though, by far, is The B List, in which members of the National Society of Film Critics belie their organization's stuffy title and rummage around in the glorious seamy cellars that all art forms need for growth and health…You've got a lot of very merry film critics in The B List celebrating with you the joys of cinematic junk—even if so much of it has a weird tendency to last so much longer than so much 'respectable' fare."
 

Bookgasm.com
"The book makes some interesting arguments."
 

GloriousNoise.com, 12/1/08
"[An] eclectically focused selection of essays…There is an abundance of good writing in The B List, writing about movies that you are familiar with and about movies that you may not have even heard about…The B List should be—to make a movie blurb-like crack at this—on your A List."
 

Curled Up with a Good Book, 11/28/08
"If you are a movie fan at all, you should definitely take a look…It's a nice tour through the bottom level of film history, looking for some gems that almost nobody has seen…The essays about these movies actually do force the reader to examine what may very well be a familiar movie in different ways than they have before…Readers will find many ideas for movies to rent the next time they are at the video store…An excellent collection of film commentary. The love for these movies shines through in almost every essay."
 

Skyscraper, Winter 08
"An engaging, lively read for die-hard B movie fans or those interested in knowing what to watch for at local DVD rental stores or on late-night television."
 

Magill Book Reviews
"With a good mixture of familiar and obscure titles, the critics provide acute observations...The essays are insightful and entertaining. The best make the writers' enthusiasms infectious."
 

Word blog, 12/29/08
"The films in The B List are offbeat, unpredictable, and decidedly idiosyncratic. That's why we love them. That's why we love this book. A great collection of essays."

Bitch, 1/09
"Cover[s] a diverse set of films…Offers the cinephile a pleasant enough way to while away a few hours…May even alert readers to movies they've missed."

SLUG (Salt Lake Underground)
"A good read…It throws caution to the wind and zooms in on films whose conception, lurid upbringings and dubious character traits would drive most people away. This is a fantastic resource for cult film buffs the world over."

Atlanta Daily Report, 12/19/08
"There are some terrific pieces by all kinds of movie critics you've heard about, usually writing about movies you've never heard about."


Film International, Issue 38, 2009
"Books like this often bring out the best in film critics, and The B List brings out the best in many of the best film critics in America…[They] don't snipe or sneer, show off or oversell: they simply make well-informed and well-founded appeals for us to (re)consider the lowbrow barnstormers they believe to be worthy of the remastering and revivals usually lavished on films by a Bergman, Renoir or Welles. The resultant essays are short, taut, punchy and impassioned, and fuelled by infectious enthusiasm for B movies of bravery, vitality and invention."
Advertisement