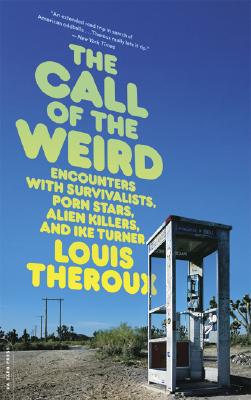 The Call of the Weird (Paperback)
Encounters with Survivalists, Porn Stars, Alien Killers, and Ike Turner
Da Capo Press, 9780306815676, 288pp.
Publication Date: May 27, 2008
* Individual store prices may vary.
Description
No, it doesn't get much weirder than this: Thor Templar, Lord Commander of the Earth Protectorate, who claims to have killed ten aliens. Or April, the Neo-Nazi bringing up her twin daughters Lamb and Lynx (who have just formed a white-power folk group for kids called Prussian Blue), and her youngest daughter, Dresden. For a decade now, Louis Theroux has been making programs about offbeat characters on the fringes of U.S. society. Now he revisits the people who have most intrigued him to try to discover what motivates them, and why they believe the things they believe. From his Las Vegas base (where else?), Theroux calls on these assorted dreamers, schemers, and outlaws--and in the process finds out a little about the workings of his own mind. What does it mean, after all, to be weird, or "to be yourself"? Do we choose our beliefs or do our beliefs choose us? And is there something particularly weird about Americans? America, prepare yourself for a hilarious look in the mirror that has already taken the rest of the English-speaking world by storm: "Paul Theroux's son writes with just as clear an eye for character and place as his father . . . And he's funny . . .Theroux's final analysis of American weirdness is true and new." -- Literary Review (England)
About the Author
Louis Theroux has written for Spy, worked on Michael Moore's Emmy-winning TV Nation, and hosted his own award-winning television series Weird Weekends and When Louis Met . . . This is his first book He lives in London.