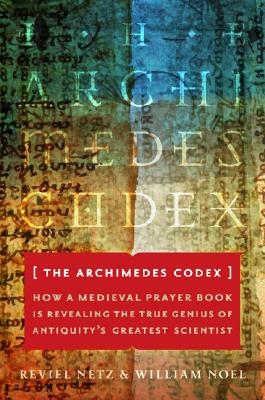 The Archimedes Codex (Hardcover)
How a Medieval Prayer Book Is Revealing the True Genius of Antiquity's Greatest Scientist
Da Capo Press, 9780306815805, 352pp.
Publication Date: October 1, 2007
Other Editions of This Title:
Paperback (2/1/2009)
Paperback (3/20/2008)
* Individual store prices may vary.
Description
At a Christie's auction in October 1998, a battered medieval manuscript sold for two million dollars to an anonymous bidder, who then turned it over to the Walters Art Museum in Baltimore for further study. The manuscript was a palimpsest-a book made from an earlier codex whose script had been scraped off and the pages used again. Behind the script of the thirteenth-century monk's prayer book, the palimpsest revealed the faint writing of a much older, tenth-century manuscript. Part archaeological detective story, part science, and part history, The Archimedes Codex tells the extraordinary story of this lost manuscript, from its tenth-century creation in Constantinople to the auction block at Christie's, and how a team of scholars used the latest imaging technology to reveal and decipher the original text. What they found was the earliest surviving manuscript by Archimedes (287 b.c.-212 b.c.), the greatest mathematician of antiquity-a manuscript that revealed, for the first time, the full range of his mathematical genius, which was two thousand years ahead of modern science.
About the Author
Reviel Netz, Professor of Classics and Philosophy at Stanford University, specializes in ancient science. William Noel is Curator of Manuscripts at the Walters Art Museum, Baltimore, and Director of the Archimedes Palimpsest Project.
Praise For The Archimedes Codex: How a Medieval Prayer Book Is Revealing the True Genius of Antiquity's Greatest Scientist…
Physics Today
"[Reviel Netz is] one of the most creative historians of mathematics of our time…[Will Noel] narrates with some verve his own story in learning about the palimpsest…Much of The Archimedes Codex is delightful. The story of the palimpsest is exciting, and few can explain difficult issues in Greek mathematics with the simplicity and elegance that Netz achieves…A fun read."

Mathematics and Computer Education
"[A] crystal clear and captivating narrative. It is a book that is difficult to put down…An absolutely wonderful book…It will inspire future geometers, physicists, computer scientists, curators, and classicists."

Science Books & Films, 8/08
"The fascinating story of how the secrets of this work have been unlocked."

Mathematics Teacher, 11/08
"Accessible to a general audience…A valuable resource for instructors teaching a history of mathematics course."

Toronto Globe and Mail, 1/31/09
"[An] archeological detective story…Fascinating."

Blogcritics.org, 2/10/09
"A very interesting book, quite entertaining, sometimes funny, always engaging…A great treat for mystery lovers, classicists, mathematicians, and history buffs."

American Author's Association
"[A] wonderful book…This is not just a math book or a science book or a history book—it is a book of mysteries and so much more…A most fascinating tale… Entertaining, yet educational and inspiring…This book made math exciting!"

Isis, 5/6/09
"Offers fascinating insight into modern research on ancient mathematical texts."
or
Not Currently Available for Direct Purchase