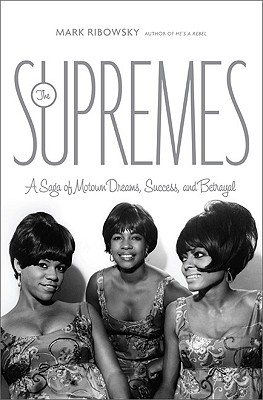 The Supremes: A Saga of Motown Dreams, Success, and Betrayal (Hardcover)
A Saga of Motown Dreams, Success, and Betrayal
Da Capo Press, 9780306815867, 480pp.
Publication Date: June 1, 2009
* Individual store prices may vary.
or
Not Currently Available for Direct Purchase
Description
Drawing on intimate recollections from friends, family, and Motown contemporaries, Mark Ribowsky charts the Supremes' meteoric rise and bitter disintegration. He sheds light on Diana Ross's relationship with Berry Gordy and her cutthroat rise to top billing in the group, as well as Florence Ballard's corresponding decline. He also takes us inside the studio, examining how timeless classics were conceived and recorded on the Motown assembly line, and considers the place of Motown in an era of cultural upheaval, when not being black enough became a fierce denunciation within the black music industry.
Deftly combining personal testimony, history, and expert analysis, Ribowsky not only tells the full, heartbreaking story of the Supremes, but shows why Gordy's revolutionary concept of blacks singing white was essential to the modern evolution of music.
About the Author
Mark Ribowsky is the acclaimed author of eight books, including He's a Rebel, a biography of Phil Spector. He lives in New York City.
Praise For The Supremes: A Saga of Motown Dreams, Success, and Betrayal…
A Finalist for the 2010 Association for Recorded Sound Collections Awards for Excellence in Historical Recorded Sound Research for the "Best Research in Recorded Rock and Pop Music" category. 

Publishers Weekly, 5/18/09
"A dishy, insider look at Berry Gordy's making of the Supremes…Ribowsky nicely intersperses some hindsight reflections by the main players…In this engaging, vivacious account, Ribowsky energetically and thoroughly underscores the Supremes' significance as one of the first crossover successes."

Booklist, 06/01/09
"[Ribowsky] retells the familiar story of how [Berry] Gordy's fiefdom became 'Hitsville USA,' recording a good deal of attributed dissent—always a treat in a pop-music history. Equally illuminating are the stuff about the individual Supremes' travails and tidbits about the interactions of Motown legends like Smokey Robinson and Marvin Gaye regarding the material Gordy wanted them to perform and the rivalries and peccadilloes of such vaunted Motown production teams as Holland-Dozier-Holland…Illuminating and salacious in the best possible ways."
Booklist, 6/1/09
"[Ribowsky] retells the familiar story of how [Berry] Gordy's fiefdom became 'Hitsville USA,' recording a good deal of attributed dissent—always a treat in a pop-music history. Equally illuminating are the stuff about the individual Supremes' travails and tidbits about the interactions of Motown legends like Smokey Robinson and Marvin Gaye…Illuminating and salacious in the best possible ways."
Library Journal, 6/5/09
"A comprehensive look at the tumultuous relationships within the Supremes as well as among others at the Motown label…Ribowsky's original interviews with members from such other Motown acts as the Temptations' Otis Williams and the Marvelettes' Katherine Anderson, and some Motown myth-debunking add a distinctive flavor. Recommended for readers who have a casual interest in popular music or Motown."
African American Family, 6/2009
"[Ribowsky] unearths the incredible, real-life drama of Motown's biggest female stars…An extensively researched history of one of the most successful female musical groups of all time."
St. Petersburg Times, 6/14/09 & South Florida Sun-Sentinel, 6/21/09
"Ribowsky dishes up the inside story of the queens of '60s girl groups and their role in Berry Gordy's Motown empire. Diana Ross' distinctive voice and driving ambition are central to the story."
New York Post, 6/28/09
"Juicy little details about the Supremes' nasty hatefulness toward one another actually reveal the group's true devotion. As Ballard once revealed to a reporter about The Supremes, 'We all wear engagement rings—we're married to Motown.'"
Q, August 2009
"[A] beautifully written, harrowing tale."
WYNC Soundcheck, 7/9/09
"[A] dishy new book…There is much to dislike in the story of Diana Ross and the Supremes, but there is also something underneath it all, a subtext about the power of music to bridge even the most troubling divides."
London Sunday Times, 7/5/09
"It seems extraordinary that there has never been a serious biography dedicated to the Supremes before now. They achieved more than enough to deserve a shelf full…The rags-to-riches story of the Supremes is almost as captivating as their music…[A] diligently researched biography."
Deseret News, 7/5/09
"Ribowsky writes about the ambition and greed and deception that ultimately split the Supremes. But he also writes of their rags-to-riches journey and their business savvy in an industry long dominated by men."
Blurt Online, 7/7/09
"Ribowsky's book corrects a grave injustice—the previous lack of any full scale biography of the Supremes, the most successful girl group of the 1960s…No one had previously tackled the Supremes story from an objective point of view…Ribowsky's tale fully lives up to the book's subtitle…Ribowsky does a good job of untangling the group's early, pre-Motown days, as well as balancing the numerous conflicting accounts of events…A most bittersweet look at what can happen when dreams come true."
A.V. Club, 7/9/09
"Michael Jackson's death is another reminder of the richness and depth of the Motown Records saga. But the greatest story of the label's '60s heyday is still that of The Supremes…Dirt keeps popping up, and there's more than enough of it, old and new, to keep Phil Spector biographer Mark Ribowsky going in his new book…He sorts through conflicting multiple sources with the zeal of a true fan, albeit one who doesn't make excuses for Ross' diva excesses."
St. Petersburg Times, 7/9/09
"Working from extensive interviews with their Motown contemporaries and others, Ribowsky traces the Supremes' public and personal lives…Between the dish, the book provides a detailed, musically astute account of how the Supremes' hits were made and marketed."
TheFirstPost.co.uk, 7/7/09
"Gives a hint of Diane (her real name) Ross's character."
WTVF Talk of the Town, 7/7/09
"[A] wonderfully written true story about one of the best groups ever…The real story of why and how The Supremes had more hits than any other group in the 1960s except for the Beatles and Elvis."
Hemispheres, July 2009
"With his well-wrought new biography, Mark Ribowsky gives Detroit girls their due."
Buffalo News, 7/12/09
"The Supremes is as much about Gordy and his empire as it is about the most successful singing trio in history; rightly so, as their histories are so intricately intertwined that one couldn't exist without the other…[A] nuanced, heartbreaking portrait of [Flo] Ballard…In telling Ballard's story unsparingly, Ribowsky lifts his book from celebrity journalism to tragedy."
Bookgasm.com, 7/14/09
"Ribowsky charts the Supremes' meteoric rise and bitter disintegration…Combining personal testimony, history, and expert analysis, Ribowsky not only tells the full, heartbreaking story of the Supremes, but shows why Gordy's revolutionary concept of 'blacks singing white' was essential to the modern evolution of music."
Austin Chronicle, 7/17/09
"By the 'Where Did Our Love Go?' epilogue of Mark Ribowsky's sleek The Supremes, you'll never hear one of the vocal trio's 12 No. 1 smashes the same again…[Ribowsky's] 20-deep bibliography of label documentation attests to his thoroughness."
Denver Post, 6/21/09
"Ribowsky uses recollections from friends, families and Motown contemporaries to tell the story of the legendary singing group's meteoric rise and bitter falling apart."
Marco Island Eagle, 7/22/09; Elkin Tribune, 7/20/09
"You'll get a good look at the women—and the men—that started a music revolution…Filled with stories of astounding chutzpah, betrayal, back-stabbing and deviousness, The Supremes is a scandal-lover's delight…A well-researched account…If "Baby Love" and "Love Child" have always been in your background, you shouldn't miss this book. For diehard fans, The Supremes should be at the front of the reading list."
WNTI Radio, 7/24/09
"The first comprehensive biography of the most successful female vocal group of all time…Ribowsky has written the definitive account of a magical time in American music…The author shares first-hand intimate recollections from those that knew the Supremes best…The Supremes is the complete, sometimes heartbreaking account of three girls from the Detroit projects, their meteoric rise and bitter disintegration and their place in the history of popular music. One of the best music books written in 2009."
Popmatters.com, 7/29/09
"The story behind one of the most successful musical acts ever…is an intriguing one, a genuine all-American, rags-to-riches tale, complete with villains, victims and heroes, as well as a messy unraveling that rivals anything seen on Behind the Music…Ribowsky's skillful retelling of how Motown founder Berry Gordy Jr. built an empire from scratch is a gripping read…With Ribowsky's attention to detail, the humble, and seedy, roots of Motown come alive, as he puts us smack-dab in the middle of Detroit's mean streets."
Blogcritics.org, 7/30/09
"Ribowsky does a terrific job of…setting the record straight…[Ribowsky] treats his subjects in a mostly fair and even-handed way. He also spares little in the way of dishing the often dirty details, which makes this book a real page turner…Provides an inside look into the creation of all those great Supremes records…As a no-holds-barred, insiders look into the trials, tribulations, and triumphs of one of the biggest acts in pop music history, The Supremes: A Saga of Motown Dreams, Success, and Betrayal is a fascinating read. It is also an essential one for any student of pop music history."
Sacramento Book Review, 7/30/09
"The truly interesting tale of the Supremes before we knew them."
Augusta Metro Spirit, 7/29/09
"A stunning look at the world of a particular group…[Ribowsky] shines a light into the intrigue, prestige, and promise of an industry. Furthermore, he illuminates the origins of the group in a smooth narrative rich with detail…Written with a deft hand and a talent for detail, The Supremes is a powerful ride through the halls of soul."
Marquee, August 2009
"A great story of the Supremes' rise to fame. Even more than that, though, this is a great look at the Motown Empire from the perspective of the women that helped fuel the machine…This true account is as compelling a story as any fiction writer could put to paper."
Bookviews blog, August 2009
"Anyone who loves the popular music scene will want to read this book."
Book Bargains and Previews
"In a sprawling parable of ambition, sex, and betrayal, Mark Ribowsky delivers the definitive story of the most successful female vocal group of all time…If you've never read anything about Motown and/or The Supremes, this book will fascinate you." 
InfoDad.com, 8/6/09
"Ribowsky is nothing if not thorough…Will not disappoint readers looking for the backbiting and catfighting that are an integral part of show-business biographies…Ribowsky also has a good feel for the business practices (not all of them savory) of Motown in the 1960s, and of some of the larger-than-life characters who shaped the hits of the time."
Irish Times, 8/1/09
"A history of The Supremes chronicles their unsisterly rivalry and offers a dizzying narrative of the wider Motown family…An interesting account of the lives of the three young women who once ruled the pop world…While [Ribowsky] doesn't try to hide his exasperation with the uber-diva and her 'over-baked mawk,' he gives Ross her due and offers an outsider's take on the inside story of a singular music empire. He is also clearly in love with pop music and revels in the occasional magic that The Supremes, with Motown behind them, were able to work."
Washington Times, 8/27/09
"[An] exhaustively researched book."
Internet Review of Books, August 2009
"After a proliferation of pop bios, gossipy pseudo-histories, and self-serving memoirs by various of the players, the most successful girl group of all time finally has its due…Ribowsky has done a superb job…He writes with flair, wit, and intelligence, generating tension much the way a good novelist does: raising questions, withholding answers, foreshadowing events, rendering characters in bright bold colors, keeping us reading."
January, 8/18/09
"Ribowsky's biography is no lightweight fan fluff. Rather, this is an intelligent biographic retrospective, worthy of any university press, but arguably more gripping…Good stuff, well handled…A terrific book."
Time Out London, "Book Of the Week", 8/13/09
"Although there are plenty of newly revealed facts and perspectives for Motown nerds to geek out over, The Supremes is perhaps most interesting for its grasp of period minutiae—the pre-fame years of 'The Supremes' and [Berry] Gordy's lives are told with a vivid attention to detail."
ForeWord Magazine
"A heavily researched examination of the Supremes phenomenon."
Tucson Citizen "Shelf Life", 9/16
"How four girls from the projects in Detroit formed a group that eventually become the biggest American music act of the 1960s with more No. 1 hits than anyone, except for Elvis and the Beatles, makes for quite a story…Ribowsky spares no details as he documents Ross's ruthless rise to the top."

The Milwaukee Shepherd Express, 9/17
"Capture[s] some of the sights and sounds of Detroit and its flourishing '60s music scene in what, incredibly, seems to be the first full biography of the Supremes not written by an ex-member or intimate."

Smooth Jazz News, October 2009
"Read this book for a point of view supplied from someone not directly involved with the Supremes or Motown…Enjoy sifting through the rumors."

Detroit Metro Times MI, 11/25/09
"A worthy read…A real-life drama that's actually way better then the fictionalized Dreamgirls…A fun and fascinating book…and it offers some terrific trivia gems."

Howard County Times MD, 11/26/09
"[A] solid new biography of the group…Though Ribowsky doesn't shy away from drama, The Supremes is not a work of scandal-mongering. Instead, it is a nuanced portrait of the Detroit music scene of the period. Ribowsky's use of primary sources, including his own interviews with major players, ensures something new for Supremes aficionados, while his balanced tone makes this a good starting place for newcomers as well."

Best Musical Titles of 2009, London Sunday Times, 12/6/09
"The story of Motown's most successful group has been told many times before by individual contributors with particular agendas. This well-sourced biography is the first attempt to synthesise the conflicting views of the various Supremes and their Svengali patron, Tamla boss Berry Gordy."

Midwest Book Review
"A powerful biography…Any general lending library will find this a popular lend."

Elmore, January/February 2010
"440 pages of the mythical-sounding, yet completely factual tale of the trio's ascension up the Billboard charts…Ribowsky tells a surprisingly objective story, with a narrative so vivid that you would believe he was there to witness it firsthand…Ribowsky succeeds in constructing a definitive account of the group from its humble and seedy origins to its anticlimactic demise." 
 
The TMR Zoo, 1/3/10
"Ribowsky has done a phenomenal job putting together the definitive biography on the biggest girl group (so far) of all time…Ribowsky knows how to dig deep…[and] does some good investigative work piecing the story together from the perspective of an objective party who wasn't involved in the business."

Magill Book Reviews, March 2010
"A lively and well-documented chronicle of the Supremes…Ribowsky's book is the most ambitious attempt yet to get at the truth of the Supremes phenomenon…Ribowsky brilliantly captures the personal drama of the Supremes, while situating the group in the musical and political context of the 1960s."
Advertisement