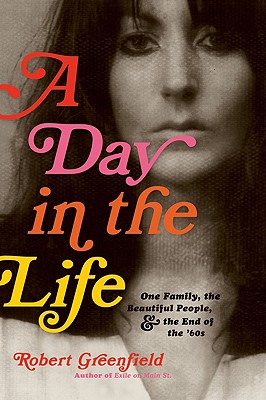 A Day in the Life: One Family, the Beautiful People, and the End of the Sixties (Hardcover)
One Family, the Beautiful People, and the End of the Sixties
Da Capo Press, 9780306816222, 368pp.
Publication Date: May 1, 2009
* Individual store prices may vary.
or
Not Currently Available for Direct Purchase
Description
A Day in the Life
is the story of how the ideal marriage between two young and extraordinarily beautiful members of the English upper class fell apart as the psychedelic dreams of the sixties gave way to the harsh, hard-rock reality of the seventies. A tender, moving, and often harrowing look at the moment in time when the counterculture collided with the international jet set, A Day in the Life captures the spirit of that era and the people who lived through it with unerring accuracy and heartfelt precision.
When Tommy Weber and Susan "Puss" Coriat, London's most beautiful couple, were married in 1964, it was the fitting end to a storybook romance. But the fast cars Tommy loved to race, their celebrity friends, and the huge trust fund Puss had inherited masked a tortured truth--both had suffered through oppressive and neglectful childhoods and were now caught up in a wildly extravagant lifestyle that neither Puss' inheritance nor Tommy's increasingly desperate schemes could support. Six years later, Puss found herself wandering around India with her two sons while Tommy, who was now smuggling drugs to survive, lived in London with a stunning young actress. A Day in the Life is also the stirring account of how the couple's tow sons--one of whom is the well-known actor Jake Weber--somehow managed to survive a childhood that would have destroyed those of lesser spirit.
An unbelievable true-life tale that often reads like a novel, A Day in the Life follow the fortunes and misfortunes of one remarkable family while also introducing us to an extensive cast of supporting characters that includes Keith Richards, Anita Pallenberg, Mick Jagger, Jimi Hendrix, Eric Clapton, George Harrison, John Lennon, and Charlotte Rampling, as well as many of the movers and shakers who helped create the "Swinging London" scene.
About the Author
Robert Greenfield is the author of several books, including Exile on Main St.: A Season in Hell with the Rolling Stones. An award-winning novelist, screenwriter, and journalist, he lives in California.
Praise For A Day in the Life: One Family, the Beautiful People, and the End of the Sixties…
Kirkus Reviews, 4/15/09
"A eulogy for the 1960s…Though it often reads like an extended society gossip column, the narrative is studded with enough trivia and name-dropping to engage ex-hippies and other fans of '60s culture."

San Francisco Bay Guardian, 5/6/09
"This book [is] a great gift from the cosmos."
New York Post, 5/10/09
"A look at the '60s through the lens of two of Swinging England's beautiful people."
Seattle Times, 5/17/09
"Greenfield's reporting skill is admirable, and when he quotes Puss' last letter to her sons, it is bone-chilling. As the author of two previous books on the Rolling Stones, Greenfield brings the decade to life as well as any writer, without ignoring the darkness that soon envelops this family."
Tuscon Citizen, 5/7/09
"This highly readable cautionary tale centers on two privileged people who lost their bearings in a hazy world of drugs, free love and unfulfilled dreams."
Monterey Herald, 5/21/09
"His books, articles, profiles, stories and scripts have made his voice one of the prominent spokespersons for the 1960s. In his work, he delves beneath the surface of the lives of some of the most important figures of this music generation, showing readers the humanity that lives beneath fame and glory."
January.com, 5/15/09
"Reads, at times, like a novel…This book is just stuffed full of…juicy tidbits."
Washington Times, 5/31/09
"[An] extraordinary story, part magical mystery tour and part morality tale…Greenfield has done a marvelous job of re-creating the wild ride of Tommy and Puss with a splendid immediacy…As rendered here anyway, they are in themselves fascinating characters, oddly compelling and attractive despite their glaring flaws…Greenfield is a superb guide through the turbulent world where this odd couple led their frenzied lives…One of the most powerful cautionary tales about the heady Sixties that I have ever read."
Los Angeles Times, 5/31/09
"[A] fascinating book about beautiful people gone down."
Blogcritics.org, 5/2//09
"[A] well-researched biography...To some extent, [Puss and Tommy's] story could be a metaphor for their era, a tale of promise that, with liberal doses of 'sex, drugs, and rock 'n' roll,' devolved into self-absorption and self-ruin."
Boston Globe, 6/4/09
"Well researched, and the interviews with Jake and Charley Weber, the couple's tempest-tossed sons, are engrossing…Greenfield is a vivid writer with an unmatched grip on the tawdry. Many anecdotes are entertaining."
InfoDad.com
"[An] accurate portrayal of some of the less-than-'groovy' aspects of the Swinging Sixties."
Publishersweekly.com, 6/15/09
"Greenfield documents the end of swinging London and the psychedelic 1960s through the breakdown of a high-society, scene-hopping married couple…Capturing the tenor and tone of the era, Greenfield's dysfunctional family is just as mesmerizing as his previous big-name subjects like Jerry Garcia and Timothy Leary."
Curledup.com
"Greenfield understands this period and writes about it with candor and authority."
Curledup.com
"A great read, redolent of the times it so luridly depicts."
New York Waste, June 2009
"[An] amazing book…told brilliantly…A true story of two extremely fascinating people…The most exciting biography to come out in a very long time!"
The Yummy List, 6/27/09
"The sort of real life that defies fiction, this is a blistering beach read for anyone who's more taken by the late 60s social upheaval than the Gossip Girl/East Hampton entitlement and indulged behaviour."
WTVF Talk of the Town, 7/7/09
"The fascinating story of what happens when there is too much drugs, sex, and rock and roll."
Glide magazine's Hidden Track, 7/21/09
"[Greenfield is] one of the true legends of the music writing landscape and particularly the music biography."
Music Connection, August 2009
"[A] heartbreaking true tale of the unraveling of a seemingly idyllic English upper-class marriage, told against the backdrop of the end of the '60s and its rock star elite."
Elmore, Sept/Oct 2009
"An impeccably researched transport vessel into the day-in, day-out friendships, haphazard propositions, manic depression, casual sex, irresponsible parenting, Hendrix-hanging, Stones-insider, drug-trafficking heyday of these guiltily interesting yo-yos…I can spot a Greenfield book, and his fans will find this one worth the read."
Howard County Times(MD), 8/6/09
"Dazzling and sobering in equal measures…Undeniably fascinating."

Augusta Metro Spirit
"A virtual scrapbook of sixties culture…Greenfield holds a deft hand for narration…Greenfield uncovers the passion, power, and intrigue of a cultural transition that still leaves its effects upon the current landscape."

Midwest Book Review
"The 60s and sentiments come to life in a solid true-life story of social change at its fastest pace."
The Sixties: A Journal of History, Politics and Culture, Volume III, Issue I"Greenfield makes a compelling case for revisiting Weber and Coriat as the collateral damage of a society-wide experiment with drugs, liberation and free expression."
Advertisement