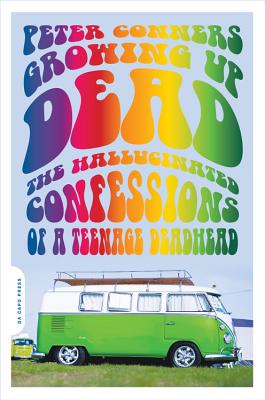 Growing Up Dead (Paperback)
The Hallucinated Confessions of a Teenage Deadhead
Da Capo Press, 9780306817335, 288pp.
Publication Date: March 31, 2009
* Individual store prices may vary.
Description
Told against the backdrop of the American landscape of the late '80s to the mid-'90s, Growing Up Dead is the story of Peter Conners's journey from straight-laced suburban kid to touring Deadhead. Peter discovered the Grateful Dead in 1985, at the age of 15, through friends who exchanged bootleg tapes of live Grateful Dead concerts. A teenager living in the suburbs of Rochester, New York, he became exposed to an entirely new way of life, and friends who were enjoying more freedom and less parental guidance. At the age of 16, he attended his first Grateful Dead concert on June 30, 1987 - he was hooked. Between 1987 and 1995, Conners would attend Dead 'shows' all over the United States. He traveled with a makeshift 'family' of other Deadheads in a Volkswagen camper, selling drugs and whatever else would provide gas money to the next concert. His hair was a wild, unkempt bush and baths were infrequent. In short, he had progressed from suburban kid, to Grateful Dead fan, to full-blown Deadhead. Chronicling this progression, which culminates with the 1995 death of Jerry Garcia, Conners reveals the truth behind Deadhead culture and history. The result is a riveting insight into the obsessive fandom that made The Grateful Dead the most successful touring band of all time, as well as a cultural phenomenon.
About the Author
Peter Conners
is author of a collection of prose poems,
Of Whiskey and Winter
, and a novella,
Emily Ate the Wind
, as well as editor of an anthology of avant-garde writing,
PP/FF: An Anthology
. He is founding co-editor of the online literary journal,
Double Room: A Journal of Prose Poetry & Flash Fiction
. His writing appears regularly in literary journals, magazines, and anthologies. He lives with his wife and three children in Rochester, New York, where he works as Editor and directs marketing for the non-profit literary publisher BOA Editions.
www.peterconners.com
Praise For Growing Up Dead: The Hallucinated Confessions of a Teenage Deadhead…
Publishers Weekly, 1/26/09
"Offers a perspective often missing from other Dead chronicles: that of one of the suburban teens who dropped out of high school and/or college to follow a band…Earnest and often hilarious…What really went on at a typical Dead show in the 1980s."
Kirkus, 2/1/09
"Insightful and entertaining."
Dennis McNally, author of A Long Strange Trip
"The hardest part of being the Grateful Dead's publicist was convincing the media that Deadheads were diverse, thoughtful, and not infrequently accomplished. If I'd just had a copy of Growing Up Dead, I could have simply handed it out. The Deadhead subculture was rich and fascinating, and this book is a terrific documentation of it."
Book Videos
Coverage from NPR