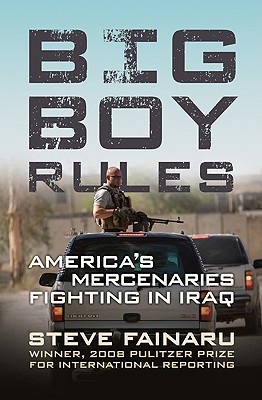 Big Boy Rules
America's Mercenaries Fighting in Iraq
Hardcover

* Individual store prices may vary.
Other Editions of This Title:
Digital Audiobook (12/7/2008)
Paperback (10/13/2009)
Compact Disc (11/1/2008)
MP3 CD (11/1/2008)
Paperback (9/1/2010)
Compact Disc (11/1/2008)
Description
There are tens of thousands of them in Iraq. They work for companies with exotic and ominous-sounding names, like Crescent Security Group, Triple Canopy, and Blackwater Worldwide. They travel in convoys of multicolored pickups fortified with makeshift armor, belt-fed machine guns, frag grenades, and even shoulder-fired missiles. They protect everything from the U.S. ambassador and American generals to shipments of Frappuccino bound for Baghdad's Green Zone. They kill Iraqis, and Iraqis kill them.


And the only law they recognize is Big Boy Rules.


From a Pulitzer Prize winning reporter comes a harrowing journey into Iraq's parallel war. Part MadMax, part Fight Club, it is a world filled with private security contractors the U.S. government's sanitized name for tens of thousands of modern mercenaries, or mercs, who roam Iraq with impunity, doing jobs that the overstretched and understaffed military can t or won t do.


They are men like Jon Cote, a sensitive former U.S. army paratrooper and University of Florida fraternity brother who realizes too late that he made a terrible mistake coming back to Iraq. And Paul Reuben, a friendly security company medic who has no formal medical training and lacks basic supplies, like tourniquets. They are part of America's other army some patriotic, some desperate, some just out for cash or adventure. And some who disappear into the void that is Iraq and are never seen again.


Washington Post reporter Steve Fainaru traveled with a group of private security contractors to find out what motivates them to put their lives in danger every day. He joined Jon Cote and the men of Crescent Security Group as they made their way through Iraq armed to the teeth, dodging not only bombs and insurgents but also their own Iraqi colleagues. Just days after Fainaru left to go home, five men of Crescent Security Group were kidnapped in broad daylight on Iraq's main highway. How the government and the company responded reveals the dark truths behind the largest private force in the history of American warfare. . . .


With 16 pages of photographs

Praise For Big Boy Rules: America's Mercenaries Fighting in Iraq…
Thomas E. Ricks, senior military correspondent, The Washington Post, and author of Fiasco: The American Military Adventure in Iraq, 2003–05
"Steve Fainaru tells a story that is at the heart of the war in Iraq: the U.S. military's unprecedented reliance on mercenaries. It is a dark tale that until now has remained largely untold, and is related brilliantly here. To understand this war, you must read this book."

Washington Times, 2/1/09
"Compelling, brutal, disturbing."

American Author's Association
"Fainaru's detailed and emotional story about contract mercenaries fighting in Iraq is not only timely, but also presents a side of that war that needs to be shown…It certainly makes one stop and rethink the direction this country has taken with how this war and future wars will be fought…Entertaining and action filled…Brilliantly crafted."

Time Magazine, November 2008
"[A] harrowing exposé."


Penthouse, December 2008
"If you read only one book about the war in Iraq, make it this one."


Army Times, Marine Corps Times, Navy Times, Air Force Times, 11/24/08
"Big Boy Rules is another eye opener — and, in the end, a tear-inducer — about the loose ties and loose management of contractors' employees."


San Francisco Chronicle, 11/28/08
"If Jeremy Scahill's provocative Blackwater is an eye-opener about the political ties and big finances of one contractor, then Big Boy Rules is another eye-opener—and in the end a tear-inducer—about the loose ties and loose management of contractors' employees"


St. Louis Post-Dispatch, 11/30/08
"Big Boy Rules reads more like a novel than a newspaper as it weaves Coté's life into the larger story of the shoot-'em-up security contractors."


Seattle Post Intelligencer, 12/5/08
"An important, timely, scathing new book"

Metro Spirit, 12/08
"Chilling, gripping and stunning in its delivery, method and detail…A must-read book for any American the least bit concerned with the actions, reputation, and circumstances of American activity overseas."
 

Washington Post Book World, 12/14/08
"The most vivid account to date of the misfits, thugs, and outright psychotics who kill with impunity under corporate flags...this book is consistently engaging and powerfully instructive."


Minneapolis Star Tribune
"Big Boy Rules [is] on the must-have list…Fainaru's skill lies in unwrapping the folly of the war on a personal level that is both enlightening and chilling."
 

Norfolk Virginian-Pilot, 1/18/09
"A valuable addition to the small but growing body of books on the privatization of warfare. His book is a gritty, ground-level examination of how the lines of accountability become blurred when a nation farms out an unpopular war to hired hands…Fainaru poses a host of compelling questions."


Washington Post, 3/15/09
"Compelling realism and documented sources. [Fainaru] is a master of nonfiction storytelling, with an appropriate blend of first-hand action accounts, engaging interviews, and keen observations…This razor-sharp, on-the-edge account will seize your attention and hold it. Your desire to learn more will keep you turning pages. Expertly crafted and organized into a well-documented report of the lives and deaths of mercenaries in Iraq, the book is grisly, graphic, and often gruesome…Expect to feel deep emotion, expect to cry, expect to enjoy the truthful and talented writing."


Reference and Research Book News, November 2009
"Reveals the dark truths behind the largest private force in the history of American warfare."
Da Capo Press, 9780306817434, 288pp.
Publication Date: October 1, 2008
About the Author
Steve Fainaru is a foreign correspondent for the Washington Post, where he covered the war in Iraq from 2004 to 2007. In addition to the 2008 Pulitzer Prize for International Reporting, he received the Overseas Press Club's Hal Boyle Award for best newspaper or wire-service reporting from abroad for his stories on private security contractors. He was a Pulitzer finalist in 2006 for his coverage of U.S. troops as the insurgency in Iraq intensified.Fainaru is also the coauthor of The Duke of Havana: Baseball, Cuba, and the Search for the American Dream. He lives in El Cerrito, California.
or
Not Currently Available for Direct Purchase