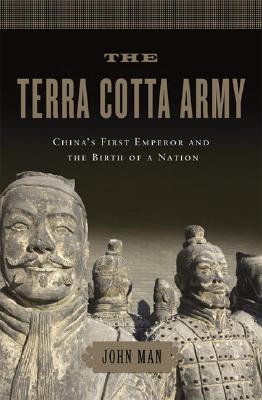 The Terra Cotta Army: China's First Emperor and the Birth of a Nation (Hardcover)
China's First Emperor and the Birth of a Nation
Da Capo Press, 9780306817441, 304pp.
Publication Date: May 1, 2008
* Individual store prices may vary.
or
Not Currently Available for Direct Purchase
Description
The terra cotta army is one of the greatest, and most famous, archaeological discoveries ever made. Over eight thousand life-size figures of warriors and horses were interred in the mausoleum of the first emperor of Chinaand each figure is individually carved, perhaps representing real members of the emperor's army.
Weaving together history and a first-hand account of his experience in China, John Man tells the fascinating story of how and why these astonishing figures were created in the third century BC. In doing so, he gives a vivid account of early China and the formation of its unique culture.
The Terra Cotta Army will be published in conjunction with the largest traveling exhibit of the Terra Cotta Army to the United Statesand the first exhibit in America in over ten years.
About the Author
John Man is a historian and travel writer with a special interest in China and Mongolia. His several acclaimed books include Genghis Khan. He lives in the United Kingdom.
Praise For The Terra Cotta Army: China's First Emperor and the Birth of a Nation…
Roanoke Times 5/11/0
"If you can't make it to China anytime soon to see the warriors, do the next best thing: Grab a warm cup of tea, sink into your favorite reading spot and open The Terra Cotta Army to the preface. And begin."

Library Journal, 6/15/08
"Brilliant and utterly readable…Reads much like an adventure story that offers fine access to this highly detailed subject." 


Houston Chronicle China book roundup
"Provides essential background reading...Man is a genial guide…learned but not dry."

Toronto Globe and Mail, 7/19/08
"[Man's] travel journalism evocatively describes the terra cotta warriors as artifacts, and appropriately overwhelms us with their scale…Man's prose attains precision and genuine awe."

Charleston Post & Courier
"[Man] uses his skills as a travel writer to set the scene and fill it with vignettes...The folk stories and humorous incidents that salt the text prevent the dust of history from obscuring the glory of the story."

Roanoke Times, 8/18/08
"[An] engaging foray into Chinese history."

Joy Hog, 8/18/08
"If the tiny tidbits designed for the ADD crowd on NBC merely wet your palette for more, The Great Wall is a good place to start."


Tucson Citizen, 8/21/08
"A fascinating history."
 
The Tucson Citizen, 8/21/08
"A highly readable account."
 
Acadiana LifeStyle, September 2008
"[A] fascinating book…If you plan to go [to the traveling exhibit], buy this book first." 
 
American Author's Association website
exciting an accounting of history as it gets!...John Man has a way of making history seem like a novel…Go buy a copy!"
 
Sun Lakes Splash
"A vivid account of the roots that formed the unique culture of China."
Advertisement