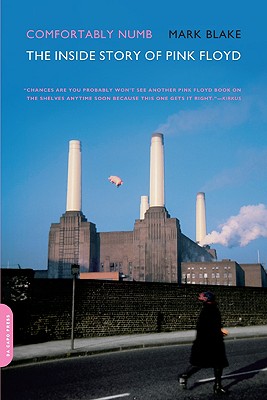 Comfortably Numb (Paperback)
The Inside Story of Pink Floyd
Da Capo Press, 9780306817526, 448pp.
Publication Date: November 25, 2008
Other Editions of This Title:
Digital Audiobook (11/13/2017)
* Individual store prices may vary.
Description
The acclaimed, definitive biography of Pink Floyd, from their iconic beginnings in psychedelic, Swinging London to their historic reunion at the Live8 concert ("The most complete, insightful, and current account of Pink Floyd...nearly as essential as the music itself."--Austin Chronicle)
Mark Blake draws on his own interviews with band members as well as the group's friends, road crew, musical contemporaries, former housemates, and university colleagues to produce a riveting history of one of the biggest rock bands of all time. We follow Pink Floyd from the early psychedelic nights at UFO, to the stadium-rock and concept-album zenith of the seventies, to the acrimonious schisms of the late '80s and '90s. Along the way there are fascinating new revelations about Syd Barrett's chaotic life at the time of
Piper at the Gates of Dawn
, the band's painstaking and Byzantine recording sessions at Abbey Road, and the fractious negotiations to bring about their fragile, tantalizing reunion in Hyde Park. Meticulous, exacting, and ambitious as any Pink Floyd album,
Comfortably Numb
is the definitive account of this most adventurous--and most English--rock band.
About the Author
Mark Blake is a former assistant editor of Q magazine, a long-time contributor to its sister titles MOJO and Planet Rock, and has written for Rolling Stone, the Times (London), Classic Rock, and the Daily Telegraph. He is the editor of two definitive music books, Dylan: Visions, Portraits & Back Pages and Punk: The Whole Story, and is the author of the Pink Floyd biography Comfortably Numb and the Queen biography Is This the Real Life? Blake lives in London with his wife and son.
Praise For Comfortably Numb: The Inside Story of Pink Floyd…
New York Press, 1/20/09
"You really do feel as if you're being sucked into the drama. That's a testament to Blake doing his job…It's a journalistic take on the band, and its reads like a history book. It's respectful and revealing, but not in a scandalous way."

Blurt Magazine, 2/09
"Mark Blake has clearly done his share of research…Blake is at his best [when] providing those details that leap off the page while placing Pink Floyd squarely in the context of the times."
"
Comfortably Numb
is a hell of a read."—
Skyscraper Magazine
"Arguably the best book that has ever been written about 'the Floyd.'"
—
Oak Park Press
"
Comfortably Numb
is both an enjoyable read for rock historians and a Pink Floyd trivia geek."
—
Aquarian Weekly
"Chances are you probably won't see another Pink Floyd book on the shelves anytime soon because this one gets it right."—
Kirkus
"Mark Blake peels back the layers of mystery around the band's history with a supple, readable biography, replacing much hearsay and apocrypha with details and facts conveyed with the skepticism of a journalist and the passion of a fan...the definitive read on Pink Floyd."—
PopMatters
"Impeccable...The most complete, insightful, and current account of Pink Floyd to date,
Comfortably Numb
is nearly as essential as the music itself."—
Austin Chronicle