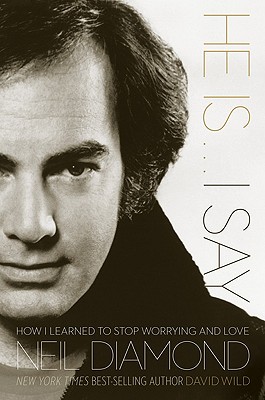 He Is . . . I Say: How I Learned to Stop Worrying and Love Neil Diamond (Hardcover)
How I Learned to Stop Worrying and Love Neil Diamond
Da Capo Press, 9780306817847, 224pp.
Publication Date: October 1, 2008
* Individual store prices may vary.
or
Not Currently Available for Direct Purchase
Description
He Is...I Say
examines Neil Diamond's singular place in the pantheon of popular music. David Wild--who's interviewed Diamond for
Rolling Stone
, penned the liner notes to a number of Diamond's anthologies, and produced Diamond's scandal-free episode of
Behind the Music
--now dares to turn on his "Heartlight," offering a moving and often hilarious salute to his own Jewish Elvis, one based on his interviews from over the years with the Solitary Man himself.
An illuminating snapshot of a beloved American icon, He Is...I Say endearingly speaks to the condition of being a Diamondhead in a hipper-than-thou world, while fully illustrating exactly what it is that makes the man and the artist so special.
About the Author
David Wild, a contributing editor at Rolling Stone, is a music, film, and television journalist, and an Emmy-nominated television writer. Wild lives in Los Angeles with his Diamond-loving wife and sons.
Praise For He Is . . . I Say: How I Learned to Stop Worrying and Love Neil Diamond…
Palm Beach Post, 9/14/08
"Excellent…Wild takes us on a witty odyssey of obsession…and makes a strong case for the man as a true musical iconoclast impervious to hip fashions. Wild's defense of Diamond…is a courageous piece of pop criticism…This is one of the best pop books of the year."

Palm Beach Post, 9/21/08
"A love letter to the singer/songwriter."

Blogcritics.org, 10/19/08
"A fast, breezy, and humorous read…This is a great book. It is extremely well-written, and often very, very funny…As much as He Is...I Say is Wild's unabashed and unapologetic love letter to Neil Diamond, it is also in many ways a book about music criticism itself."

Bookviews.com, 11/08
"If you're a Neil Diamond fan, you will thoroughly enjoy this book."

Nashville Tennessean, 11/6/08
"A resounding defense of the singer. More than just a mash note to an underappreciated personal favorite, Wild's book makes a persuasive case for why the man who wrote 'Solitary Man' and 'I'm a Believer' belongs in the Rock and Roll Hall Fame."


Nashville Tennessean, 11/6/08
"Engaging."


Q Magazine, 11/08
"Much more than a biography, it's Wild's appreciation of 'the man, the myth, the Hebrew hunk'…Wild's enthusiasm illuminates the book like one of his hero's glowing stage shirts, and might even convince doubters that Diamond really is 'the Jewish Elvis.'"


Mojo, 12/08
"The chapters on the Brill Building and the late-'60s era Diamond are certainly fascinating…Wild's insight can be both touching and sagacious."


Blurt Online, 11/08
"The conceit of the book is an interesting one: Neil Diamond as the Jewish Sinatra/Elvis…Wild does manage to secure our attention when he writes about Diamond's Brill Building days…Wild is upfront about his and his family's love for Diamond and makes a good case for it."


Jewish Journal of Los Angeles, 11/12/08
"Consider Wild's book-length tribute album to Diamond to be the author's own 'Song Sung Blue.' Or, perhaps, his 'Song Sung Jew.'"
Los Angeles CityBeat, 11/13/08
"A humorous read of the author's fanboy self into the life and art of the 'Jewish Elvis,' Wild seems serious about giving the influential songwriter some version of his due."

Dublin Herald, 11/15/08
"Through Wild's genuine enthusiasm for his idol, he has come up with a touching biography…Diamond's rise from Tin Pan Alley to forge a hugely successful career is a remarkable rags to riches tale…Fans will be thrilled."


Heeb, Fall 2008
"The depths to which Wild strives to share his passion for his favorite musician are endearing."


WTVF TV's "Talk of the Town", 11/4
"David Wild tells one compelling story after another."
 
Augusta Metro Spirit, 11/26/08
"A fascinating look at a should-be Hall of Famer…A wonderful read for any Diamond or simply any music fan, this book recreates an amazing life and career with intricate details and fastidious observation…The witty voice of Wild offers [a] charismatic trip through the life of Neil Diamond."
 
London Times, 11/28/08
"A wryly amusing tribute to the 'Jewish Elvis.' Personal touches work well, as Wild realizes that, pushing 50, he has become embarrassingly obsessed with the sequined performer. His closeness to Diamond pulls out some cracking lines from the singer, too."
 
GloriousNoise.com, 11/27/08
"There is an interesting story here…which is how Diamond managed to create a notable career as a solo artist at the time when it was all about groups."
 
InfoDad.com, 11/26/08
"Exclusive interviews and well-researched behind-the-scenes information."
 
Under the Radar, Year End 2008
"A memoir-biography…Well-written love."
 
Booktrust.org, 12/08
"[Wild] guides us through this most American of pop stories with the verve and affection of a die-hard fan (and fellow Jew)…Clearly Diamond can do (and has done) no wrong in Wild's eyes, but in spite of his over-reverent approach, he ably conveys the sense of Diamond as a thoughtful man of integrity, something of a loner who nevertheless adopts for his fans the old-fashioned role of performer."
 
Austin Chronicle, 12/5/08
"A gushing, pun-filled ode to the beloved guilty pleasure...There's certainly more than a dash of over-the-topness in He Is, which is fair enough for a book on this particular subject."
 
Rolling Stone, 1/22/09
A lovely, affectionate portrait of Neil Diamond."
 
Bookreporter.com
"[A] loving homage…That [Wild] is a wild fan of Diamond is unquestionable and charming…In his breezy style, filled with puns and very funny stories, he keeps the reader engaged and entertained. His insights are not tarnished by his feelings for Diamond. Readers who are Neil Diamond fans will really enjoy this book. Those who aren't should give themselves a chance to read it because it's a well-written, informative and funny biography…[A] paean to the man and his music."
 
Jimmy Kimmel
"There's a wonderful new book that pays tribute to Neil called He Is…I Say: How I Learned to Stop Worrying and Love Neil Diamond and the author David Wild points out something that I believe is true: Neil Diamond sings sensitive things—in a very masculine way."
 
Magill Book Reviews
"A heartfelt tribute to one of the 20th century's most prolific, long-lived, and often-overlooked singer/songwriters…[Wild] puts his critical reputation on the line by declaring, once and for all, and with considerable Yiddish humor, that when it comes to Neil Diamond, he is a believer…Part celebrity biography, part musical liner notes, part nebbishy autobiography, part Catskill-style amusement and all hyperbolic admiration…This book will appeal to David Wild's fans, Diamondheads, and those who want to get to know the Jewish Elvis just a little bit better."

Curled Up With a Good Book
"If your opinion of the singer/songwriter parallels [Wild's], this book is a must-read…A funny book about a profoundly gifted artist. If Diamond is your star, read this."


singer Chris Isaac in the Houston Chronicle, 8/5/09
"Get the book by David Wild about Neil Diamond. It will fill you in and make you realize why without Neil Diamond, the USA would probably not be free, and you and I and many others would be working in chains in a sewage plant someplace."
Advertisement