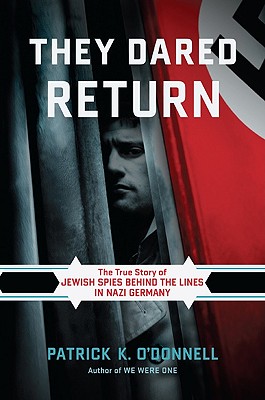 They Dared Return (Hardcover)
The True Story of Jewish Spies behind the Lines in Nazi Germany
Da Capo Press, 9780306818004, 264pp.
Publication Date: October 1, 2009
Other Editions of This Title:
MP3 CD (10/18/2016)
Compact Disc (12/11/2012)
Compact Disc (12/11/2012)
MP3 CD (12/11/2012)
MP3 CD (12/11/2012)
* Individual store prices may vary.
Description
Having barely escaped Germany, several Jewish friends are determined to strike back at the Third Reich while their families languish in concentration camps. After months of training with the U.S. Army, a small group of spies is formed, including several former German soldiers now willing to betray their Fuhrer for the greater good of Germany. The mission's commander is a Jewish sergeant who only months earlier was plucked from the streets of Brooklyn. The men are sent on a covert operation deep into the heavily fortified area of Austria's Alpine Redoubt, where Hitler planned to make his last stand. Capture meant almost certain death; success, a swift end to the war.
Using recently declassified files, private documents, and personal interviews, military historian Patrick K. O'Donnell has written another cinematic World War II drama, filled with an unforgettable cast of characters and packed with action, suspense, and intrigue.
About the Author
Patrick K. O'Donnell is the author of five previous books, including Beyond Valor, winner of the prestigious William E. Colby Award, and the highly acclaimed account of the Battle of Fallujah, We Were One. He lives in Arlington, Virginia.
Praise For They Dared Return: The True Story of Jewish Spies behind the Lines in Nazi Germany…
WETA.org, 5/5/09
"That book will be not only fascinating, but an important contribution to our understanding of World War II."
 
Kirkus, 9/15
"These were no 'inglourious basterds' whose stories O'Donnell tells, no avengers focused on sanguinary retribution…The agents' courage, skill, persistence, modesty and devotion soar…An important story, thoroughly…told."

World War II Forums, 9/20
"Compelling…A wonderful addition to the recent burst of scholarship surrounding Southern Europe during World War II…Any reader of O'Donnell's cannot help but feel that all of his histories are ready to be made into films, and readers can only hope that Hollywood pays heed to that call. They Dared Return will engage novice and expert students of World War II alike. It is a fine book."

Publishers Weekly, 9/28
"[O'Donnell] fleshes out the tale of sacrifice, spies, courage and betrayal organized by the American Office of Strategic Services to take on Gestapo troops in a heavily fortified district, Alpine Redoubt…Armed with research in the National Archives, confidential documents and personal interviews, O'Donnell tells a heart-stopping tale of sabotage by men and women who placed everything on the line against a seemingly unstoppable tyranny."

Veterans Reporter (Southern Nevada Issue), September
"This book is yet another side of WWII, and a segment of the war that has not been fully explored heretofore."

Washington Jewish Week,10/7
"Readers, especially Jewish readers, will derive great satisfaction from the feats of the Jewish soldiers."

Blogcritics.org, 10/11
"[A] riveting history of the planning and the execution of the behind-enemy-lines covert action codenamed Operation Greenup. One of the striking things about They Dared Return is that reads like so much like a thriller…History's twists and turns come alive thanks to O'Donnell's feel for the dramatic…They Dared Return is first-rate reading that captures the action and the drama of war in the shadows. Unlike film and spy novel fantasies, this is the real deal, popular history at its best."

Augusta Metro Spirit, 11/4/09
"O'Donnell's treatment of this story is detailed, rich and oriented to understanding the complexities of the times…Reads like a well-orchestrated novel."

History In Review, 11/16/09
"They Dared Return cries out to be made into a movie. It has everything that makes a Hollywood blockbuster—unforgettable heroes, a dastardly enemy, lots of action, and even a little romance. Most important, it is a true story that you'll remember for the rest of your life!...A must read for anyone with an interest in Jewish history, World War II, or espionage. It will also enthrall anyone with a liking for espionage thrillers. O'Donnell writes with the skill of a novelist, and his narrative style of writing draws you into the story and never lets you go, while at the same time authenticating his information to the satisfaction of scholars and general readers alike who demand historical accuracy…The most riveting history book that I've ever read! Whether you are a fan of popular histories, or espionage thrillers, give this book a read, I think that you'll agree that it is a ripping good read that is both edifying and entertaining."

Jewish Journal of Greater Los Angeles, 11/25/09
"Tells one of the great untold stories of World War II…As exciting and exotic as any Hollywood movie, but They Dared Return is solidly rooted in the facts…The courageous deeds of Mayer and his fellow fighters are narrated with all the suspense of a Len Deighton novel."

Collected Miscellany, 12/1/09
"O'Donnell explores one of the most intriguing stories out of World War II…A gripping story…Well-researched and supported by materials from the National Archives, confidential documents, and personal interviews. The book is a fine tribute to a group of men and women who risked their lives to stop one of the cruelest regimes in modern history."

InfoDad blog, 12/3/09
"Filled with narrow escapes, captures, astonishing acts of 'greatest generation' heroism, and intricate retellings of events that were all in a day's work for everyday heroes of the time—but seem in retrospect to be instances of astonishing bravery…They Dared Return is about what really matters to people, in time of war and afterwards…It is ultimately [Meyer's] postwar modesty that stays with the reader as much as the hair-raising events, narrow escapes and constant dangers of the war itself."

Publishers Weekly, 12/7/09
"A true-life companion to Quentin Tarantino's recent pulp-grade wish-fulfillment WWII movie Inglorious Basterds…Quick-paced and immediate, with many satisfying moments."

America in WWII, 2/1/10
"This chronicle of Jewish warriors returning to Germany to defend their adopted country and to extract revenge for the murders of their families is a story of courage, fortitude, and high adventure. O'Donnell, the author of We Were One, one of the very best Iraq War books, tells this tale with verve, clarity, and insight."

Bookgasm.com, 12/7/09
"O'Donnell shines a light on five men who were the real deal…Fred Mayer…comes off not only incredibly likable, but probably one of the unsung heroes of that war…He seems like the stuff of men's adventure fiction, except being all true…His exploits would make some truly gripping movies…This book is a testament to these men who, after escaping Germany, went right back in to fight for their new adopted country, with no regard for their own safety. O'Donnell once again has taken real history and made it so much readable than most fiction."

WWII History, March 2009
"The book reads like a terrific spy novel, but it is all fact."
 
WNTI, NJ public radio website
"A story of revenge, adventure, espionage, and love."

Midwest Book Review, December 2009
"Utterly fascinating and highly recommended."

Operation Homefront Online's "Best Military Reads of 2009", 12/9/09
"It's truly difficult to believe that this amazing story isn't better known…It's a must-read."

Letters on Pages blog, 1/3/10
"A wonderfully written narrative about a couple of really brave Jews near the end of WWII…It is absolutely incredible to read about the things they did…This book reads really fast…very much like a good mystery novel…I would highly recommend this book. It is really fun to read and you'll learn a little slice of history at the same time!"

Lancashire Evening Post, 12/21/09
"A tale of awe-inspiring daring and heroism…[O'Donnell] has become an important channel for collating the personal histories of a dwindling band of Second World War veterans…This is a story that should belong in the realms of fiction. The fact that it is true is both breath-taking and humbling."

Washington Times, 1/15/2010
"Of the countless books I've read about bravery in espionage and war, few moved me as much [as] did Patrick K. O'Donnell's They Dared Return…Mr. O'Donnell has proved himself a wizard at finding untold stories in the archives…A first-rate read."

San Diego Jewish World, 3/3/10
"O'Donnell has written a great spy story. It is a story of five brave men who risked their lives for their adopted country, the United States of America. If their story of courage and sacrifice were made into a movie, it would be more believable and dramatic than the fictional Inglorious Basterds."

Association of Jewish Libraries Newsletter, Feb/March 2010
"[A] well-written, fast-paced account of an unbelievable story…This excellent resource is highly recommended for high school, public, and academic library collections."

Nights with Brian Wilshire Show, 4/4/10
"It really is absolutely brilliant."

Jerusalem Post, 1/22/10
"A gripping page-turner that has the reader racing from chapter to chapter to see what happens next, and to learn whether the person written about will be discovered and captured or killed. O'Donnell, a military historian, writes fact as if he were writing suspense fiction."

Multicultural Review, Spring 2010
"A well-researched account about how the OSS (Office of Strategic Services), forerunner of the CIA, trained and parachuted refugee German Jews back into the Third Reich to gather intelligence…This book is an eye-opener…O'Donnell has written a marvelous story of an unknown chapter of World War Two and Jewish history. It is a wonderful tale of courage against tyranny… [with] important lessons for Iraq and Afghanistan."

Jewish Book World, Summer 2010
"O'Donnell records the history of these unsung heroes. It is a gripping tale of Jewish Germans who escaped and then returned…Their true story would make a great movie."
or
Not Currently Available for Direct Purchase