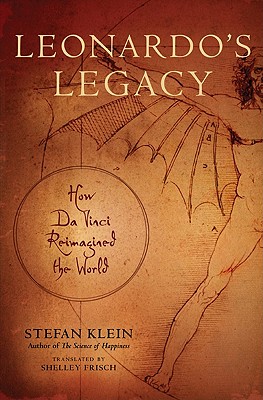 Leonardo's Legacy: How Da Vinci Reimagined the World (Hardcover)
How Da Vinci Reimagined the World
Da Capo Press, 9780306818257, 304pp.
Publication Date: April 6, 2010
* Individual store prices may vary.
or
Not Currently Available for Direct Purchase
Description
Revered today as, perhaps, the greatest of Renaissance painters, Leonardo da Vinci was a scientist at heart. The artist who created the
Mona Lisa
also designed functioning robots and digital computers, constructed flying machines and built the first heart valve. His intuitive and ingenious approacha new mode of thinkinglinked highly diverse areas of inquiry in startling new ways and ushered in a new era.
In Leonardo's Legacy, award-winning science journalist Stefan Klein deciphers the forgotten legacy of this universal genius and persuasively demonstrates that today we have much to learn from Leonardo's way of thinking. Klein sheds light on the mystery behind Leonardo's paintings, takes us through the many facets of his fascination with water, and explains the true significance of his dream of flying. It is a unique glimpse into the complex and brilliant mind of this inventor, scientist, and pioneer of a new world view, with profound consequences for our times.
About the Author
Stefan Klein is a leading European science writer whose influential publications have won numerous awards. He is the author of the international bestseller The Science of Happiness and The Secret Pulse of Time. He lives in Berlin, Germany.
Praise For Leonardo's Legacy: How Da Vinci Reimagined the World…
Kirkus Reviews, 3/15/10
"A lucid examination of Leonardo da Vinci (1452–1519), emphasizing his immense secret journal…This richly illustrated, engrossing account makes a good case that da Vinci was not only ahead of his time but ahead of our own."

Mark Rosheim, scientist, inventor, and author of Leonardo's Lost Robots
"With my Leonardo library that would require a truck scale to weigh, how did I miss Ludovico Sforza using a remote mill in Mora Bassa for trysts with the Lady with Ermine? The answer: Leonardo's Legacy author Stefan Klein took the trouble to track it down and talk to the natives. Klein also recognizes Leonardo's visuospatial gifts: his powerful problem-solving technique of thinking in analog, coupled with a determination that spanned decades, meant that he returned to problems over and over until they yielded up their secrets. Leonardo is not just a regular guy who worked hard to succeed, and no self-help book will turn you into him. Klein concludes with an important question – why are there no modern Leonardo's? He cites our modern education system as toxic to creativity and exploration, in contrast to Leonardo's Old World mentorship with his master, Verrocchio. Join Klein as he travels around the world to the castles, great libraries, canals and even the backgrounds of Leonardo's paintings––you couldn't have a better or more fun guide.

Financial Times "Undercover" blog, 4/2/10
"A really accessible, wide-ranging discussion of just how amazing Leonardo Da Vinci was and what it means for us today."

Library Journal, 4/15/10
"Klein masterfully connects Leonardo's tangible work (for example, paintings) to his ideas in his notebooks within the political and economic world where he functioned. What is most amazing is Klein's ability to show readers how Leonardo's powers of observation could make up for his lack of mathematical knowledge or engineering training…In short, Klein successfully enters Leonardo's mind through his notebooks and includes readers along the way. Highly recommended and required reading for history of science scholars and enthusiasts."

The Bookseller (UK), 4/16/10
"[Stefan Klein] provides some fascinating insights into modern research, the painstaking reconstructions of the existing notebooks and papers that have led to many new discoveries, but above all this informative guide provides the general reader with a rounded and detailed portrait of da Vinci and his times"

New Scientist, 4/24/10
"Klein outlines a life dedicated to study and speculation about anatomy, flying machines, weapons and hydrodynamics…He provides an engaging introduction to da Vinci's life and scientific interests."

Publishers Weekly, 5/3/10
"An illuminating new look at Leonardo's unique genius."

PopMatters.com, 5/6/10
"A book that celebrates the man in all his apparent paradoxical complexity…Stefan Klein's lively, engaging book is an excellent primer for anyone who wishes to acquaint, or re-acquaint herself with this extraordinary man."

InnovationWatch.com, 5/3/10
"A unique glimpse into the complex and brilliant mind of this inventor, scientist, and pioneer of a new world view, with profound consequences for our times."

Bookviews, May 2010
"Klein has written a worthy book about this unique historical individual."

ForeWord, May/June 2010
"Stefan Klein is considered one of the most influential science writers in Europe."

San Francisco Book Review, May 2010
"Tracks the many creations of Da Vinci, and parallels them with key events in Leonardo's life, weaving a tapestry of inventive motivation for the ultimate Renaissance Man, all while posing thought-provoking questions…The book has some exceptional moments…It will provide an enjoyable look at the mind of an icon."

Internet Review of Books, May 2010
"For even the most casual science buff, this book will both inform and entertain…There is much to learn in Klein's book, not only about Da Vinci but also about broadening one's own thinking to include all of the infinite possibilities of which the human mind can conceive."

The Bookbag, 5/25/10
"This is clearly an intelligent book, hanging great science and knowledge from five centuries regarding all aspects of its subject on personable stories, artifacts and travels…It's one of those perfect examples of great subject meeting great telling. This volume never stints on the black and white illustrations, either, and has been laid out very nicely."

Tucson Citizen, 6/2/10
"Offers readers the chance to see the world through the eyes of the master. This meticulously researched and well crafted book is entertaining as well as informative."

New World Review, 6/2/10
"Klein's book portrays Leonardo's thought processes in everything, from his paintings, to his ideas for weapons and flying machines."

Asbury Park Press, 5/30/10
"The science-journalist author gives the scientist his due, also delving into the mystery of his masterworks."

Washington Post, 6/13/10
"Leonardo da Vinci has so long been sanctified that it's easy to forget he was human. Fortunately, Stefan Klein paints a fresh portrait rather than further gilding an already blinding lily…Klein's vivid journeys on Leonardo's trail help create a sense of the man behind the red chalk self-portraits and also make for enjoyable travel writing."
 The Guardian (UK), 6/19/10
"The book is full of intriguing connections, such as that between scientific experiment and caricature." Curled Up with a Good Book, 7/6/10"A fascinating portrayal of a man who was not only an artistic genius but equally a genius in the fields of medicine and science…There's a wealth of information in Klein's book...Art lovers who want to learn more about one of the greatest artists and intellectual minds of all time should add Leonardo's Legacy to their reading lists today." FasterTimes.com, 8/7/10"If we don't typically regard the Mona Lisa as a scientific drawing, that's largely because it's a scientific drawing so sophisticated that the science is invisible. Stefan Klein demonstrates, in the bravura opening chapter to his book Leonardo's Legacy, the lengths to which Leonardo was willing to travel in his quest to understand 'how facial expressions are formed.'" Smoke, Summer 2010"Stefan Klein deciphers the forgotten legacy of this universal genius and persuasively demonstrates that today we have much to learn from Leonardo's way of thinking." New York Journal of Books, 4/27/10"This work is truly encompassing and a must read for anyone who has even the slightest interest in the intellect of Leonardo da Vinci." The Oklahoman, 9/26/10"Recommended to those interested in Leonardo or early science and art." Magill Book Reviews
"Klein's writing style is clear and lively…An intriguing glimpse into the workings of an incredible mind."
Advertisement