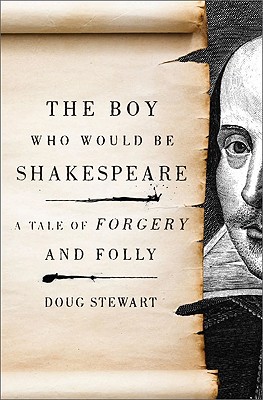 The Boy Who Would Be Shakespeare
A Tale of Forgery and Folly
Hardcover

* Individual store prices may vary.
Other Editions of This Title:
Paperback, Large Print, Large Print (8/1/2010)
Description
In the winter of 1795, a frustrated young writer named William Henry Ireland stood petrified in his father's study as two of England's most esteemed scholars interrogated him about a tattered piece of paper that he claimed to have found in an old trunk. It was a note from William Shakespeare. Or was it?
In the months that followed, Ireland produced a torrent of Shakespearean fabrications: letters, poetry, drawings--even an original full-length play that would be hailed as the Bard's lost masterpiece and staged at the Drury Lane Theatre. The documents were forensically implausible, but the people who inspected them ached to see first hand what had flowed from Shakespeare's quill. And so they did.
This dramatic and improbable story of Shakespeare's teenaged double takes us to eighteenth century London and brings us face-to-face with history's most audacious forger.
Praise For The Boy Who Would Be Shakespeare: A Tale of Forgery and Folly…
Library Journal, 3/15/10
"A vivid dissection of the folly of human nature. This is a great book club choice and an excellent selection for readers of literary thrillers, history, or social science."

The Bookbag website, April 2010
"[A] totally gripping account of one of literature's greatest hoaxes…As a non-fiction thriller, this is absolutely first class…Beneath all the excitement, though, there's a rather tender story of a boy, unsure of his place in the world, pining for his father's affection and yet knowing that his actions could eventually have dire consequences for that same father—it's almost Shakespearean itself, and Stewart draws on this beautifully. In the course of a tightly focused narrative, the author also manages to provide a lot of really interesting information on life in Elizabethan times, and the power of the theatre and the press in the Georgian era…Highest possible recommendation for anyone interested in Shakespeare, Georgian England, or true life thrillers."

Publishers Weekly, 3/22/10
"Stewart's exhaustively researched examination of the Irelands' rise and fall is as entertaining as it is informative; modern readers, accustomed to Shakespeare's place of reverence, will be surprised to learn how ignorant Georgian England was of his work. Where Stewart's research truly shines is in accessing Ireland's human motivations—his desire for approval and artistic legitimacy, not profit, distinguishes him from other cons, making him neither wholly despicable nor pitiable. History and literary enthusiasts will be delighted with this smart investigation into a high-minded hoax."

Booklist, 4/15/10
"Stewart's fascinating history recounts William-Henry's short, frantic rise and fall, his brush with fame, and his subsequent lifelong infamy. He places William-Henry's remarkable achievement, which for a time fooled many of England's literary and other notables, including James Boswell, in the context of eighteenth-century England, a time when literacy was rising, the gossip-filled newspaper business booming, and the country was hungry for any artifact connected to the Bard. But Stewart's real achievement lies in how grippingly he tells William-Henry's story, so that it climaxes in a disastrous premier of William-Henry's faked 'lost' Shakespeare play Vortigern and Rowena at London's famed Drury Lane Theatre in 1796 as well as in how much, by the end of the book, he has got us to care about the young, hapless fraud."

Cleveland Plain Dealer, 3/21/10
"An eminently readable and even suspenseful book…Along with the false discoveries, we are also treated to mini bios of a deliciously colorful nature…This new book acts as a kind of diorama of the times—letting us glimpse people's behavior and their willingness to believe."

BlogCritics.org, 3/22/10
"Doug Stewart provides the reader with interesting speculation on why there are so few documents in existence that were products of Shakespeare's hand…Littered throughout the narrative are gossipy bits about literary notables, c. 1795, as well as the incredible account of those who should have known better desperately believing the forgeries were the real thing…In The Boy Who Would Be Shakespeare, Doug Stewart has authored a many-layered book that details vanity, greed, naivete, mores, and pride within both a family and society. It is a thoroughly enjoyable read—a fascinating page-turner that keeps us wondering what will happen next."

Boston Globe "Short Takes" column, 4/4/10
"A lively account of an adolescent prank that achieved a kind of preposterous grandeur."

The Independent, UK, 3/28/10
"The story of Ireland's output, and eventual confession (disbelieved by many as an attempt to save the reputation of his father, who was seen as the brains behind the operation) is epic."

Santa Fe New Mexican, 4/2/10
"A rip-roaring, hard-to-put-down, true story of a frustrated young writer living in 18th-century London who thought he was at least as good as, if not better than, Shakespeare and set out to prove it."

Instinct magazine, April 2010
"Who doesn't love a good historical scandal?!...While some of us may have gone to great lengths to impress our fathers, none of us will go down in history quite like William-Henry Ireland."

InternetReviewofBooks.com, April 2010
"Stewart's writing is witty and will appeal to a wide audience. For readers who do not have much familiarity with Shakespeare's writing or biography, background information is skillfully woven into the narrative."

"Talk of the Town," WTVF, 4/25/10
"Due to all of the mysteries that still surround Shakespeare and his writing, this web of deception, or astounding discovery, fascinates everyone who ever read and loved Shakespeare."

Asbury Park Press, 5/2/10
"We're in the truth stranger than fiction department here."

Bookviews, May 2010
"An interesting book…that takes the reader back to the late 1700s when Shakespeare's genius had been recognized long after he had died in relative obscurity in 1616…It would make a great movie!"

Los Angeles Times, 5/9/10
A witty and fast-moving story, by turns hilarious and pathetic. Stewart has read all the relevant sources, and he provides the necessary historical context without making the reader feel bogged down in minutiae. He writes gracefully and vividly, and his book unfolds like a thriller. He is especially good at exploring the strained relationship between Ireland and his perennially disapproving father. Anyone interested in literary fraud or Shakespeare's afterlife will find Stewart's book a compelling overview of one of the literary world's most brazen impostures."

InfoDad.com, 5/13/10
"[Stewart] tells this odd story in lively detail…Shakespeare aficionados will enjoy this book a great deal."

Milwaukee Shepherd-Express, 5/17/10
"Explains the deception with psychological insight into the boy, his family and the educated audience that embraced his forgeries as genuine…As author Doug Stewart astutely observes: 'Once people decide they know what they're seeing, they use new information to reinforce what they already know.'"

Sacramento Book Review, 5/20/10
"Doug Stewart easily immerses the reader in a story about an easily liked teenage character, and his 'discovery' of a note signed by William Shakespeare…Enjoyable, easy reading. Of course, any scandal is a juicy read, but Stewart's needling prose and incredible attention to detail makes this scandal all the better, and the fact that it is all true is not lost on the reader throughout the story…A look into the world at the time (about 1795), which was apparently full of gossips, ladder-climbers and liars!...Shakespeare enthusiasts, English lit fans, and history buffs and anyone who likes a fun mystery will be delighted with this fast, slick read."

Tucson Citizen, 6/2/10
"A wonderfully crafted book that documents the life of a young man who didn't set out to become a forger but merely served them up to please his father."

Magill Book Reviews
"In this lively narrative Stewart relates the astonishing tale of the Shakespearean forgeries of the nineteen-year-old William Henry Ireland…He tells his story well and vividly describes the people involved as well as their late-eighteenth century milieu." Experiments in Reading blog, July 2010"An easy and short read…Stewart works as a freelance journalist and he brings that writing style to his book, making the subject very approachable to those with a passing interest and more serious readers alike." "A delightful book." Curled Up With A Good Book, September 2010"[An] engaging account of William-Henry Ireland's life and how he managed to dupe so many people for so long…Well-researched, witty, and informative…Almost reads like a work of fiction. I was engrossed from beginning to end…I highly recommend this book for any Shakespeare fan." Technorati.com, 1/1/11 "The story is both historical and gossipy, with famous names littered throughout."
Da Capo Press, 9780306818318, 256pp.
Publication Date: March 2, 2010
About the Author
Doug Stewart frequently writes about history and the arts for Smithsonian magazine. A freelance journalist, his articles have also appeared in Time, Discover, and Reader's Digest. He lives in Ipswich, Massachusetts.
Coverage from NPR
or
Not Currently Available for Direct Purchase