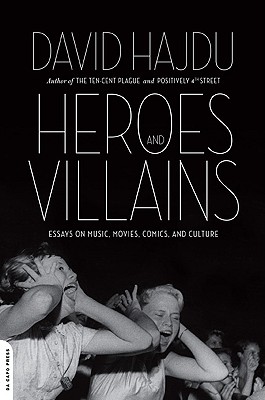 Heroes and Villains: Essays on Music, Movies, Comics, and Culture (Paperback)
Essays on Music, Movies, Comics, and Culture
Da Capo Press, 9780306818332, 352pp.
Publication Date: October 1, 2009
* Individual store prices may vary.
or
Not Currently Available for Direct Purchase
Description
Heroes and Villains
is the first collection of essays by David Hajdu, award-winning author of
The Ten-Cent Plague
,
Positively 4th Street
, and
Lush Life
. Eclectic and controversial, Hajdu's essays take on topics as varied as pop music, jazz, the avant-garde,
comic books, and our downloading culture. The heart of
Heroes and Villains
is an extraordinary new piece of cultural rediscovery, original to this book. It tells the untold story of one of the most important and, ultimately, one of the most tragic figures in American popular music, Billy Eckstine. Through exhaustive new research, Hajdu shows how this great, forgotten singer, once more popular than Frank Sinatra and Bing Crosby, transformed American music by combining sex appeal, sophistication, and black machismo in the era of segregation. The cost, for Eckstine, was his career and nearly his life.
Other essays in this expansive book deal with topical and surprising subjects like Beyonce, Bobby Darin, Kanye West, Marjane Satrapi, Woody Guthrie, Will Eisner, the White Stripes, Elmer Fudd, Elvis Costello, Harry Partch, Ray Charles, Joni Mitchell, and more.

About the Author
David Hajdu is the music critic for The New Republic and the author of The Ten-Cent Plague, Positively 4th Street, and Lush Life. He is a professor at the Columbia University School of Journalism, and he lives in New York City.
Praise For Heroes and Villains: Essays on Music, Movies, Comics, and Culture…
National Book Critics Circle Award FinalistASCAP Deems Taylor Pop Book Award Winner Kirkus, 9/1/09
"A graceful collection of essays…The author writes with enormous confidence and competence…The author is an able instructor whose vast knowledge inspires rather than intimidates…A gift for readers who enjoy erudition seasoned with élan."

Publisher's Weekly, on David Hadju
"[He's] an exacting critic, and a great place to go for a thinking man's take on today's music."

PW.com
"[A]rollicking collection… Hadju's essays never fail to amuse, please and provoke."
Entertainment Weekly website, 10/9
"[Hajdu is] the rare first-rate critic who's also a first-rate interviewer."

The New York Post, "Required Reading" column, 10/11
"An eye-opener…Enjoyable"

Forbes.com, 10/13
"[Hajdu is] like a grown-up Chuck Klosterman…,Heroes and Villains is hot."

LibraryJournal.com, 10/9
"[Hajdu] uses his discerning eye to highlight controversial junctures in popular taste"

Chicago Tribune, 10/18/09
"I'm ready to give [jazz] a second chance, thanks to the wonderfully lustrous and effortlessly instructive essays in David Hajdu's sparkling new collection…Hajdu traces the familiar history of jazz, but with a poet's passionate yearning, not a scholar's bored yawn. He makes you want to rush out and get hold of the music about which he writes, no matter what you may have thought about it in the past."

All Headline News
"[A] sharp career-spanning collection"
 
PopMatters.com, 11/18/09
"The essays…show Hajdu as a scholar and journalist who is interested in making sense out of the current cacophony in contemporary music and the myriad forces—both personal and technological—that shape the artistic production and public consumption of music…Part of what makes Hajdu such a good music critic and clever pop culture observer is his ability to see beyond the obvious…Hajdu has a keen sense of the social significance of pop culture artists and he shows how they often reflect and create the social climate of the day…Throughout, Hajdu writes in a clear, straightforward style and possesses a sympathetic feel for the lives and music of pop music performers, and this in turn allows him to get past the surface of their lives…Hajdu's literary voice is thoughtful, urbane, and cosmopolitan."
Advertisement