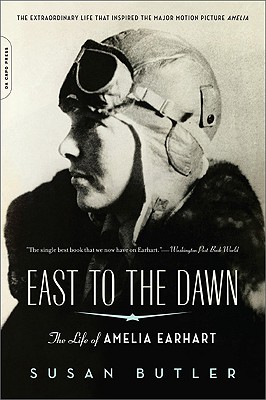 East to the Dawn (Paperback)
The Life of Amelia Earhart
Da Capo Press, 9780306818370, 520pp.
Publication Date: August 11, 2009
Other Editions of This Title:
Digital Audiobook (6/21/2005)
MP3 CD (9/15/2009)
Compact Disc (9/15/2009)
Compact Disc (10/1/2009)
* Individual store prices may vary.
Description
Amelia Earhart (1897-1937) captured the hearts of America after becoming the first woman to fly across the Atlantic in 1928. Nine years later, her disappearance on an around-the-world flight brought her extraordinary life to an abrupt and mysterious end.

Based on a decade of archival research through Earhart's letters, journals, and diaries, and drawing on interviews with the aviator's friends and relatives, East to the Dawn provides the most authoritative and richly textured account of both Earhart's record-setting aviation career and her personal life: her early years with her grandparents, her experiences as a nurse and social worker, her famous marriage to publisher George Putnam, and her secret affair with Gene Vidal, head of the Bureau of Air Commerce. As the Los Angeles Times raved, East to the Dawn is a "fully realized portrait of a truly remarkable woman."
About the Author
Susan Butler is a journalist who lives in Central Florida.
Praise For East to the Dawn: The Life of Amelia Earhart…
The New Yorker, 9/14
"Definitive."

Emily Wortis Leider, New York Times Book Review
"The mountain of new material it marshals guarantees "East to the Dawn" a permanent place on the shelf of Amelia Earhart references."

Cari Beauchamp, Los Angeles Times
"The reader closes "East to the Dawn" with the lingering realization of how truly contemporary Amelia Earhart remains and with a new understanding of the love and admiration she earned from colleagues and the public at large… and her insistence on being her own person while fighting for causes larger than herself continue to command our respect and fuel our dreams."
Renee Graham, Boston Globe
"[An] expansive biography… Rich with detail, "East to the Dawn" is an important book… certainly the most comprehensive Earhart biography in recent years. It stirs Earhart, who would have turned 100 this year, from the mists of myth, and finds the flesh-and-blood humanity within the alabaster icon."

Kirkus Reviews, 9/15/97
This exhaustive new biography, coming on the centennial of Earhart's birth, throws new light on many of the more controversial elements of the aviator's life and death. Earhart was a self-possessed and downright adventurous young woman. Her two enduring passions were flying and social work, endeavors that both seem to have captivated the feminine imagination in her time. By the time she was 25, Earhart had become one of those early mythical heroes of the sky whom people came to see at air meets and dreamed of emulating.' She vagabonded' across the country solo in a plane and, with the help of her husband, publishing giant George Putnam, had the book documenting her tale out on the stands less than two weeks after completion of the feat. The list of her flight achievements is lengthy and impressive. But it is the cool yet inspired marriage between Putnam and Earhart, two inveterate adventurers, that lies at the core of Butler's biography. Putnam was a brilliant media spin-doctor who relentlessly promoted his wife's image. Butler's study raises some provocative questions (Was Earhart a feminist or just a singular human being? Were her feats victories for women everywhere or victories for pure heroism?) without convincingly answering them. But if the study isn't always persuasive in its answers, it is filled with wonderful details about Earhart's glamorous lifestyle and the wild, dangerous world of early aviators…Butler's flat writing style somewhat undermines her portrait of Earhart's singular emotional and physical courage. Nonetheless, the still enthralling figure of the aviator--wearing her signature trousers and jacket, blond hair and silk scarf blowing, beckoning to the free spirit in all of us--does powerfully come through. (b&w photos, not seen).

CBS News Director Mira Nair
"Extraordinary."
or
Not Currently Available for Direct Purchase