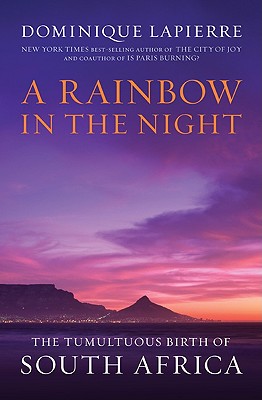 A Rainbow in the Night
The Tumultuous Birth of South Africa
Hardcover

* Individual store prices may vary.
Other Editions of This Title:
Audio Cassette (11/1/2009)
MP3 CD (11/1/2009)
Compact Disc (11/1/2009)
Compact Disc (11/2/2009)
Description
In 1652 a small group of Dutch farmers landed on the southernmost tip of Africa. Sent by the powerful Dutch India Company, their mission was simply to grow vegetables and supply ships rounding the cape. The colonists, however, were convinced by their strict Calvinist faith that they were among God's "Elect," chosen to rule over the continent. Their saga--bloody, ferocious, and fervent--would culminate three centuries later in one of the greatest tragedies of history: the establishment of a racist regime in which a white minority would subjugate and victimize millions of blacks. Called
apartheid
, it was a poisonous system that would only end with the liberation from prison of one of the moral giants of our time, Nelson Mandela.
A Rainbow in the Night is Dominique Lapierre's epic account of South Africa's tragic history and the heroic men and women--famous and obscure, white and black, European and African--who have, with their blood and tears, brought to life the country that is today known as the Rainbow Nation.
Praise For A Rainbow in the Night: The Tumultuous Birth of South Africa…
Kirkus, 10/01
"A dynamic… account of how apartheid came to be, what it did to those who lived under it and how it ended… The author peoples his narrative with vivid stories of individuals, black and white, who shaped the history of the land that was to become South Africa… The author's focus on individuals makes for an engaging, easy-to-read story."

Washington Times, 11/10/09
"Lapierre tackles the turbulent history of today's South Africa. Part straightforward account of the epic events that led to the rise and fall of apartheid, part character study of the heroic men and women who, with untold bravery, pushed back against its singular cruelty, the book takes readers on a heart-stopping and illuminating ride through the verdant fields and blood-soaked streets that in 1994 finally brought blacks and whites, Europeans, Asians and Africans a 'rainbow nation' at peace…Mr. Lapierre has an extraordinary story to tell and he tells it well...With the same sweeping brushstrokes that made his previous books blockbusters, Mr. Lapierre brings South African history since 1652 vividly forward, shining a spotlight on some of the lesser-known heroes of recent years."

Booklist, 12/1/09
"For those new to the history of South Africa, this is a highly readable, detailed overview...The clear, exciting narrative reads like fiction…Even for those who know the history, Lapierre's presentation of the horrific facts of official racism is riveting."

Curled Up with a Good Book, 11/15/09
"[Lapierre] has shed light on the history of one of the world's most naturally beautiful countries with a blood-soaked heritage spanning centuries, continents and races…An evocative reminder of how skin color divides, lest we forget."

San Diego Union Tribune, 11/22/09
"History by a man who knows how to write history."

Bookviews.com, December 2009
"If you want to see what racism was like in its worst possible way, read Dominique Lapierre's A Rainbow in the Night. It is one of the most profoundly disturbing books I've seen in a long time."

The Bookseller (UK), 12/4/09
"An eminently readable account of the human story of modern South Africa."

Los Angeles Times, 12/16/2009
"South Africa's tragic apartheid history is vividly recounted…Lapierre has a knack for bringing history alive…[He] has a good story to tell, and he is adept at infusing it with drama aplenty…Lapierre has dug wide and deep."

Publishers Weekly, 12/14/2009
"A harrowing overview of South African history…This dramatic read, based on 'extensive personal research,' is absorbing."

InfoDad.com, 1/7/10
"[Lapierre's] access to primary sources is impressive…A Rainbow in the Night has all the ingredients for the best-seller list."

ForeWord, January 2010
"A short, very readable, and sometimes moving narrative of the events and people who have brought disgrace and fame to the country…Stirring accounts of anti-apartheid leaders, including Mandela and Bishop Desmond Tutu, are complemented by the tales of lesser known heroes…Those interested in a brief, revealing work that accentuates the human drama of this nation's contentious history will find this book enlightening…A worthy choice for high school and public libraries."

Internet Review of Books, January 2010
"A Rainbow in the Night can hardly be said to be the definitive study of the emergence of South Africa…But it's a good place to start."

Milwaukee Shepherd-Express, 2/8/10
"A good and easy read…A decent primer on South Africa and the rise of one of the last century's most remarkable leaders, Nelson Mandela."

Reference & Research Book News, February 2010
"A fascinating account of the human element in the history of South Africa, from the first Dutch settlers in the mid 1600s to the election of Nelson Mandela in 1994. The text is based on extensive personal research and contains much information that has not been previously published."

Johannesburg Times, 2/7/10
"Lapierre takes a cinematic approach to history, adorning key events with narrative reconstructions and liberal swathes of high drama…Prepare to be swept away."

SacramentoBookReview.com, 2/14/10
"Tracing the history of South Africa from its European colonization to the end of apartheid, Dominique Lapierre's A Rainbow in the Night reveals that throughout its violent history, the country has been one of heroes, both radical and quiet…Lapierre uses extensive personal and secondary research to recount the human elements behind the rise and fall of one of the most unjust political and social systems the world has ever seen."

Irish Examiner, 2/20/10
"Throughout the book, Lapierre manages to punctuate the political twists and turns with magnificent, though fleeting, glimpses of human stories…There are many moments in this book when it's easy to overlook the fact that it's a history rather than a novel….He packs it all into less than 250 pages, excluding the appendixes, a feat which few historians would consider taking on…Lapierre writes fluidly, sparingly and in a manner which will cause even the most ardent fan of purist history to recognize merit in his approach."

Avenue magazine, April 2010
"[Lapierre] captures the complexity of South Africa's history…[He] bring[s] South Africa's history to life for his readers."

Multicultural Review, Spring 2010
"A moving account of the struggle against the racist system of apartheid that existed in South Africa from 1949 to 1994…The book provides a fine survey of South Africa's history, particularly useful for readers not familiar with the country…Interesting photographs and very useful appendices add to the overall appeal of the work." Buffalo Jewish Review, 10/22/10"[An] eloquent recital of what happened in South Africa since 1652…To capture the fascinating history of South Africa in so short a book is a great achievement for which we are indebted to Dominique Lapierre."
Da Capo Press, 9780306818479, 320pp.
Publication Date: November 1, 2009
About the Author
World-renowned humanitarian and international bestselling author of The City of Joy and coauthor of Is Paris Burning? and O Jerusalem, Dominique Lapierre's books have been read by more than ten million people around the world. He lives in France.
or
Not Currently Available for Direct Purchase