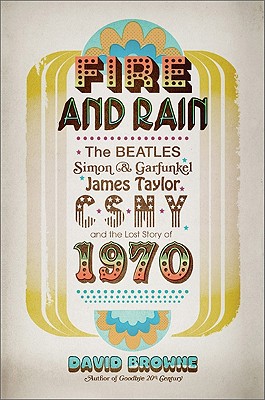 Fire and Rain (Hardcover)
The Beatles, Simon and Garfunkel, James Taylor, CSNY, and the Lost Story of 1970
Da Capo Press, 9780306818509, 369pp.
Publication Date: May 31, 2011
Other Editions of This Title:
Digital Audiobook (7/18/2011)
Paperback (7/3/2012)
Pre-Recorded Audio Player (12/1/2011)
MP3 CD (7/19/2011)
Compact Disc (7/19/2011)
* Individual store prices may vary.
Description
January 1970: the Beatles assemble one more time to put the finishing touches on Let It Be; Crosby, Stills, Nash & Young are wrapping up Deja Vu; Simon and Garfunkel are unveiling Bridge Over Troubled Water; James Taylor is an upstart singer-songwriter who's just completed Sweet Baby James. Over the course of the next twelve months, their lives--and the world around them--will change irrevocably. Fire and Rain tells the story of four iconic albums of 1970 and the lives, times, and constantly intertwining personal ties of the remarkable artists who made them. Acclaimed journalist David Browne sets these stories against an increasingly chaotic backdrop of events that sent the world spinning throughout that tumultuous year: Kent State, the Apollo 13 debacle, ongoing bombings by radical left-wing groups, the diffusion of the antiwar movement, and much more.
Featuring candid interviews with more than 100 luminaries, including some of the artists themselves, Browne's vivid narrative tells the incredible story of how--over the course of twelve turbulent months--the '60s effectively ended and the '70s began.
About the Author
David Browne is a contributing editor at Rolling Stone and the author of three books: Dream Brother (2001), Amped (2004), and Goodbye 20th Century (2008). He also contributes to the New York Times, NPR, and other outlets. He lives in New York City.
Praise For Fire and Rain: The Beatles, Simon and Garfunkel, James Taylor, CSNY, and the Lost Story of 1970…
Named one of the "Best Rock Books of the Year" by Rolling Stone
Kirkus Reviews, 5/15/11
"Through the lens of four fabulously successful musical acts, a Rolling Stone contributing editor looks at the moment 1960s idealism "began surrendering to the buzz-kill comedown of the decade ahead…A vivid freeze-frame of Hall of Fame musicians, some of whom would go on to make fine records, none ever again as central to the culture."
Cityview Magazine, June 2011
"Browne has penned a classic." 
BookPage, June 2011

"Eminently readable….Browne's engrossing account of this fertile but volatile period sets the standard by which comprehensive musical histories should be judged."  
Parade, 5/27/11
"This juicy, fascinating read transports you back to a turbulent year…Browne artfully describes the creation of these classic songs in a way that makes them seem brand-new." 
New York Daily News, 5/27/11
"Through rich anecdotes and incisive analysis…the book threads traces of politics, but music remains its worthy focus.  The form of the book, told chronologically over four seasons, lends it the compacted, real-time drama of an episode of '24'." 
New York Post, 5/29/11
"Behind-the-scenes, fly-on-the-wall looks at [the artists] make it a worthwhile read." 
Associated Press, 6/1/11
"
Fire and Rain: The Beatles, Simon & Garfunkel, James Taylor, CSNY, and the Lost Story of 1970
is a worthy addition to anyone's collection of such music histories…the nuanced account of the struggles inherent in making music is more than enough to satisfy, as are the delightful surprise connections and asides scattered throughout the book. . . . I couldn't help but be riveted by the account of this group of immensely talented people who also, when they weren't at each other's throats, seemed like they'd be cool to hang out with." 
Entertainment Weekly, 6/10/11
A "Best New Summer Read" 
Vineyard Gazette, 5/20/11
"A social commentary, a fan's look, an evolution of a generation and an up-close view of backstage dynamics in the music business, it's also a book that will revive personal and social memories for anyone who ever lived their life to these songs." 
SecondAct.com, 5/25/11
 "Both fresh and revelatory … Browne's work reminds me of the late Otto Friedrich's classic book about Hollywood in the 1940s, City of Nets." 
Chicago Reader, 5/26/11
"Its principal task is to dive into the 60s hangover on a day-to-day level, describing the tensions that drove U.S./UK rock culture—emblematized by the four artists in the subtitle—toward the sweet, consoling embrace of Let It Be, Bridge Over Troubled Water, Sweet Baby James, and Deja Vu,  …  Browne renders this somnambulant period with such care that he makes it seem alive." 
Mojo, June 2011
"Highly readable … shifts between the key points smoothly. He unearths some little-told stories along the way." 
BookPage, 6/1/11

"It wasn't obvious as it was happening, but, as David Browne shows in
Fire and Rain
, 1970 turned out to be a watershed year in popular music.  … Browne's engrossing account of this fertile but volatile period sets the standard by which comprehensive musical histories should be judged."
Library Journal, 6/8/11
"Browne engagingly illuminates many overlooked stories that may not be familiar to even dedicated rock enthusiasts. Highly recommended."
Bookforum.com, Summer 2011
"Exhilarating and meticulously researched…Browne is a superb chronicler of popular music and a fine social historian." 
HollywoodReporter.com, 6/6/11
"An irresistible page-turner, a gossipy, scholarly account of an explosive rock moment, as organized as the times were chaotic— as well-crafted as a Beatles tune. The book is a brilliant lens on a time you only thought you knew." 
St. Petersburg Times, 6/5/11
"If you liked
Life
, then try
Fire and Rain
." 
Indiewire.com, 6/7/11
"Totally entertaining…There are drugs, love affairs and infighting behind the music, a story Browne smartly sets against the backdrop of a culture emerging from the turbulent 60's. I can't say I'm a big music person, but I was hooked from the minute I opened it." 
UGO, 6/7/11"
The big picture that Browne paints throughout
Fire and Rain
, is a thoroughly fascinating and entertaining one." 
Music Tap, 6/7/11

"Compelling new tome… By placing the music in the context of time, but never letting the time overwhelm the subject of his book, Browne strips away that mythic quality of each release and makes them seem fresh and new again." 
Blurt! Magazine, 6/13/11
"[An] interesting and sometimes surprisingly informative book." 
Boston Globe, 6/13/11
"Absorbing…Browne avoids sentimentality and nostalgia, aiming instead at a fresh look at the bands and their milieu. Some of the period details are almost astonishingly apt." 
Blogcritics.org, 6/16/11
"David Browne's masterfully researched and written
Fire And Rain
is the sort of book that should have come along much sooner than it actually did…[A] compelling, thought provoking read…Fascinating." 
New York Times, 6/24/11
"As a reporter [Browne] is dogged and earnest; as a profile writer, crisp and professional. As "Fire and Rain" jaunts from London to Laurel Canyon, Mr. Browne drops in memorable details…very readable." 
People Magazine, 7/4/11
"A fascinating look at a pivotal year in the lives of James Taylor, Simon & Garfunkel, the Beatles, and Crosby, Stills, Nash and Young." 
NPR.org, 6/20/11
"Browne is an incredibly intelligent writer…His considerable narrative skills make Fire and Rainone of the most entertaining and informative books of the year
.
It's bound to be enjoyed not only by rock fans, but by anyone interested in popular culture and social change." 
New York Magazine, 6/20/11
"[A] juicy history of 1970 in rock." 
Miami Herald, 6/24/11
"[An] intriguing new book…
Fire and Rain
works as a history lesson but is foremost a fast-paced music fan's appreciation of the brilliance of that era's artists." 
Showbiz411.com, 6/24/11
"A beautifully wrought compelling recounting of a key year in pop music…full of great tidbits" 
San Antonio Express News, 6/23/11
"One of the truly great rock books" 
Christian Science Monitor, 6/21/11
"Dishes the drama and details how it all went down" 
Record Collector (UK), July 2011
"Browne is an excellent writer and tells this story very well." 
Metro (UK), 6/22/11
"Engaging" 
Demetri Martin
,
7/1/11"
It's a fun read" 
Miami Herald, 6/30/11
"Intriguing new book…
Fire and Rain
works as a history lesson but is foremost a fast-paced music fan's appreciation of the brilliance of that era's artists." 
Financial Times, 6/26/11

"[Browne's] attention to detail lends this compelling book a depth and richness rarely found in rock biography."
Publishers Weekly
, 7/18
"A fascinating look at an era when an artist's reputation was built not on social media sites, but on the music itself." 
Publishers Weekly, 7/18/11
"Using new interviews with the artists and their colleagues, as well as access to rare documents and recordings from the period, Browne employs a smart narrative style to make such well-worn stories as the Beatles' breakup fresh again…This book will appeal to classic rock fans, as well as younger readers who may find this to be a fascinating look at an era when an artist's reputation was built not on social media sites, but on the music itself." 
NPR.org, 7/20/11
"The book offers a refreshed view of the moment when the counterculture allegedly went soft. Browne's finely-detailed, engrossing narrative." 
PopMatters.com, 7/14/11

"Had Tolstoy been a reporter for
Rolling Stone
, he could've told this story better, but it would have taken him an extra 500 pages." 
Austin Chronicle, 7/15/11

"Chronicled capital-R rock music's transition from late 1960s insurrection to early 1970s introspection." 
Irish Times (Ireland), 8/6/11

"Browne tells us much we didn't know about each artist, but also gives a decent historical account of that year's events, from the Apollo 13 crisis to the Kent State shootings to the bomb-making activism of The Weathermen to Nixon's bid for re-election. Through numerous interviews and painstaking research, Browne has built up a forensic picture of these 12 months, and allows us to become flies on the wall at recording sessions, band meetings, public appearances and backstage at concerts."  
Hartsville Messenger, 8/3/11

"Using new interviews with the artists and their colleagues, as well as access to rare documents and recordings from the period, Browne employs a smart narrative style to make such well-worn stories as the Beatles' breakup fresh again." 
American Profile, 8/8/11
"For music fans, modern-history buffs and pop-culture junkies, it's a fact-filled, insight-rich look at the beginnings of an era in which America grew up in more ways than one." 
Paste, 8/22/11
"Browne examines in this worthy book not only the music scene but also the backdrop of civil unrest that took place politically, culturally and musically in the dawning year of the '70s…Browne is the perfect person to tell this story…The man has credentials, and his narrative skills weave stories in a way that doesn't lose readers along the journey."
Times Square Gossip, 9/2/11
"As a music fan, I appreciated the new details that [Browne] uncovers for each of the artists…The way he weaves in the timely moments in society (Kent State; Vietnam); wrapping them around his words…is miraculous…If you're a music fan from those halcyon days of the 70's...this one's for you."
HITS Daily Double, 9/9/11

"[Browne] puts his mark on yet another transition period in rock and roll, connecting the dots to delineate a pop music universe that now seems so much more naïve and innocent." 
Huffington Post, 9/11/11

"Fascinating doesn't even come close as we get a never before seen glimpse of the time leading up to Paul McCartney's announcement that he was leaving the Beatles and the intertwining, almost incestuous connections between all four of these artists, not to mention the tremendous cultural tremors going through the body politic as a whole and how this informed their music." 
Shelf Life (Canada), October 2011

"A true trip down musical memory lane…This was a most interesting time in music and life, with much happening on the world stage. The author captures it precisely, giving us the inside story of the four top acts and how their music changed the music world for the better." 
American History, December 2011
"This respected music critic builds his plot according to his tastes. Even if you don't share them, you'll find his insights and writing rewarding."

Relix, October/November 2011
"Browne's engaging new book explores a bittersweet cultural moment…An altogether absorbing narrative."
Stuff I Like (blog), 11/27/11
"Evocative and splendidly written."
JamBands.com
"
Fire And Rain
should be handed out to students in every institution of learning across this fair land…A well-crafted, totally engaging history that reads like a novel…A very readable tale of cultural and political change." 
The Nervous Breakdown Gift Guide
"No music fan can afford to take a pass on this book." 
VEVO Holiday Gift Guide
 "A vivid read"