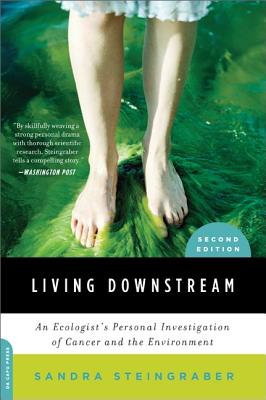 Living Downstream (Paperback)
An Ecologist's Personal Investigation of Cancer and the Environment
Da Capo Press, 9780306818691, 440pp.
Publication Date: March 23, 2010
* Individual store prices may vary.
Description
The first edition of
Living Downstream
—an exquisite blend of precise science and engaging narrative—set a new standard for scientific writing. Poet, biologist, and cancer survivor, Steingraber uses all three kinds of experience to investigate the links between cancer and environmental toxins.
The updated science in this exciting new edition strengthens the case for banning poisons now pervasive in our air, our food, and our bodies. Because synthetic chemicals linked to cancer come mostly from petroleum and coal, Steingraber shows that investing in green energy also helps prevent cancer. Saving the planet becomes a matter of saving ourselves and an issue of human rights. A documentary film based on the book will coincide with publication.
About the Author
Sandra Steingraber, PhD, is the author of Having Faith: An Ecologist's Journey to Motherhood. An internationally recognized authority on environmental links to cancer and reproductive health, she is a visiting scholar at Ithaca College, New York.
Praise For Living Downstream: An Ecologist's Personal Investigation of Cancer and the Environment…
Tuscon Citizen, 4/20/10
"In this second edition of a contemporary classic, Steingraber, a cancer survivor, biologist, and mother, builds a convincing case that many cancers can be prevented through environmental change…This spare, beautifully written book, originally published in 1997, presents a passionate, hopeful view, asserting that it's a good thing that the environment has such influence over cancer because, she insists, we can do something about it."
InfoDad.com, 4/29/10
"A book with a strong personal as well as societal orientation…The book's language is more plainspoken and thus more accessible than that of many other books warning of environmental hazards."
Energy Times, May 2010
"Beautifully written,
Living Downstream
blends [Steingraber's] own tale—a cancer diagnosis at age 20—with an environmental detective story…If you've ever wondered about the link between pollution and cancer, read
Living Downstream
."
Ms., Spring 2010
"In the film, as well as in her memoir of the same title, Steingraber moves to break the silence about chemical carcinogens by doing what Rachel Carson couldn't: use her own diagnosis to prove a scientific point."
The Sun, January 2009
"Steingraber's ability to meld literary prose with complex scientific information has made her a best-selling author. Like her hero Rachel Carson, whose 1962 book Silent Spring led to the ban on the pesticide DDT and kick-started the grass-roots environmental movement, Steingraber somehow finds language beautiful and compelling enough to seduce readers to sit through a science lesson."

The Ithacan, 2/12/10
"Jeff Cohen, director of the Park Center for Independent Media, said that Steingraber's expertise in writing and biology as well as her personal experience created an unbelievable combination. 'What she's brilliant at—almost in a league of her own—is mixing personal passionate stories with totally comprehensive and accurate science,' he said. 'It's not easy to do, it's not easy to make complex scientific issues interesting, but no one does it better than Sandra Steingraber.'"



TheSmartMama.com, 3/6/10
"I thought I would talk about two of the books that most moved me to do more, to do better, to live a less toxic life. The first is Rachel Carson's Silent Spring and the second is Sandra Steingraber's incredibly powerful Living Downstream: An Ecologist's Personal Investigation of Cancer and the Environment …Why these two books? Because they point out something very, very telling about the link between the lives we live and the cancers we get."

The Maine Organic Farmer & Gardener, Spring 2010
"Steingraber presents a clear, cogent and convincing case for the environmental roots of cancer."

Gaia Fitness blog, 3/11/10
"Living Downstream is a very well-written book by Sandra Steingraber about the status of the world in which we live and it's affects on our lives. If you haven't read it, I highly recommend picking it up. It will likely give you a whole new perspective on the health of our world and us."

Ithaca Journal, 4/2/10
"A part-memoir/part-scientific treatise about her battles with cancer, and the environmental roots of many cancers."

Ithaca Times, 3/31/10
"Part analysis and presentation of available scientific information on the links between cancer and the environment and part memoir."