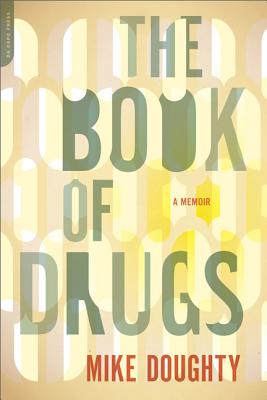 The Book of Drugs: A Memoir (Paperback)
A Memoir
Da Capo Press, 9780306818776, 256pp.
Publication Date: January 10, 2012
Description
Mike Doughty first came to prominence as the leader of the band Soul Coughing then did an abrupt sonic left turn, much to the surprise of his audience, transforming into a solo performer of stark, dusky, but strangely hopeful tunes. He battled addiction, gave up fame when his old band was at the height of its popularity, drove thousands of miles, alone, across America, with just an acoustic guitar. His candid, hilarious, self-lacerating memoir, The Book of Drugs--featuring cameos by Redman, Ani DiFranco, the late Jeff Buckley, and others--is the story of his band's rise and bitter collapse, the haunted and darkly comical life of addiction, and the perhaps even weirder world of recovery.
About the Author
Mike Doughty is a musician and prolific blogger. Among other publications, he has written articles for the New York Press, Paper, and Village Voice. He lives in Brooklyn, New York.
Praise For The Book of Drugs: A Memoir…
Publishers Weekly, 10/3/11
"Hardly your typical rock star memoir. Doughty is brutally honest about life as an addict…Bringing the writing skill that he has crafted to his underground poetry, magazine articles, and songs, Doughty conveys his message with both despair and humor…A compelling look at one man's struggle to come to terms with the much-discussed connection between addiction and art."
New York Daily News, 10/28/11"
The leader of the New York band Soul Coughing comes clean about the local music scene as well as his (semi) undiminished love of the high." 
TheRumpus.net, 10/20/11

"Doughty's life, as chronicled in these pages, is not so much a revelation for its narrative arc (kid makes the big time, starts in with the dope, the band breaks up, kid is redeemed), as it is for the astonishingly vital, energized, and natural voice contained in its pages, one which never once had a ghost writer presiding over it, likewise its acerbic and sometimes lacerating honesty."

Boston Globe, 11/11/11
"Engrossing and extremely candid." 
Seattle Weekly, 11/9/11
"A salacious memoir." 
Billboard.com, 12/7/11
"Chronicles his treacherous, intoxicated years as frontman of Soul Coughing in the 90s, through his transition into a fruitful (sober) solo career, with plenty of self-deprecating humor, band squabbles, music biz debauchery, and notable cameos from Jeff Buckley, Dave Matthews and Ani DiFranco and along the way."  
Library Journal, December 2011
"[A] soul-baring memoir…Much more than a musician's autobiography, this is a tale about the resurgence of the human spirit; Doughty captures a little bit of all of us in his journey. Recommended." 
Jambands.com, 12/16/11

"Not only an open look by Doughty at his past addiction problems, but a smart, funny, and honest view of the late 80s/early 90s NY music scene, Doughty's years with the band Soul Coughing, and what it was like to reach the other side of a very dark place. Don't for a moment think that Mike Doughty has written your typical I-got-clean-and-now-I'm-above-all-that sort of book."
Relix, January/February 2012
"Love stories to drugs that [Doughty] had to quit. Suddenly, the fine points of 'The Huffer and the Cutter,' about love between damaged people, takes on an even deeper meaning." 
Booklist, 12/28/11
"[A] conversational, rambling, and picaresque memoir…Anyone with an interest in pop culture generally and rock music in particular should appreciate this insider's account of life on the road." 
The Arts Desk (UK), 12/29/11

"A thrillingly lucid and bravely honest memoir."  
Boston Globe, 1/10/12
"What's shocking and fresh about
The Book of Drugs
is how vividly it captures the psychic stasis of addiction…Much of the memoir's appeal resides in Doughty's lacerating candor." 
Black Book, 1/10/12
"A refreshingly genuine rock 'n' roll memoir, with the typical rise and fall of a rock star you might find as the plot of a musical biopic…But it's also a poetic look at the music industry in the late '90s, a seemingly mythical time before the rise of .mp3s and iPods." 
Interview
, 1/11/12
"A layered memoir…A musical person with a passion for prose, Doughty's writing is self-deprecating and honest." 
Ink 19, January 2012
 "Not your typical memoir…Fascinating, especially for a Doughty fan…This will put some clarity into the man behind the music." 
You're Beautiful, New York, January 2012

"Full of succulent period errata, much like Patti Smith's
Just Kids
and Eileen Myles'
Inferno
.  We go to legendary places and meet legendary people along the way…Like Smith and Myles, Doughty recreates downtown Manhattan in his formative moment with adroit and insouciant deftness. One comes to see and know as he has. It is a deeply enchanting backdrop for a deeply disenchanting behind-the-scenes." 
PopMatters.com, 1/17/12
"
The Book of Drugs
can simultaneously be a rock 'n' roll tell-all, harrowing drug account, and a uniquely personal tale all in one, without ever feeling like it's playing any of those angles deliberately. The reason why
The Book of Drugs
works is because it's absolutely unflinching…A highly entertaining read…All in all,
The Book of Drugs
is an outstanding book. It's a litany of stories filled to the brim with personality, wit, and humor…One of the best books you'll read this year."                                 
Addiction Inbox (blog), 1/14/12
"It seems almost unfair that a talented singer/songwriter like Doughty should also turn out to be a good writer, but there you have it.
The Book of Drugs
is informative but not confessional, rock-snarky but tempered with a round of amends. It is also whip-smart and bitterly funny." 
Salon.com, 1/26/12
"The unspoken rule of rock 'n' roll memoirs—especially ones about drug-addled players who get clean—is that the author tends to mend fences rather than sling mud. Mike Doughty: not so much. In The Book of Drugs, the former Soul Coughing frontman writes with a lacerating candor about his family, his narcotic and sexual excesses, the idiocy of the music industry, and, most of all, his former band mates."
Penthouse, February 2012
"Doughty strips away the glamour many people associate with the rock-star life, and his sharp writing reinvigorates even the most overdone clichés about recovery." 
The Daily, 1/22/12
"Being a Soul Coughing fan, or a fan of Doughty's solo career, isn't required to enjoy reading
The Book of Drugs
...The warts-and-all approach of
The Book of Drugs
works." 
New York Post, 1/29/12
"[A] riveting new memoir." 
Tucson Citizen, 1/23/12
"Brutally honest, stark, cringe-worthy, and unexpectedly witty…This is not your typical rocker-hits-the-skids memoir but one that pulls no punches, and is so candid and brutally honest, it almost sucks the oxygen out of the room…I hope there will be a sequel to this book. It is that satisfying." 
The Rogovy Report, 1/30/12

"A funny, haunted tale in which no one—bandmates, producers, fans, A&R reps, fellow musicians such as Jeff Buckley and Redman, and least of all Doughty himself—is spared." 
Rolling Stone, 2/16/12
"Doughty is a funny, unsparing writer, and if he often comes across as a prick (like most everyone else here), he's a deeply self-aware one; his eventual salvation – qualified, full of doubts – feels as real and lived as they come." 
MTVHive.com, 1/30/12
"
The Book of Drugs
has many of the staples we've come to expect from a rock 'n' roll tell-all. There are stories about consuming ridiculous amounts of illegal narcotics, and having ridiculous amounts of raunchy sex with people you've just met, and hating your bandmates for not respecting your awesomeness, and then kicking the drugs and meaningless sex and stupid band and realizing what's important in life…But
The Book of Drugs
manages to transcend its own clichés…Doughty's misadventures are weirdly relatable, even if you've never spent a small fortune on heroin or had sex with strangers in multiple time zones." 
Wisconsin State Journal, 2/1/12
"Candid and unsparing, and better written than most of its ilk…A powerful read." 
This Week in New York, 2/1/12
"A no-holds-barred look at that old music cliché, sex, drugs, and rock and roll." 
Blurt
Online, 2/6/12
"Written in more of a conversational collection of anecdotes, remembrances and one-off stories, though largely chronologically, Doughty eschews the traditional chapter by chapter story in the life of, opting for a more original take on the standard rock memoir…His time in Soul Coughing and his relationship with drugs clearly made for some fascinating stories."  
The Nervous Breakdown, 2/6/12
"
The Book of Drugs
reads like a late night conversation, Doughty's candor charged by a quick wit and a merciless sense of humor that bring an electric edge to the stories within his story…
The Book of Drugs
is much more than Doughty's memoir, however—it is a bare-knuckled take on the 90s and the cultural icons who informed that period." 
St. Paul Pioneer Press, 2/2/12
"A frank dissection of [Doughty's] dual careers in music and addiction." 
Creative Loafing Atlanta, 2/3/12
"
The Book of Drugs
pulls the curtain back on this enigmatic songwriting gem and reveals a Doughty many people may not recognize. It's an often uncomfortable though delightful read…Doughty is open about everything…It's not a juicy, gossip-laden tell-all, but rather a simple account of one man's coming to terms with a perfectly imperfect life." 
Creative Loafing Tampa, 2/2/12
"A very candid, personal work." 
Madison Capital Times, 2/2/12
"[A] scathing new memoir." 
Orlando Weekly, 2/2/12
"Written with self-deprecating nakedness…A page-turner." 
Time Out New York, 2/8/12
 "The arc may be a familiar one, but as Doughty's followers already know, his idiosyncratic verve and eloquence go a long way in making old things sound new." 
New York Journal of Books, 2/1/12
"A fascinating read that's as much a chronicle of the music industry in the waning days of the 20th century as it is a story of addiction and recovery…What makes this memoir so moving is the author's unabashed honesty about his artistic and personal insecurities…A satisfying, moving, and at times hilarious study of drug addiction, the music industry, and, above all, the cacophonous jangle of bizarre and often contradictory impulses that define the human condition." 
Culturemap Austin, 1/31/12

"Fans of Doughty, those who hang on his drawn syllables and poetic songs, will appreciate the book. It has all the sardonic humor that someone familiar with his live show would expect." 
Offbeat.com, 2/10/12
"Chronicles Soul Coughing's rise and fall, Doughty's tragic, funny and strange struggles with addiction, and his even weirder experiences in recovery." 
New School Free Press, 2/7/12
"[Doughty] invites readers into his sardonic world." 
The Agit Reader
"The book reads as straightforward as the title, striking in its chillingly honest, matter-of-fact tone that still makes for an intensely readable tale…Unlike many drug memoirs, the stories here are devoid of the hint of self-congratulatory pride of having a crazy story to tell—and having survived to tell it…It's the clear-eyed self-awareness that makes this book so compelling and keeps you turning the page even if you're disgusted, surprised or disappointed…
The Book of Drugs
is an intimate and compelling tale of one musician's drug abuse and recovery, refreshingly devoid of hyperbole and self-congratulatory platitudes." 
InfoDad.com, 2/16/12

"[If] you are a fan of Doughty and want to hear his version of how he became a better musician and better person through and beyond drugs, then
The Book of Drugs
is for you."  
Buffalo News, 2/17/12
"[An] autobiography of art and self-abuse…[A] harrowing and hilarious memoir…[Doughty] writes with an openness that routinely borders on the disturbing about his lengthy dalliance with drugs and booze." 
Lexington Herald-Leader, 2/17/12
"The themes are often dark, but they also underscore the absurdities that often accompany life's greatest traumas. The book recalls, in places, the wildest work of Hunter S. Thompson but with considerably more heart." 
Rochester Democrat and Chronicle, 2/16/12
"
The Book of Drugs
is very funny, although Doughty is brutal in both his self-evaluation and his thoughts of others around him." 
New Orleans Times-Picayune, 2/11/12
"Written matter-of-factly, it has little use for sentimentality or sloganeering." 
LargeHeartedBoy.com, 2/17/12
"A captivating and brutally honest story of addiction and recovery." 
StereoSubversion.com, 2/16/12
"An occasionally cringe-inducing and jawdroppingly honest recollection of [Doughty's] myriad addictions.  But to limit it—to suggest as Doughty's title does—that it is a memoir
only
about drugs, is to do disservice to Doughty's sharp wit and acute memoirist's eye…
Drugs
is a self-deprecating, apologetic, fuck-off, roller coaster that reveals Doughty's emotional wiring at its most exposed. But more than any such salacious adjectives,
The Book of Drugs
is also a subtle observation on the 90s alternative rock scene and the excesses that made that decade simultaneously abhorrent and jubilant…You may not think there needs to be one more drug narrative in an already crowded field of drug addicted memoirists, but
The Book of Drugs
is like a sharp knife to the skin.  It's quick and painful and bloody, but fascinating and tragic nonetheless. And it can make you feel stronger in a twisted way once the healing begins." 
MiddleMojo.com
"A literary middle finger to the artist's salad days. It puts the mental in unsentimental. It screams goodbye to all that—the band, the junk, the tunes, the willful inscrutability." 
KUT Radio (website), 2/14/12
"[Doughty] gives us an unflinching look into his life with his memoir…He shares his sordid tales of addiction, stripped away of any of the glamour or romance that's often applied to the rock 'n' roll lifestyle…It's full of "weirdness, and messed-up-ness," as Doughty puts it, but within, you see his humor and brilliance shining through." 
WBEZ Radio (website), 2/17/12
"[Doughty] writes with a brutal honesty." 
BackStageAxxess.com, 2/24/12
"A candid memoir…For fans of Doughty's former band, Soul Coughing, the book offers an interesting account of nasty band politics that may only be rivaled by the acrimonious split of Creedence Clearwater Revival…A collection of reflections that make for interesting reading. There are moments that are funny and others quite disturbing, but the writing is raw and emotional and features at least some events that most people can easily relate to in their own lives."
Nashville Scene, 2/22/12
"We'll probably never see a Soul Coughing episode of BTM [Behind the Music], but Mike Doughty's new book, The Book of Drugs: A Memoir, does a hell of a job in its place."
Cincinnati City Beat, 3/6/12
"[A] revealing new memoir…Doughty recounts his impressively numerous sexual exploits without the kind of dick-waving braggadocio that often accompanies such tales and his copious drug consumption and subsequent hard fought sobriety are each recalled without the soap opera drama and disingenuous after-school-special reflection of similarly redemptive narratives. Doughty is a compact writer, a wildly hilarious raconteur and a fairly insightful memoirist, making
The Book of Drugs
a fast, funny and casually poignant read." 
Barnstorm (blog)
"A brutally honest book, one that dishes some dirt…[Doughty is] a droll, self-deprecating writer; he's adept at calling himself out in a way that's funny…Fans of Doughty's work–both his Soul Coughing output and his solo stuff–will find
The Book of Drugs
to be something of a Rosetta Stone for some of his songs…Buried within the traumatic band story is a fascinating behind-the-scenes look at the music industry in the mid-1990s." 
KEXP.org, 3/7/12
"Full of weird and spastic drug stories, and desperately trying to stay off drug stories, and the glimpses of grace that come between those events. Doughty is a compelling writer, even when he rackety-rambles…The bones in a chair scenes of utter addiction are as throttling as any you've read…The eviscerating honesty, sometimes very charming self-deprecation, and attention to personal and musical cultural detail makes Book of Drugs an awesome read, more than once." 
Curled Up with a Good Book, 3/10/12
"Doughty is a fine writer…[
The Book of Drugs
] take[s] you inside the head of a creative mind, and that's worth reading about." 
Norridge Harwood Heights News, 3/13/12
"Doughty doesn't pull any punches in the book." 
KDHX.org, 3/12/12

"Doughty's humble voice and one foot forever in the indie underground makes this book more "Cash" by Johnny Cash than "Life" by Keith Richards…[Doughty] writes as memory occurs to everyone, and his tone is loose and familiar enough to feel like a conversation…His humor is wry and self-deprecating." 
BoingBoing.net, 3/22/12
"For fans of Doughty in his various incarnations it's a fascinating look at a heretofore inscrutable character and for folks who know him in his new incarnation it's nice to see from whence all his brilliance came. Non-fans may enjoy the story of redemption and the insider's look at a dying music industry…Some of Doughty's prose is transcendental—it's down to earth, raw, and real." 
No Depression blog, 3/14/12

"[A] tell all rock chronicle…The book reads like Jim Carroll's
The Basketball Diaries
, a close-up chronicle of a heroin addict."
Lincoln Journal-Star, 3/25/12
"An honest, oft-funny memoir that captures his rock 'n' roll heart while telling the clichéd drug story without resorting to cliché."
State Journal-Register, 3/29/12
"Written in Doughty's signature stream-of-consciousness." 
Boulder Daily Camera, 3/29/12
"[Doughty] delivers [his stories] with a taut, efficient prose style, and he doggedly maintains a sense of honesty and openness." 
SLUG, 3/27/12
"Rather than being depressing and feeling voyeuristic, Doughty's tale of eventual recovery and peace actually abounds with moments of humorous, wry, self-deprecating writing, and a sound analysis of the phenomenon of addiction. If you liked the band, like his subsequent solo work, or just like the idea of a rock star getting clean, give this quick read a try." 
TheDailySwarm.com, 3/22/12
"One of the best rock books of the year—and one of the most trenchant, revealing memoirs in recent memory, period, regardless of genre…Damn good and affecting…In an era of endless confessional tomes by rock stars outlining every bump of Peruvian marching powder that ever graced their nasal cavity, Doughty's stands out because of both the heart he brings to it, and writing craft…Doughty's prose has the same wry, self-deprecating, slightly surrealist tilt as his songs; even if you've never been a fan of his music, you'll find a lot to laugh and cry about." 
Diffuser.fm, 3/24/12
"[A] pull-no-punches memoir…A wild ride…[It] really lives up to its name in terms of tales of substance abuse." 
Bookviews (blog), April 2012

"This story will interest those who following the contemporary music scene and who will enjoy a look behind the spotlights and glamour." 
Seattle Weekly, 4/4/12
"Memoirs about rock 'n' roll and addiction are all the rage now. In the last couple of years, we've been handed volumes by Steven Tyler, Sammy Hagar, and
SW
's own Duff McKagan. The best of the bunch was Keith Richards'
Life
, as you might expect. But the second best has come out of left field—from former Soul Coughing frontman
Mike Doughty
…It's a hilariously dark look at [Doughty's] rise and collapse, his wacko family, and the alt-rock stars he met along the way." 
Lincoln Journal Star, 3/26/12
"An honest, oft-funny memoir that captures [Doughty's] rock 'n' roll heart while telling the clichéd drug story without resorting to cliché." 
Examiner.com, 4/4/12
"Anyone with an interest in how the music biz works—or worked, back in the day when it had money—will surely find this a highly entertaining read." 
Now Salt Lake, 3/27/12
"Much like his music,
The Book of Drugs
is intimate, witty and driven by Doughty's masterful sense of storytelling." 
Reference and Research Books News, April 2012

"[Doughty] describes his neurotic former bandmates and his own outrageous behavior with self-deprecating humor and brutal honesty." 
Georgia Straight (Canada), 4/4/12
"There's a fascinating story tucked away amid the one-night stands and near-overdoses."  
LAist.com, 4/10
"[Doughty] pulls no punches in his book, telling candid tales." 
Pitch, 4/4
"Readers will be hard-pressed to find a more sensational—or entertaining—glimpse into the world of dysfunctional band dynamics…Brisk, finely chiseled language." 
Portland Mercury, 4/6
"[A] spectacular new memoir…A whirlwind, flash-fiction-style account of [Doughty's] life…A painful, funny, acidic memoir."  
New York Times, 4/20/12
"His unreserved autobiography…[is] a vibrant surprise." 
Bucks Local News, 4/18/12
"Doughty gives readers an inside look at what it's like to love creating music while dealing with bipolar disorder, drug addiction, alcoholism, and finding and defining relationships…If you've experienced addiction, know someone who has experienced addiction, or are simply open-minded and curious about others' experiences, this memoir is an honest depiction." 
About.com
"To those with an affinity for Doughty's music and/or a predilection for recovery memoirs,
The Book of Drugs
is a quick and fairly entertaining read." 
The Hook, 4/28/12
"[A] tell-everything memoir." 
Providence Phoenix, 5/3/12
"Man, does it suck you in." 
Boston Phoenix, 5/5/12
"A no-holds-barred, candid recollection of years wasted on heroin, booze, and the like." 
Pottstown Mercury
, 5/3/12

"For any fans of Soul Coughing who wonder why Doughty will not render songs from the group's three album canon, pick up a copy…The book is a revelatory look back." 
Elmore Magazine
,
May/June 2012
"A tell-all account of sex, drugs and rock 'n' roll…Doughty advocates the need for self-acceptance, making
The Book of Drugs
a universal read…Doughty shines as a writer. His prose, both didactic and insightful, is nothing short of extraordinary." 
Phawker.com
,
5/5/12
"Wickedly funny." 
Souciant.com, 5/10/12
"A memoir that's stark in its depiction of family dysfunction, abusive relationships and the incessant hunger for drugs." 
Boston Globe, 5/4/12
"[A] funny, smart, and candid memoir." 
Metro Boston, 5/4/12
"Detail[s] the journey of a man thawing out from an icy military childhood, breaking through a series of crippling addictions and finding a renewed salvation in the sound of music. [Doughty's] narrative voice is vivid, confident and funny." 
Quincy Patriot Ledger, 5/4/12
"Doughty's book is an unvarnished view of someone who was lost in the haze of drugs and drink, disillusioned at the price of success in the music world, and frankly disappointed in the success he had. It's candid, perhaps nasty in spots, but ultimately triumphant." 
Dan's Hamptons
"[A] candid, hilarious, self-lacerating memoir." 
Southampton Press, 5/3/12
"[A] haunting and darkly comical memoir." 
Columbus Alive, 5/9/12
"
The Book of Drugs
presents [Doughty's] story in the stark honesty and dark humor that have always marked his songs…An immersing read." 
The Other Paper, 5/10/12
"Full of highly entertaining, squirm-inducing stories." 
This Week Community News, 5/10/12

"A chronicle of Doughty's journey through making music for a living and all that came/comes with it." 
Durham Herald Sun, 5/10/12
"Offers a wonderfully biting critique of the music business in the 1990s." 
ArtVoice.com, 5/11/12
" [A] bold look at drug addiction and the damage it can cause." 
The Daily Vault, 5/14/12
"Doughty's struggle to build a healthy life becomes genuinely poignant and affirming, without a hint of sentimentality. Doughty's discussion of his bipolar diagnosis and treatment is brave and candid…Doughty also writes movingly of the rewards offered by staying in 'the rooms' long after he's achieved and maintained sobriety."
New York Times, 5/17/12
"[An] unreserved autobiography…A vibrant surprise."
WomanAroundTown.com, 5/10/12

"Some of [Doughty's] opinions are eye popping and controversial, but anyone who listens to alternative music will probably dig this book." 
Portland Book Review, 5/31/12
"[An] adventurous memoir…Provides a behind-the-scenes glance at the life of someone in the spotlight…Readers should enjoy the quick wit and clever self-analysis Doughty employs. This is an interesting read about the places drugs can take a person."
BP Magazine, Summer 2012
"Offers insight into addiction."
Advertisement