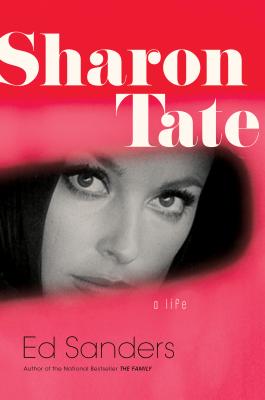 Sharon Tate
A Life
Hardcover

* Individual store prices may vary.
Description
Ed Sanders gave readers their clearest insight yet into the disturbing world of Charles Manson and his followers when he published The Family in 1971. Continuing that journalistic tradition, Sanders presents the most thorough look ever into the heartbreaking story of Sharon Tate, the iconic actress who found love, fame, and ultimately tragedy during her all-too-brief life.

Sharon Tate: A Life traces Sharon's path from beauty queen to budding young actress: her early love affairs, her romance with and marriage to director Roman Polanski, and the excitement of the glamorous life she had always sought -- all set against the background of the turbulent 1960s. This sympathetic account tells the powerful story of her determined rise through the ranks of Hollywood and to the brink of stardom before her name became forever linked with the shocking murder spree that took her life.

In 1969, the Polanski house was targeted by the followers of cultist Charles Manson. Why the Manson clan focused its gaze on Sharon remains unclear, but the world was soon shocked to its core as it learned of the brutal murders of a pregnant Sharon Tate and her friends at her idyllic home in Los Angeles. Sanders once again examines this horrific crime and its aftermath, expounding on what may have led the killers to that particular house on that particular evening.

Sharon Tate takes readers on a sometimes joyous yet inevitably heart-wrenching tour of the '60s as seen through the eyes of someone who lived it, survived it, and remembers it all too well. Brilliant illustrations by noted artist Rick Veitch lend character to this riveting narrative of the life and times of a beloved actress whose image and whose fate still haunt us to this day.
Praise For Sharon Tate: A Life…
"The Bookworm Sez," 1/25/16
There are many reasons to like this book. Author Ed Sanders writes about more than just Tate here; we also read about other people in her world, and we get a good feel for the feel-good '60s—drugs, sex, weirdness, and all…If you love a good crime story, you've come to the right place."
Milwaukee Shepherd Express, 1/19/16
"Sanders returns to the scene of the crime."
Connecticut Post, 1/15/16
"[A] gripping look back at the life and death of the actress who was murdered by the Charles Manson gang…Anyone with an interest in the pop culture of the 1960s should find this 'Rashomon'-like portrait a fascinating read."
Chronogram, February 2016
"A touching biography of a young beauty…Sanders is meticulous and affectionate in his chronicle, its tone dry, wry, and journalistic…Was Tate specifically targeted? What were Manson's true motives? No one truly knows the answers, but Sanders has tried harder than anyone living to figure it out, and his exploration of all available sources is a fascinating look at chaotic times and a fitting tribute to a life cut brutally short."
Waterbury Sunday Republican, 2/7/16
"Will likely appeal to readers who enjoyed Kenneth Anger's
Hollywood Babylon
."
Praise for Sharon Tate

Elle, January 2016
"Sanders takes a look at the doe-eyed actress's life and death."

New York Post, "Required Reading," 1/16/16
"If you were on the fence about Roman Polanski, Sanders' book is sure to push you to the thumbs-down side."

New Republic, 1/12/16
"Sanders seems to resist stepping in where he doesn't feel he can, or should, hold forth, and this feels respectful…Sharon Tate: A Life is a decent project, dutiful and worthy of acknowledgment; as a read, it has moments…The senseless violence of Tate's death superseded her; at least Ed nails that senselessness."

Closer Weekly, 1/18/16
"Sanders' book reveals new details of the star's last days."

Globe, 1/25/16
"A shocking new book."

Woodstock Times, 1/15/16
"An immersive journey into the life of the doomed actress that also touches on everything from New Age mysticism to the moon landing to the RFK assassination."

Hartford Advocate
"Sanders ties all of his earliest threads–up to 1970–together in the most engagingly idiosyncratic memoir of the year. Indeed, now that his friend and mentor Allen Ginsberg is dead, Ed Sanders is the strongest living link between the Beat Generation, the hippies, and all other underground currents that have trickled along the countercultural pipeline since then."

High Times
"This brilliant memoir not only chronicles the band's early days, but paints an outrageous, inspiring picture of life among the artistic outlaws of New York's Lower East side in the '60s."

Baltimore Sun
"In short, impressionistic chapters, Sanders details his adventures, as well as his encounters with seemingly everyone who was anyone in the Beat and hippie scenes. Sanders provides a fly-on-the-wall view of many facets of a turbulent decade."

San Francisco Book Review, 3/7/16
"Pulse pounding reading…[An] excellent biography."

Buffalo News, 4/10/16
"As a gripping, comprehensive, relentlessly involving revisiting of the Manson murders…it is a stunner…[Sanders] succeeds in shedding new light on the horrors of 1969. This is true crime lit at its most grimly compelling."

Washington Post, 4/10/16
"As a biography, Sharon Tate is thorough."
Da Capo Press, 9780306818899, 304pp.
Publication Date: January 5, 2016
About the Author
Ed Sanders is the author of Fug You, Tales of Beatnik Glory, and numerous volumes of poetry. He is an American Book Award winner and lives in Woodstock, New York.