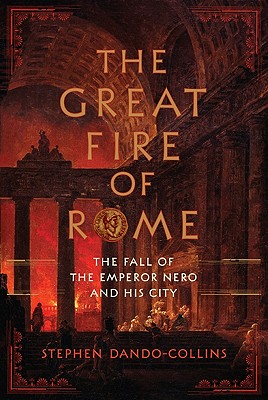 The Great Fire of Rome
The Fall of the Emperor Nero and His City
Hardcover

* Individual store prices may vary.
Other Editions of This Title:
Digital Audiobook (9/6/2010)
MP3 CD (9/7/2010)
Compact Disc (9/7/2010)
Compact Disc (9/7/2010)
Description
On the night of July 19, AD 64, a fire began beneath the stands of Rome's great stadium, the Circus Maximus. For more than a week the fire spread, engulfing most of the city and nearly burning it to the ground. With its capital in ruins, Rome's powerful empire teetered on the edge of collapse as Nero struggled desperately to save his empire...and his skin.
In The Great Fire of Rome, Dando-Collins takes readers through the streets of ancient Rome, where unrest simmers, and into the imperial palace, where political intrigue seethes, relating a pot-boiler story filled with fascinating historical characters who will determine the course of an empire. It is an unforgettable human drama that brings ancient Rome and the momentous events of 64 AD scorchingly to life.
Praise For The Great Fire of Rome: The Fall of the Emperor Nero and His City…
Publishers Weekly, 7/26/10
"Dando-Collins vividly recreates one of history's most famous events…Dando-Collins energetically recreates the days leading up to the fire, the conflagration itself, and the subsequent decline of Nero's fortunes."
WTVF (CBS, Nashville), 9/7/10
"Did Nero really set fire to Rome in 64AD? More than just a convenient slam against a failed emperor, this book solves the historical puzzle and is interesting reading."
Internet Review of Books, September 2010
"Dando-Collins manages the narrative skillfully, burying his transitions so that the story flows as easily and inevitably as the Tiber. The cruelty and violence are appalling but fascinating, and they help keep the pages turning…He writes with admirable enthusiasm and a good grasp of the things that interest him most, military affairs, plots, and power plays…Enjoy it!" 
Washington Times, 9/17
"Dando-Collins takes readers inside ancient Rome and its political intrigues that unfold alongside a momentous human drama." 
Asbury Park Press, 9/19
"This book explores that fateful (for Rome, at least) night of July 19 in the year 64, when a blaze began beneath the Circus Maximus—ancient Rome's version of Madison Square Garden." 
PopMatters.com, 9/22
"Nero and the
Great Fire of Rome
is a tale that begs to be told; it is a heck of a good story…It is entertaining. It moves quickly and delivers its main points well." 
The Lone Star, September 2010
"[A] totally interesting book…You will learn the many secrets and the scandals that surround this most mysterious of historical event."

InfoDad.com, 9/30/10
"Very well-written and very well-paced…What Dando-Collins does so well, in addition to re-creating the sense of Rome 2,000 years ago, is explain both the confluence of events leading to the fire and the later circumstances that led to the besmirching of Nero's name…A clearheaded, intelligent look at what sort of man the last Caesar seems really to have been, and how the devastating fire for which he was wrongly blamed led to the ruin of his rule and reputation."

Bookviews.com, October 2010
"Heavily researched" 
Library Journal, 10/08/10
"Surprisingly little nonfiction exists for a general audience about the Great Fire of Rome…Dando-Collins fills this gap with an exciting, novelistic account of the fire that remains solidly grounded in the primary source literature…This book will appeal to general Roman history buffs and students with its fast pacing and dramatic content. Recommended." 
Italian America, Fall 2010

"Expos[es] the secrets and scandals surrounding this infamous historical event and separat[es] truth from legend."

Kingman Daily Miner, 10/8/10

"A page-turner and an insightful eye-opener to ancient Roman history…Brilliantly written and highly recommended." 
San Francisco Book Review website, 11/4/10

"Dando-Collins presents another side to the story…[His] hypotheses are well-researched…The language is refreshing, simple, and not overly academic…The book retains intrigue as Dando-Collins moves from the underlying turmoil that led up to the fire to the slow dethroning of Nero. Overall, it is an easy, entertaining read." 
Midwest Book Review, November 2010
"A fine addition to any history collection focusing on the time of antiquity." 
Military Heritage, January 2011
"Dando-Collins gives us an entirely different view of the events that led to the cataclysmic inferno that engulfed Rome on the evening of July 19, AD 64…[His] account of Nero's brief life, the conspiracy that was concocted against him, and the great fire that consumed 70 percent of the Eternal City is intriguing." 
Asbury Park Press, 1/16/11

"Dando-Collins' chronicle of Nero's career is presented in the context of the dynamics of the empire as well as the lives of ordinary people in Rome in the first century. For most readers, it will shed new and interesting light on the man and the era." 
Reference & Research Book News, February 2011

"An excellent corrective to myth and a good introduction to first-century Roman history." 
Collected Miscellany, 4/25/11

"Dando-Collins does a superb job of describing the various plots to overthrow Nero and how he reacted to each threat…A fascinating look at ancient Rome and the power politics of the last days of the Caesar dynasty. Dando-Collins captures the scheming and back-stabbing among the power elite…A must-read for anyone interested in the politics of Rome."
UNRV.com, 6/14/11

"A rather good story, well told...An interesting read and the style will appeal to many readers who may be reluctant to persevere with more 'academic' treatises."
Curled Up with a Good Book, 7/4/11 "A vivid portrait of ancient Rome that is sure to fascinate readers and anyone with an interest in history…Roman civilization comes to life throughout…Skilled writing…Well-researched."
Da Capo Press, 9780306818905, 288pp.
Publication Date: September 1, 2010
About the Author
Stephen Dando-Collins is an Australian-born historian, editor, and author. He has written several highly acclaimed nonfiction books, including Caesar's Legion and Tycoon's War. He lives in Tasmania.
or
Not Currently Available for Direct Purchase