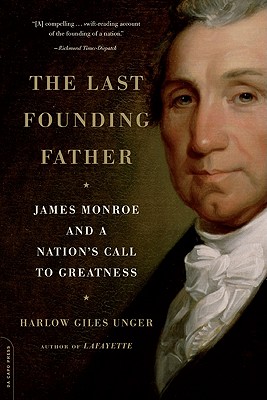 The Last Founding Father
James Monroe and a Nation's Call to Greatness
Paperback

* Individual store prices may vary.
Description
From the New York Times bestselling author, the larger than life story of America's fifth president, who transformed a small, fragile nation into a powerful empire

In this compelling biography, award-winning author Harlow Giles Unger reveals the epic story of James Monroe (1758-1831)-the last of America's Founding Fathers-who transformed a small, fragile nation beset by enemies into a powerful empire stretching "from sea to shining sea." Like David McCullough's John Adams and Jon Meacham's American Lion, The Last Founding Father is both a superb read and stellar scholarship-action-filled history in the grand tradition.
Praise For The Last Founding Father: James Monroe and a Nation's Call to Greatness…
"Another engaging biography from Harlow Unger that captures the human drama of James Monroe, one of America's great heroes and statesmen. Unger vividly portrays Monroe's military heroism during the American Revolutionary War and his unflagging service in Congress and as a diplomat to France and Britain, governor of Virginia, U.S. secretary of state, U.S. secretary of war, and as America's fifth president. The Monroe Doctrine, safeguarding the Western Hemisphere from foreign intervention, has been an integral part of U.S. foreign policy ever since its enunciation during Monroe's last year as president in December 1823. On a more personal level, Unger tenderly describes Monroe's forty-five-year romance with his wife Elizabeth, his intimate friendship and political connection with Thomas Jefferson and James Madison, and the way in which he saved the lives of the family of the Marquis de Lafayette, a comrade in arms and a dear lifelong friend."--John P. Kaminski, Director for the Study of the American Constitution, University of Wisconsin-Madison, and Author of The Founders on the Founders and A Necessary Evil

"Harlow Unger has rescued James Monroe from undeserved obscurity and simultaneously given us a host of new insights into the first fifty years of the nation's tumultuous history. There's a surprise on almost every page of this remarkable book."--Thomas Fleming, author of The Perils of Peace: America's Struggle to Survive After Yorktown

"The engaging story of an important but neglected president...If public memory has unfairly ignored him, The Last Founding Father: James Monroe and a Nation's Call to Greatness amply restores the deficit. This absorbing biography also generously details the early history of the nation's westward expansion...[A] highly readable history of a great American. A natural storyteller and appealing stylist, Unger skillfully interweaves his subject's private and public lives. He captures the milieu of the early nineteenth century, conveying its broad influence upon succeeding eras."—Magill Book Reviews

"[Unger] sympathetically assesses all phases of [Monroe's] life...Particularly well written, this is a worthy successor to Harry Ammon's 700-page James Monroe: The Quest for National Identity (1971), which focuses less on the private and more on the public Monroe...Highly recommended."—Choice

"James Monroe is the forgotten Founding Father, overshadowed by his predecessors in the Presidency...denigrated as a simple man whose accomplishments were credited to others, and relegated to the background of history because he hasn't had the same justice done to his legacy by historians and biographers of the past 200 years. That has changed with Harlow Giles Unger's The Last Founding Father...What stands out most about Unger's book is the clarity and ease of the author's writing...I read a lot of books about Presidents that I already know a lot about, but this book taught me more about a single President than I have learned in years...James Monroe deserves his place amongst the giants of our Founding, and Harlow Giles Unger has forever ensured it."—Dead Presidents Website

"This book is so full of interesting connections and characters that it is impossible to do it justice in the space of a review...This book is a pleasure to read and the wonderful use of illustrations augments it."—What Would the Founders Think

"Unger shows how the public and private commitments of early American diplomats were sometimes intertwined."—Journal of Southern History

"Unger writes an excellent biography, and dissects the major events that would shape our young nation...A fine read."—The Waterline (newspaper of the Washington, D.C. Naval District)
Da Capo Press, 9780306819186, 400pp.
Publication Date: September 28, 2010
About the Author
Acclaimed historian Harlow Giles Unger is a former Distinguished Visiting Fellow at George Washington's Mount Vernon. He is the author of twenty-six previous books, including twelve biographies of America's Founding Fathers and three histories of the early Republic. He lives in New York City.