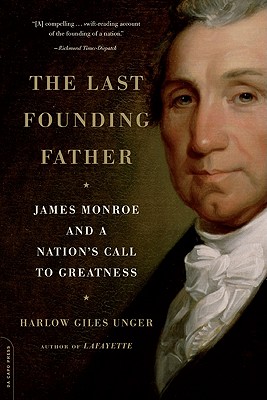 The Last Founding Father (Paperback)
James Monroe and a Nation's Call to Greatness
Da Capo Press, 9780306819186, 388pp.
Publication Date: September 28, 2010
Description
In this compelling biography, award-winning author Harlow Giles Unger reveals the epic story of James Monroe (1758-1831)--the last of America's Founding Fathers--who transformed a small, fragile nation beset by enemies into a powerful empire stretching "from sea to shining sea." Like David McCullough's John Adams and Jon Meacham's American Lion, The Last Founding Father is both a superb read and stellar scholarship--action-filled history in the grand tradition.
About the Author
A former Distinguished Visiting Fellow in American History at Mount Vernon, Harlow Giles Unger is the author of sixteen books, including six biographies of America's Founding Fathers. He lives in New York.
Praise For The Last Founding Father: James Monroe and a Nation's Call to Greatness…
Dead Presidents website, 10/19/10
"What stands out most about Unger's book is the clarity and ease of the author's writing…I read a lot of books about Presidents that I already know a lot about, but this book taught me more about a single President than I have learned in years…James Monroe deserves his place amongst the giants of our Founding, and Harlow Giles Unger has forever ensured it."
WhatWouldtheFoundersThink.com, 1/27/11
"This book is so full of interesting connections and characters that it is impossible to do it justice in the space of a review…This book is a pleasure to read and the wonderful use of illustrations augments it."
Journal of Southern History, May 2011

"Unger shows how the public and private commitments of early American diplomats were sometimes intertwined."
The Waterline, 10/6/11"Unger writes an excellent biography, and dissects the major events that would shape our young nation…A fine read."
Advertisement