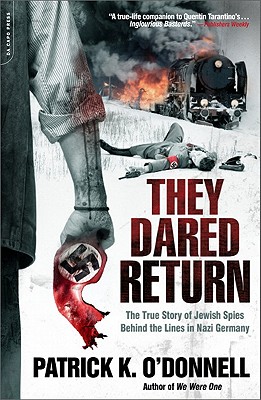 They Dared Return: The True Story of Jewish Spies Behind the Lines in Nazi Germany (Paperback)
The True Story of Jewish Spies Behind the Lines in Nazi Germany
Da Capo Press, 9780306819230, 239pp.
Publication Date: November 2, 2010
Description
At the height of World War II, with the Third Reich's final solution in full operation, a small group of Jews who had barely escaped the Nazis did the unthinkable: They went back. Spies now, these men took on a dangerous mission behind enemy lines. They Dared Return is their story--a tale of adventure, espionage, love, and revenge.
About the Author
Patrick K. O'Donnell is the award-winning author of six books, including the highly acclaimed account of the Battle of Fallujah, We Were One. He lives in Arlington, Virginia.
Praise For They Dared Return: The True Story of Jewish Spies Behind the Lines in Nazi Germany…
January Magazine, 11/2/10
"There are so many remarkable things about They Dared Return one barely knows where to begin...[It] compares easily to the most engaging thrillers you might care to read, but the fact that none of this is fiction makes the story all the more compelling. A compelling and thought-provoking book."
Magill Book Reviews

"Memorializes the legacy of a group of America's little-known heroes…This book should be required reading by every American today, no exceptions!"
Martyrdom and Resistance, May/June 2012
"Much has been written about Jews as victims during the war. Not nearly enough has been written about Jews as fighters. Patrick K. O'Donnell's volume
They Dared Return: The Story of Jewish Spies Behind the Lines in Nazi Germany
is thus very welcome and important, and tells a unique and little known story."
Advertisement