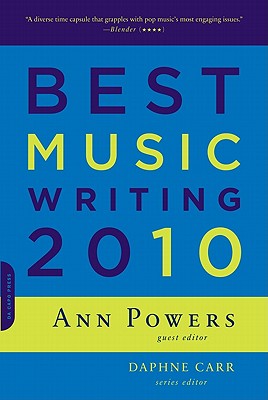 Best Music Writing (Paperback)
Da Capo Press, 9780306819254, 332pp.
Publication Date: November 9, 2010
* Individual store prices may vary.
or
Not Currently Available for Direct Purchase
Description
Best Music Writing has become one of the most eagerly awaited annuals out there. Celebrating the year in music writing by gathering a rich array of essays, missives, and musings on every style of music from rock to hip-hop to R&B to jazz to pop to blues and more, it is essential reading for anyone who loves great music and accomplished writing. Scribes of every imaginable sort--novelists, poets, journalists, musicians--are gathered to create a multi-voiced snapshot of the year in music writing that, like the music it illuminates, is every bit as thrilling as it is riveting.
About the Author
Ann Powers is the chief pop critic for the Los Angeles Times and lives in Tuscaloosa, Alabama.Daphne Carr is the author of Pretty Hate Machine and lives in New York City.
Praise For Best Music Writing…
Village Voice's music blog, October 2010
"Da Capo's annual Best Music Writing series is as close as rock scribes get to the Oscars."

Vol 1 Brooklyn, 10/14/10
"Best Music Writing…Ever…quite impressive."
USA Today's "Pop Candy" blog, 11/4/10
"My annual favorite."
Mogo Music Network, 11/15/10
"A holy grail for music nerds and writers alike, Da Capo's
Best Music Writing
anthologies aren't just required rock-critic reading—they're a pedestal to which we all aspire." 
New York Journal of Books, 12/1/10
"These essays make the reader want to explore the music of these artists if they have not been fans before. That is what good music writing should do—it should pull the reader into the music." 
New York Amsterdam News, 11/24/10
"This year's entry into the 'Best Music Writing' series touches on some of the biggest and most compelling stories of the past year…what
Best Music Writing 2010
proves is that music journalism, as an industry, may be on its last legs, but music criticism itself isn't dead." 
Library Journal, 12/3/10

"Most [essays] transcend the trends of the moment and will be appreciated by listeners with a range of tastes looking for new musical avenues to explore." 
Oxford American, 12/1/10

"Every year, without fail, Da Capo's
Best Music Writing
anthology impresses… The collection remains a must-read for open-minded music fans…
This
volume makes for great reading." 
Austin Chronicle, 12/8/10

"Editor Ann Powers' thoughtful eye on contemporary rock writers avoids…fancy stepping, and many of the chapters are notably good." 
PopMatters.com, 12/6/10

"
Best Music Writing..
.continues to rebuke those academics and writerly peers who still question the legitimacy of pop music writing…What
Best Music Writing 2010
does best is showcase the vast diversity of opinions, forms, styles and subjects at work in the music world." 
Slug, December 2010

"Beyond a collection of great articles about musicians,
Best Music Writing
has fantastic thoughts about how music reflects America's changing cultural norms and vice versa." 
LA Weekly

One of the Top Ten Rock Books of 2010 (#6) 
Pasadena Weekly, 12/23/10
"As the blogosphere continues to tilt the proper music press in unknown directions, this annual collection of profiles, op-eds, interviews and good old-fashioned think pieces from myriad magazines, newspapers and Web sites reminds that there's still a place, and need, for knowledgeable and professional music writing—not just thumbnail-sized reviews, but significant essays exploring politics, society, race, self-identification and -expression through artists and songs."

FlavorWire.com

"This is one of the series's best volumes. 
LA Times
critic Powers's wide taste and generous outlook means a collection that feels like a map while mostly reading like stories."
Booklist, 12/9/10
"Wide ranging and incisive, this collection merits consideration." 
The Stranger, 12/23/10
"Of all the best-of collections published at the end of every year, Da Capo Press's
Best Music Writing
series is, well, one of the best." 
Philadelphia Tribune, 12/24/10

"
Da Capo's 'Best Music Writing 2010
has become one of the most eagerly awaited annuals out there with scribes of every imaginable sort—novelists, poets, journalists, musicians—are gathered to create a multi-voiced snapshot of the year in music writing that, like the music it illuminates, is every bit as thrilling as it is riveting…The accomplished writing found within these pages cover a wealth of mediums and presentations…[and] allows readers a chance to discover journalists who delve deep into the corners of music culture—from rock to hip-hop to pop and country—and place not only their knowledge of music, but also their undying love for it, front and center."
Publishers Weekly, web-exclusive, starred review, 4/11/11
"In the 11th installment, guest editor Powers and series editor Carr offer what could be one of the most prescient compilations of all…The compilation's breadth is its real appeal. While it functions as a snapshot of the events, trends, and personalities that made up 2010, it also works as a portrait of an industry and an art form in transition."
USA Today's Pop Candy blog, 12/2/11
"It's by far the best 'best of 2011' book of the year."
Blogcritics.org, 12/2/11

"A fine collection of this year's finest essays from music critics…Da Capo's
Best Music Writing 2011
is proof positive that good music journalism isn't dead."
Advertisement