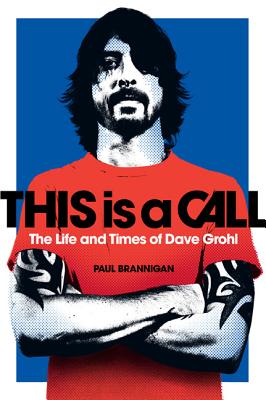 This Is a Call: The Life and Times of Dave Grohl (Hardcover)
The Life and Times of Dave Grohl
Da Capo Press, 9780306819568, 416pp.
Publication Date: September 1, 2011
* Individual store prices may vary.
or
Not Currently Available for Direct Purchase
Description
This Is a Call
, the first in-depth, definitive biography of Dave Grohl, tells the epic story of a singular career that includes Nirvana, Foo Fighters, Queens of the Stone Age, and Them Crooked Vultures. Based on ten years of original, exclusive interviews with the man himself and conversations with a legion of musical associates like Queens of the Stone Age frontman Josh Homme, DC punk legend Ian MacKaye, and
Nevermind
producer Butch Vig, this is Grohl's story. He speaks candidly and honestly about Kurt Cobain, the arguments that almost tore Nirvana apart, the feuds that threatened to derail the Foo Fighters's global success, and the dark days that almost caused him to quit music for good.
Dave Grohl has emerged as one of the most recognizable and respected musicians in the world. He is the last true hero to emerge from the American underground. This Is a Call vividly recounts this incredible rock 'n' roll journey.
About the Author
Former editor of Kerrang! magazine Paul Brannigan is a respected authority on the punk scene in Washington, DC, where Dave Grohl cut his teeth. He has written about Grohl for Mojo magazine and lives in London.
Praise For This Is a Call: The Life and Times of Dave Grohl…
Buffalo News, 9/23/11
"Getty Images Offers a thorough—if unauthorized—biography touching on all aspects of Grohl's career, and paints a fully detailed portrait of the man. Brannigan's knowledge of his subject is encyclopedic, based on his own interviews, and worth celebrating simply for the manner in which he is able to place Grohl's work in the context of post-punk history."
Booklist, 11/1/11
"Brannigan not only offers a penetrating portrait of Grohl the man but also presents an indelible portrait of the American underground-rock scene." 
Kirkus Reviews, 11/15/11

"Brannigan salutes a musician who's surfaced, prosperous and sane, from the perils of an extended punk-rock adolescence that not all of his friends survived. Reverent and informative."
Alternative Press, December 2011
"[A] well-researched bio…A fascinating read, This Is a Call doesn't skimp on entertaining anecdotes, juicy gossip or evidence of Grohl's immense songwriting talent." 
Mojo, December 2011
"Grohl and his groups [are] dissected with gumption."
New York Daily News, 10/28/11
"The leader of the Foo Fighters comes off as music's most affable man, but it turns out there's more turmoil in the ranks than it seems."
Q Magazine, January 2011
"Quite an achievement…Brannigan draws on his own interviews with Grohl, among others, to plot a compelling journey…A big-hearted, fascinating read." 
Loudwire.com, 11/30/11
"There is a lot to like about this book in which Brannigan gives us a real insider's view of Grohl and his rise to the top…The stories are interesting in that they show Grohl as not just a rock hero but as a huge admirer of music who basically just wanted to join the scene that moved him so. There are also more than a share of personal stories that humanize Grohl and his various band mates exposing their vulnerabilities perhaps more than ever before." 
NeonTommy.com, 11/30/11

"[Brannigan] manages to paint a picture of the musical atmosphere that tracks Grohl's beginnings in punk, through his place in grunge history with Nirvana and up to the Foo's latest album, 'Wasted Light.' The book is filled with vivid details of the different worlds while following Grohl's growing influence on them…Brannigan throws color into moments and sets musical scenes that you can actually hear…Brannigan knows exactly where to put in a quote and when to use his own knowledge and criticism to push the story forward. His writing has the rhythms and attitudes of the music he describes…A book worth reading for its scope as a series of snapshots of a legendary musical journey." 
New York Journal of Books, 11/29/11
"Brannigan's biography of musician Dave Grohl and his era, reaches ambitiously out of bounds for the conventional pop bio, cradling its subject in layers of context, political and social history…Brannigan's excellent segues, characterizations, and lyrical zip ensure
This Is a Call
occasionally tips but never topples under its own weight. The result is an educational and highly entertaining read…Brannigan loops a fascinating narrative around a compelling and likeable character…This is high quality, street cred music journalism, artfully meshed with undoubted musicological and cultural history grunt." 
New Music Michael, 12/6/11

"Brannigan's book is an exceptional companion piece to the documentary, though certainly has the ability to stand alone as an extraordinary work of the history of Dave Grohl, the Foo Fighters, and Nirvana, as well as a host of other local scenes and the music world in general…Most of us already know a lot of the stories that go along with Nirvana, but certainly not to the extent, and not to the depth that Brannigan covers…if you're a fan of Dave Grohl, the Foo Fighters, Nirvana, punk music, hell just music in general, you'll want to get this book for yourself and dogear the pages." 
Publishers Weekly, 12/12/11
"[An] engaging and insightful bio…Brannigan puts Grohl's influences, inspirations, and early musical career into context…Those who want to get a better understanding of the musician will find this an entertaining and perhaps educational read." 
Gibson.com, 12/12/11
"Some rock biographies stand tall above others, revealing much more than a straight chronology of recording and touring.
This is a Call
is one such book…It draws on a decade of frank interviews with Dave Grohl and friends, and is peppered with fascinating nuggets about Grohl's own thoughts on his ascent to megastardom. From Grohl being the "goofy" hardcore drummer with Scream, through stardom behind the drumkit with the troubled Nirvana, to his blossoming as the guitar-toting frontman of Foo Fighters,
This is a Call
tells Grohl's story with style and candor…One of the definitive rock books of 2011." 
San Francisco
Book Review, December 2011
"Brannigan's knowledge of the underground punk scene fills out this Dave Grohl biography. He essentially traces the evolution from the Sex Pistols to Nirvana, via Washington D.C., to create an entertaining retelling of the history of hardcore punk." 
LitReactor.com, 12/13/11
"The first serious attempt to place Grohl and his body of work in the context of rock history…A thoughtful and entertaining rock biography that easily stands among classics by the likes of Mick Wall, Nick Kent, and Neil Strauss…Brannigan, ever the rock journalist, goes far beyond simply telling stories—he prefaces the key periods of the book with engaging essays on how various musical movements grew, what the attitudes were that informed those movements and how they fit into the rock and roll landscape…Impeccably-researched, thoroughly entertaining, and packed with rich new insights,
This is a Call
will enjoy a place among the absolute best music biographies of the past twenty years." 
The Music Mamas, 12/6/11
"A must-read for music fans." 
Calgary Herald, 12/13/11

"A well-told testament to a true believer's perseverance." 
Blurt Online
,
12/22/11
"Offers both a journalistic and fan perspective on the Nirvana/Foo Fighters icon, along with a keen eye for detail and context…While
This is a Call
is clearly about Grohl, Brannigan does a commendable job of putting everything into context beginning with quite possibly the best written documentary of the D.C. punk and hardcore scene Grohl was raised in…[A] well-researched, passionately written book by an author who is a clearly an unabashed fan, but still objective enough to give an unvarnished look at a great band that has struggled through some rough waters at times but ultimately righted the ship." 
Record Collector, January 2012
"Dave Grohl's tale covers so many bases after 30 or so years in the business that it takes a biographer of consummate skill to get it all down on paper without missing anything out. Fortunately, ex-Kerrang! editor Paul Brannigan has what it takes…What lingers most is the expert way in which so many disparate slices of history are interlaced. After reading
This Is a Call
, you'll know much more than you did before about the way that US hardcore merged into Seattle grunge, and how rock shed its skin in the 90s…It's info such as that which makes this book essential." 
Bookviews blog, January 2012
"The ups and downs of Grohl's life will no doubt be of interest to rock fans…The biography is quite a ride." 
InfoDad.com, 1/5/12
"Fans of Grohl's work, up to and including his appearances with Them Crooked Vultures, will get plenty of name-dropping and behind-the-scenes insights from a writer who has known Grohl since 1997 and does a good job of pulling together many sorts of musical and personal minutiae…Brannigan delivers a nicely written biographical sketch of Grohl." 
Sydney Morning Herald, 12/17/11

"Brannigan…scored amazing access to his subject and the people with whom Grohl worked…Brannigan explores Grohl's early punk influences in great detail and the meteoric rise of Nirvana, offering a frightening insight into the music industry…Grohl's road to success post-Nirvana is an inspiring, honest story." 
New York Times Book Review, 1/22/12

"A rich history of recent pop music as it moves from punk and hard-core to ­grunge to indie bands…Students of that period will find much to dwell on here."
AOL Noisecreep, 2/13/12
"The book vividly recounts Grohl's incredible, one-of-a-kind rock 'n' roll journey." 
PowerlineMag.com
"As a summation of Grohl's career to date,
This Is A Call
is packed with information; the extensive discography is another plus. Dave Grohl fans will welcome this comprehensive look at Grohl's life and work." 
Stuff I Like blog, 2/16/12
"Brannigan does a good job in
This Is A Call: The Life and Times of Dave Grohl
of bringing him alive, putting his personality upfront for us, and showing that Grohl has become a kind of spokesperson for quality music." 
Charleston Post & Courier, 2/12/12
"Cool descriptions of the '80s underground punk movement."
Rock Cellar Magazine, February 2012
"A richly-detailed (and endlessly entertaining) insider account of the eventful career of the Foo Fighters front man and ex-Nirvana drummer…This is a Call presents a side of Grohl that the fans and public aren't always allowed to see."
Warren Tribune Chronicle, 2/18/12
"Brannigan doesn't turn Grohl into a saint, but he does create a portrait of a man whose love of music is absolute." 
Midwest Book Review, February 2012
Any rock music collection will find this an outstanding and popular choice." 
Slug, April issue

"A refreshing and thorough look into the life and psyche of one of the most vital and relevant forces in rock music today. Get it, 'cause it'll probably rank as the definitive one."

FHM, August 2012
"Grohl's story is some tale to tell…[and] Brannigan tackles it adeptly."
Curled Up with a Good Book, 8/21/12
"Illuminating…This is the first fully-fleshed look at the musician…Brannigan looks at a young Grohl finding his way as a musician and follows him as he becomes part of Nirvana, one of the most influential bands of the grunge movement. A large part of the book is dedicated to this period, and the author makes sense of the phenomenon. This Is a Call is a well-written book."
Advertisement